Another Arab Bloodlines post!
---
Hey all!
I'm new to the Arab world and saw a recent poster ask about their horse's lineage. Can anyone enlighten me as to mine? I was told that Fame VF is a big name on his pedigree, but outside of that I don't know much! I'd love to know what kind of Arabian he is as well! Thanks!
Ms Player
He has more than just Fame VF as big names in his pedigree - I see Padron, Bey Shah, and several lines back to Bask.

Someone more familiar with Arab bloodlines will have to be the one to tell you more, though.
---
REGAL PRINCESS
This is actually a really well bred guy.
He's a really nice cross of Polish through Bask and Eukaliptus and Crabbet through Serafix (one of my personal favourite Crabbet bred stallions) breeding with a touch of Russian thrown in there through Aswan.
His sire is a lovely multi-national champion stallion that really took after his sire GG Jabask by the imported Bask, who earned himself the "sire of the 21st century" tag line.
Another of my favourite I see is Bey Shah. Fame VF is definitely Bey Shah's most famous son, although I am partial to Bey Shah myself. He was an incredible producer, especially of broodmares - as seen with Mistral Bey. They are noted to be more of the head stronged horses but they will work to the death for you.
Down on his dam side there's Padron's Psyche who was a really exqusitie and pre-potent sire for producing main ring Halter foals - You still see a lot of Psyche bred horses winning in Halter. This line also brings in another of my favourite Crabbets, Bright Wings.

Lots of halter breeding, Psyche's had success in the WP ring, and Bey Shah had quite a few in the working western disciplines.
Very nice solid, pedigree.
Be interesting to see photo's - both Bey Shah, Bask, and Patron were very pre-potent lines and I wonder which one he ended up taking after.
Wow, thanks so much for the feedback! I will try to take a few conformation shots, but the best ones will be after he loses his winter woolies... I'm always told he looks just like his sire!
Here are a few (albeit super tiny) photos his last owner passed along to me of him at show! We have been working on losing that belly, though.
And another from his last owner. :)
No problem. :)

A little hard to see but he does look like GG Jasbask from here (okay, granted that's his grandsire but, as I said, Bask was very pre-potent).
Very handsome boy indeed! :)

Edit with new picture: I also see Fame VF in that head too!
---
Last edited by WSArabians; 01-07-2013 at

01:11 AM

.
Have to add, Padron's Psyche is actually 3/4 Russian, having two great stallions, Arax Kilimandscharo as grandfathers. Both could REALLY trot
I second the prepotency of the Polish lines...sooooo typical, bay and four socks. Must be coming through Ofir.
Here's a few samples of his hertiage. You can see what I mean about the pre-potency:
Raffon:
Bask:
Bey Shah:
Mishaah:
Serafix: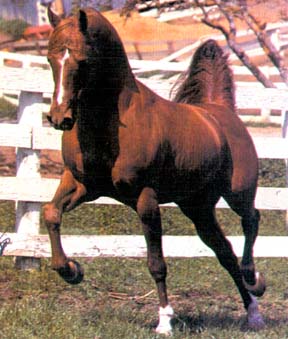 Witraz:
My gelding going back to Ofir through Wisznu - Witez II
Bask goes via Witraz to Ofir
Of course, I'm speculating here