Another Color Question
---
Im sure there is a really simple answer, but I can't seem to find it. What is the difference between the colors sorrel and chestnut? Nakita's paper work says she is a chestnut, but to me she looks sorrel. I guess some of it could be poor nutrition, and winter coat. How do you tell for sure?
Sorrel and chestnut are two colors that there is a lot of confusion about. I have been told and read that they are actually the same color. However, to me a sorrel is a much deeper red, and a chestnut is the bright coppery red. It may vary by breed, where you live, etc.... In the RM horses the dark brown and flaxen mane and tail is called Chocolate, but in other breeds and in other parts of the world they're called Taffy or Silver. I don't think there really is an absolute answer to your question unfortunately,lol. Just depends.
Hm, from what I know they are the same thing. The genes for "sorrel" and "chestnut" are the same thing. It just depends on the Breed classifications what that breed uses to describe the colour. In certain breed books, sorrel is used, in others it's called chestnut, but they are the same. Hope that helps answer your question :)
---
As mentioned, sorrel and chestnut are genetically the same. They are both homozygous recessive extension, ee. Some people differentiate on the shade of the horse, but either way, they're both the same ;)
From my knowledge, chestnut and sorrel are the same. "Chestnut" is used by english horsemen, and "sorrel" used by western.
Posted via Mobile Device
From what I can make out, yes, the genes for sorrel and chestnut are the same. Sorrel seems to be the colour AQHA use for their horse colours and it is a very 'americanised' term. We, here in sunny england, use chestnut for all red horses with red mane and tail and liver chestnut for brown horses with brown mane and tail :)
---
Keep your feet on the ground when your head's in the clouds.
Yep, genetically they are the exact same thing. However, I am one of those that uses the different terms to describe the variations of the color. To me, the lighter more orangey ones are sorrel and the deeper more richly colored ones are chestnut. After that, it darkens to dark chestnut and finally liver chestnut (which IMHO, is visually hard to distinguish from black).
so...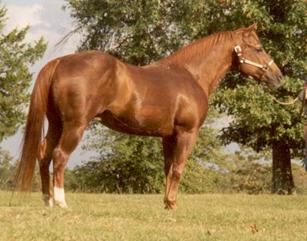 sorrel
chestnut
liver chestnut - i think they can be slightly lighter than blackish
maybe some pics would help the OP!
---
Keep your feet on the ground when your head's in the clouds.
You hit it pretty much right on the head, speedy. Though I would likely call that last one a dark chestnut. I judge a liver chestnut by the color of a horse we used to have. His name was Scotch Judge and unfortunately, this is the only picture I could find of him. You could only tell him from a black horse by the reddish tint he had in direct sunlight and the tips of his mane were a deep red when allowed to grow out.
Ok, so basically, if Nakita was just about anything but a thoroughbred she would be classified as a sorrel most likely. Since she is a tb, she is classified as a chestnut. Thanks for clearing that up for me. Lovely pictures by the way.