Any POA owners out there?!
---
So I haven't really seen any POA's on here, or else I am blind which I may actually be a possibility. :P I'd just like to see your ponies and show you mine. I love dthis breed already when I was really young so when my mom saw an ad in the newspaper (yes, the newspaper) we found my amazing boy! He's 13.2hh and 10 years old.
DSC01536.jpg
IMG_0296.jpg
Piccolo collage.jpg
IMG_0297.jpg
13.jpg
1.jpg
He's darling and has that tubby belly like ours! My youngest daughter has a grade POA gelding, Spirit Bear. He's about 15 yrs. old now according to his teeth, 13.3 and very solid. We all ride him! He's the best trail horse around. We can put anyone on him and he is well behaved, a little pokey with kids but has get up and go if you know what you are doing. My daughter doesn't realize how good she has it but sure has fun riding him, no complications! We can take him anywhere, do anything with him and he's steady as a rock :)
---
Dana
Riverside, CA
I don't own a POA but one of my favorite horses ever is a POA. He's part of a rental string of horses that the summer camp I volunteer at rents. He had some major issues his first year at camp and I ended up being the one "fixing" him and we fell in love with each other. haha He's thinks he's my baby and I adore him. I was going to buy him instead of Lacey but he's really way too small for me so my trainer talked me out of it. =(
I don't know if he's registered since he originally came from an auction but it wouldn't surprise me if he had been some where down the line. He was most definitely someone's show pony though.
Here's Shorty!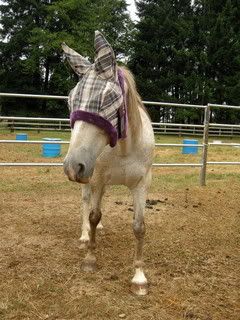 ---
Fabio - 13 year old Arabian/Lipizzan gelding

~
Rest peacefully, Lacey.

your ponies are adorable. :) My pony is awesome with kids and good for anything just that he's a little scaredy cat. :P He is getting more show experience/exposure this summer though and he has a phobia of going through water that he doesn't know though this is just his way of being careful. I love him and I sometimes wish I could have a horse more capable of showing in the higher up levels but I cna't bear to part with him!
I love large ponies and I love appies, so POAs are wonderful :) I owned one, but sold him to friends of mine becuase he was too small for me to ride and I have enough driving horses. They had him trained to drive and just LOVE him :) I'll post photos sometime when I'm home, can't access them at work :( His name is Tough Rocket's Tiger, I called him Skylar. He's "black" with a spotted blanket to his withers, soooo striking! :)
I don't own one, but there is one at the farm that was a rescue. She is a super sweet girl. I think she is maybe 12 hands and is 20 years old.

This is a terrible picture of her, but gives you an idea of her color. She is going to make somebody kid a really sweet first pony.
---
RH Queen O Anywhere "Sydney"
2009 Sugarbush draft
Pics of Skylar, the one I used to own. The driving pics are with his owners (my friends I sold him to)