Anyone looking at the BLM online mustang auciton?
---
There are some nice looking mustangs on the online mustang auction this time. Is anyone thinking about adopting?
I know my other half would kill me if I got another horse...
I want one really bad. But I can't afford another horse. They talked about it on the radio the other day. You can addopt one for like $125
---
If God brings it to you-God can bring you through it.
People aren't adopting like they used to, it's bad... :-/ Economy needs to get better quick so we can help more horses!!
---
Proud owner of 13yr old Paint Gelding, Bali! <3

---
Last edited by ZiggyKlepto; 10-24-2009 at

08:48 PM

.
Oh they're lovely too! I really like the 3 year old mare. <3 And it is unusual for the Nevada horses to make 15 like that roan, though I haven't seen a horse from White Mountain, Wyoming that was any less than 14.3. The funny thing with 6' panels is they can jump those easily enough too when they spook. ;)
What we did with our fence is threw some posts up in front of the original fence, covered it with chicken wire, and nailed 2x4's on top. The fence behind it gave it extra support, and it was still BLM regulation. The best part is that it only took about 6 hours and $100.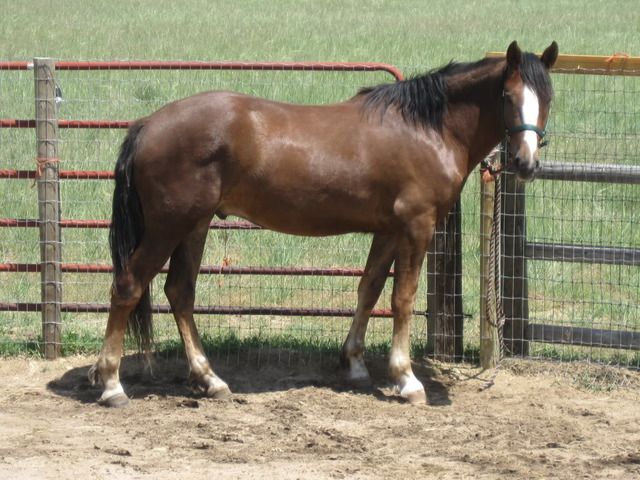 (only pic I have of it - sorry!)
The closest pick up to you would be Elm Creek, Wyoming. I think it'd be about 3 hours from the Wyoming/Nebraska border. It's a bit of a haul, unfortunately. :(
---
Last edited by ZiggyKlepto; 10-24-2009 at

10:17 PM

.
The three year old is good looking. Im in the NE part of Wyoming and we have the Pryor horses. I haven't seen the white mountain ones. Ill have to look into all the requirements.
If you're really interested in a Mustang, you might also consider waiting another month. In November they're rounding up 1,000 horses from Wyoming, and there will be a ton of them in Rock Springs to pick from. Wyoming's known for having Mustangs with a lot of draft in them.

I almost went internet adoption, but I'm thankful that I didn't. There's a lot more to choose from if you go to an in-person adoption and you get a better feel for their personality. It's still not perfect, of course, because they change a lot when they settle down, but it does help with the whole gut connection thing.

Pryors are gorgeous! But... they're also overrated. Maybe I'm bitter because I got soo sick of the non-stop drama over their round-up this year. No one cares about 1,000 horses, but 60? That's serious! At least you know none of them would be at risk of going to slaughter - they're too famous. :p *rant over*
I will wait then. Where is the info on the Rock springs round up? I didnt see it on the schedule. I saw a bunch in Canon Co though :S
Officially it's being called the Red Desert Complex Roundup. I don't think they're actually rounding up any from Rock Springs, but all the areas are real close to Rock Springs and they'll keep quite a few there.
BLM plans Red Desert roundup
I've heard good things about the Green Mountain horses. :)
Edit: Canon City has adoptions two Friday's a month - the most of any BLM facility anywhere. And the people there are great! Lona was super helpful to me when taking me around. That said, it also goes the opposite way - there's so many to choose from that you can expect to spend the first hour shell shocked and wanting to take them all. (But you can take as long as you want - I think I took 4 hours?)
Edit 2: LOL. I need to go to bed. Here's the website for Rock Springs. By appointment only seems to imply you could adopt just about any time. It's also nice when there's no competetive bidding. ;)
http://www.blm.gov/wy/st/en/programs...rscorrals.html
---
Last edited by ZiggyKlepto; 10-24-2009 at

11:13 PM

.
Similar Threads
Thread
Thread Starter
Forum
Replies
Last Post
Mustang fan???

free_sprtd

Horse Talk

1

11-17-2008

01:11 AM

Mustang

Cheval

Horse Breeds

16

05-29-2008

03:03 AM

mustang

Dave

Horse Breeds

1

04-16-2008

08:57 AM

Is a Mustang Right For Me?

HorsieGal

Horse Breeds

16

02-27-2008

11:20 AM