Appaloosa????
---
Hey Y'all!!!! My name is Mary Jane, and I just joined the forum!! I'm 19 and attending University of Kentucky, but i'm from North Carolina....I've been riding for about 11 years, and i had to sell both of my babies (a palomino and a sorrel paint) to come here to UK. I ride english pleasure and hunter/jumper.... but anyways, i would like as many opinions as possible about Appy's because this summer (in like 2 weeks when i get out from school) I am going back home to train a green Appy....and i've never worked w/ one!! I'm super excited b/c i haven't had a training project in a while b/c of school, but i don't know much about the breed....are they like QH?? Ok well thanks y'all!!
well it really depends. They have more english like qualities to me but they do good western. Also there gaits seem very dressage like from the appaloosa i see at the barn but i think the appaloosa at the barn has another breed in it too i'm not sure. I don't exactly know much but i can tell you what a Leopard appaloosa, blanket, and solid appaloose look like.
Appy's are extremely intelligent( sometimes stubborn b/c they are intelligent), brave, and love people. i think they have wonderful personalities. treats can go a long way with training. i think you are going to have great success. Good luck.

i can't say they are like QH in training situations. Appies are alwasy thinking of what they can get into or looking off into the distance for something more interesting to do. they need to be into everything.
hehe the appy at our barn isn't so smart to me.....he ran into a tree the other day i don't call him smart lol....
i know thats sounds mean but it was funny.
Thats funny as long as he was okay.
I don't know much about appy behavior, but I personally think appys are very pretty. The mascot for my hometeam in (american)football, FSU, has a appy that runs across the field with a rider dressed as an indian during half time. Thats always my favorite part. I have some pictures
aww cool
and yes he was ok. Its just halarious he's a idotic horse anyway. He is very skittish and gets scared over stupid stuff but yet he's the boss to all the other horse??
yes very weird. Junior and him are pretty much the top but i think Junior over powers him sometimes.
heres the picture of the appy named Renegade. Sorry its blurry, it was hard to focas the camera when the horse was going so fast and I had to find a spot where heads weren't in the age.
aww he's pretty this is the horse that i'm talking about at the barn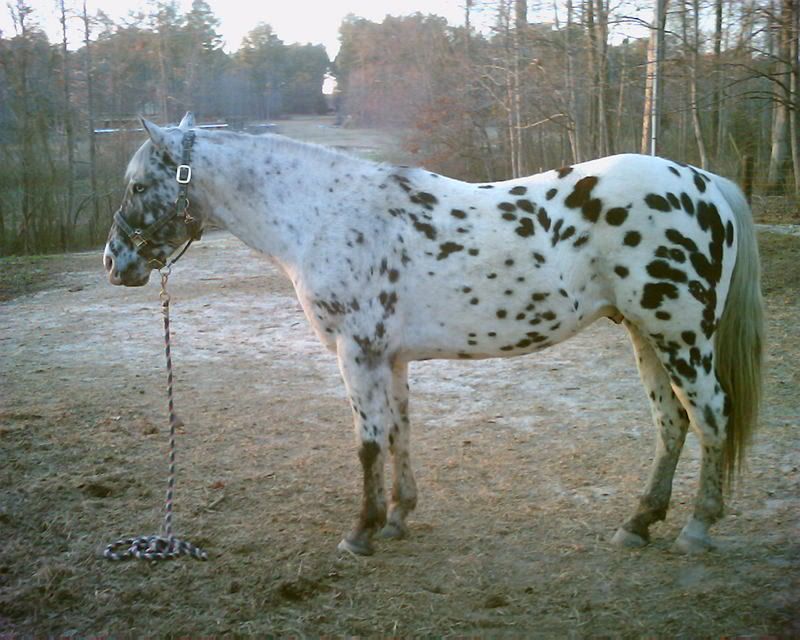 heres a video were my best friend likes to take care of him every now and then even though its not her horse. Don't worry the owner knows. Yeah this was a demonstration of how we thought he would be a good halter horse since he can't ride very good at the moment.
walking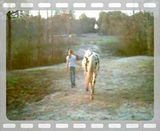 halt from walk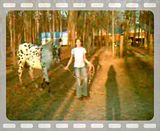 then trot to halt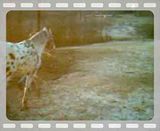 Yeah that was just what we were trying out oh and tell me what you thought about those if you want to and thats pretty much it. He's a leopard appaloosa and his name is Mickey since he has a couple spots with Mickey mouse shapes :P
I love his trot. I think he has good posture.
Hes a very pretty horse, I love his eye, is it blue?
one is blue and the other is brown