Appaloosa owners
---
Lets all post pictures and talk about our Appaloosas and why we love Appaloosas or hate them btw I luv them
---
Last edited by Gggfas; 07-18-2013 at

03:06 PM

.
Appaloosas are one of those horses for me that are either extremely pretty or very ugly. Really no in between. The ones I've like I really liked .
Green Broke
Join Date: Jan 2010
Location: south of nowhere, north of nothing
Posts: 4,644
• Horses:
6
My Appy Girl!
ye
---
all my other pics of just her are on my phone
---
Last edited by Gggfas; 07-18-2013 at

08:48 PM

.
i have had two appys , red roan with blankets . swore i would never own an appy again ,and now have 3 appy cross with draft .Moose has the sclera, mottling, and white dots bird spots he is percheron x appy x 1/4. Su Su Suzi has the mottling and sclera she Belgian x AppyXmorgan. Mimi her sire was a draft x appy dad blue roan with a blanket, Mom was a tiny 1/4 mare with blaze and 3 socks.
---
Last edited by stevenson; 07-18-2013 at

08:53 PM

.
You know what, some of the best athletes and most loyals animals I've ever met, were appys. It doesnt matter whether someone loves or hates them, not everyone likes the same breeds. Its all about what works best for you.
Here is my Appaloosa, Elwood, 19 years old, unregistered, he's been with me 8 years now. I have learned since coming to this forum that he is a double pattern; varnish roan and blanket with spots, and he definitely is not gray as that is a genetic impossibility. This was last October upon arriving at a new barn just 1/2 mile from where I live.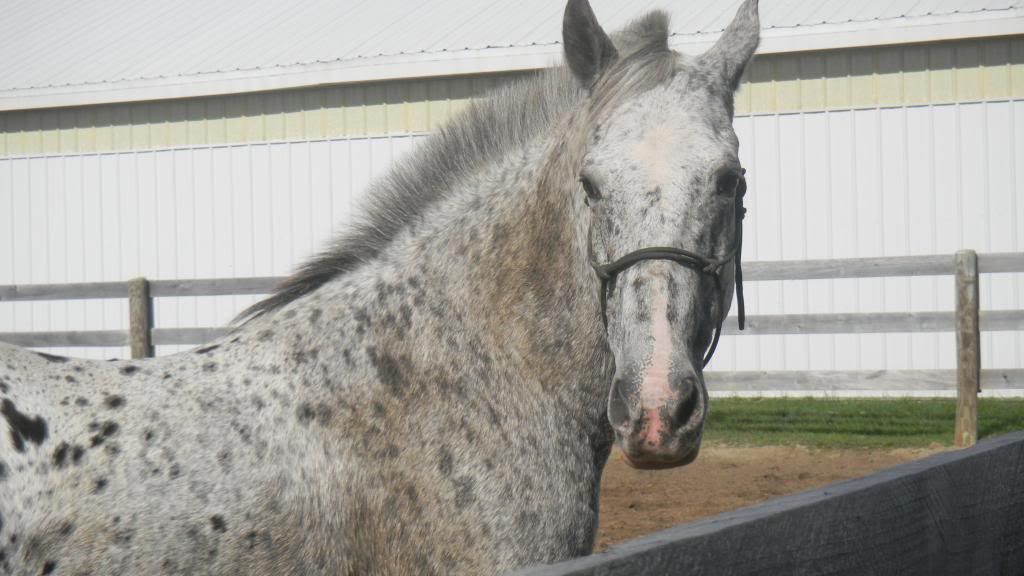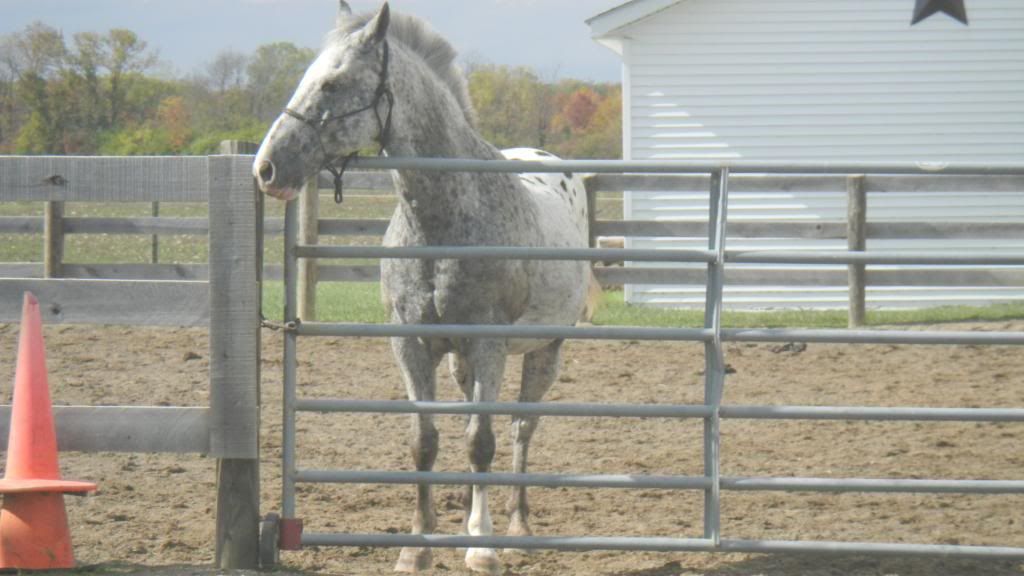 ---
Oh my, I just noticed his tail didn't make it into any of these pictures, he does have one though, it even comes to just below his hocks.
---
---
Last edited by anndankev; 07-19-2013 at

01:43 PM

. Reason: sp
Anndankev, your appy looks almost identical to my friend's.
Scout is Appy x Arab 16 years old.
Heres the lovely Scout-he's most definitely my heart horse. He had surgery to remove a very large bone fragment in his shoulder that caused him to come up dead lame one day. Surgeon said he had most likely had it for years, there was a lot of scar tissue surrounding. I purchased another horse after he had his surgery, and of course I love this horse, but theres something about Scout that just brings tears to my eyes. He's my best friend, my horsey love. We spent a lot of money on the surgery, even if he will never be a sound riding horse anymore, he'll be a pain-free companion. I've come to realize EVERY time we rode, he was in pain. He never once tried to unseat me, somehow he worked through it. Maybe I'm overanalyzing, but that tells me he does care. Love my lil appy butt <3
The day I brought him home, just got off the trailer.
Our first ride together once I bought him.
One of our last rides together before we found out he needed surgery
Saying hello to a youngin'
First day at the new lovely barn we're at now, having fun
Scout and Apache, appy buddys.