Actually, the only case I know of where distributing blankets with smallpox was discussed was during the French-Indian War as part of Pontiac's Rebellion.
From Wiki:
"The war began in May 1763 when Native Americans, offended by the policies of British General Jeffrey Amherst, attacked a number of British forts and settlements. Eight forts were destroyed, and hundreds of colonists were killed or captured, with many more fleeing the region. Hostilities came to an end after British Army expeditions in 1764 led to peace negotiations over the next two years. Native Americans were unable to drive away the British, but the uprising prompted the British government to modify the policies that had provoked the conflict.

Warfare on the North American frontier was brutal, and the killing of prisoners, the targeting of civilians, and other atrocities were widespread. In what is now perhaps the best-known incident of the war, British officers at Fort Pitt attempted to infect the besieging Native Americans with smallpox using blankets that had been exposed to the virus...

...Colonists in western Pennsylvania fled to the safety of Fort Pitt after the outbreak of the war. Nearly 550 people crowded inside, including more than 200 women and children. Simeon Ecuyer, the Swiss-born British officer in command, wrote that "We are so crowded in the fort that I fear disease…; the smallpox is among us." Fort Pitt was attacked on June 22, 1763, primarily by Delawares. Too strong to be taken by force, the fort was kept under siege throughout July. Meanwhile, Delaware and Shawnee war parties raided deep into Pennsylvania, taking captives and killing unknown numbers of settlers in scattered farms...

...Bouquet agreed, replying to Amherst on July 13: "I will try to inoculate the *******s with some blankets that may fall into their hands, and take care not to get the disease myself." Amherst responded on July 16: "You will do well to inoculate the Indians by means of blankets, as well as every other method that can serve to extirpate this execrable race."

Officers at the besieged Fort Pitt had already attempted to do what Amherst and Bouquet were discussing, apparently on their own initiative. During a parley at Fort Pitt on June 24, 1763, Ecuyer gave Delaware representatives two blankets and a handkerchief that had been exposed to smallpox, hoping to spread the disease to the Native Americans in order to end the siege. William Trent, the militia commander, left records that showed the purpose of giving the blankets was "to Convey the Smallpox to the Indians."

It is uncertain whether this fully documented attempt to spread smallpox to the Native Americans was successful. Because many Native Americans died from smallpox during Pontiac's Rebellion, historian Francis Jennings concluded that the attempt was "unquestionably effective". But, some subsequent scholars have raised doubts about whether the smallpox outbreak can be traced to blankets from Fort Pitt with certainty."

Pontiac's War - Wikipedia, the free encyclopedia
An accusation was made that it was done during the 1800s, but I believe the evidence is scanty. Smallpox was common among whites at the time, and it often was transmitted without any conscious effort.
I suspect many of us, crowded into a fort under siege with our deaths likely, might well have endorsed such a plan.
---
"Make the right thing easy and the wrong thing...well, ignore it mostly."
Quote:
I realize that.

Let me rephrase...what the heck does (alleged) racism among history writers have to do with the origin of the Appaloosa?

.................................................. .............

I believe in keeping things simple, and this seems to be a rather simple problem to me.

Before Spaniards arrived...no horses.
After Spaniards arrived...horses

We can speculate all we want, but it isn't really any more complicated than that.

It's no different than...

Before Impressive...no HYPP
After Impressive...HYPP

We know where HYPP came from, and we know where Appys came from...
Using that logic,
Before color tv No crystal meth,
After color tv crystal meth,
therefore color tv must be the source of crystal meth.
No doubt the spanish broguht horses, yet I dont believe they were the only or first source of horses. There is actually evidence to support Asian contact with North America.
They had the ability,
Theres a pretty widely accepted Polynesians/ south america contact.
Pueblos that supposedly speak a Japanese diaelect. ( Zuni indians)
Ok so how does doubling evey 20 years account for the asian look of the horses ? Not just the color but the general body and head shape ?
I brought up racism, as quite often our history books seem to credit everything in the world to the race and nationality of the writer. Heck just look at our accepted images and drawings of Jesus and other biblical figures.
Fossil or burial evidence with trees to match up growth rings predating columbus would be handy, but I imagine Northwest burial rituals didnt lend themselves to preservation. The surviving horses today may or may not be linked to the original herds so again not really any way to trace the DNA.
Quote:
Using that logic,
Before color tv No crystal meth,
After color tv crystal meth,
therefore color tv must be the source of crystal meth.

If you think that is the same logic as the examples I gave, then no theory you come up with would surprise me, nor is it a surprise you do not accept logic when you are confronted with it...
So here we have it. It is going to be quite the fight. In the left corner, we have bsms. In the right, faceman. The newcomer to the ring looks promising. Joe4D.
Where will you place your bets? Mine is on the young one. Joe4D.
---
Celeste
Carpe Diem!
I dunno...a new breed standard for Appys? Looks more like halter-bred QHs...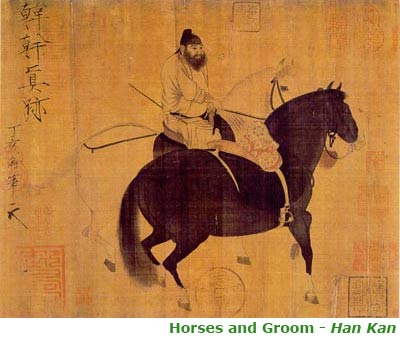 Chair seat alert!
---
"Make the right thing easy and the wrong thing...well, ignore it mostly."
Those look more like Quarterhorses to me...
You're all wrong, God created Appy's and placed them on the North American continent, nothing to do with the Spaniards
---
Last edited by Golden Horse; 07-31-2012 at

07:11 PM

. Reason: God brought me an apostrophe and told me to use it
Following on the Chinese brought horses with them theory and I recognize responses would be hypothetical, I have a few questions: 1) How long would such a journey take 2) How many could they get in their boats 3) Why would they bring them?
Quote:
I worked in restoration for an historical library, mainly western Canada. Apparently when it was learned that the native people were susceptible to white man's diseases order were given to trade small pox infected blankets. That disease decimated the native population. I've often wondered if small pox would have lived on the blankets during a voyage. It would make more sense if sailor's unknowingly infected women who unknowingly spread it. We don't read of how many women these men raped. There's an island of the Japanese mainland,where the traditional costume is not like that of the mainland but similar to our west coast Salish. Has anyone done DNA to see if the early Salish were actually Japanese. The North American coastline the continental shelf was once above water so travelling between continents and moving along the coasts wasn't any where as difficult as if tried today in the same manner as when NA was first settled.
They've pretty well proved the Japanese were in SA via DNA analysis of some mummies down there. There's a recessive gene only found in the Japanese gene pool and in these SA mummies. Can't be to far of a stretch to say they were also in NA.
The problem with horses being brought over is logistics. The voyage is a long one, if it goes to long horses become food. They drink a lot of water every day which is a precious resource at sea. They eat a lot of food and storage is at a premium. It takes a decent sized ship to transport even a single horse with food.
A lot of the people who came here did it in small craft, were fisherman and island hoped over here. Not exactly optimal conditions for hauling a horse across the pacific.
But the Spanish people hauled them over? Were there ships bigger?
---
Celeste
Carpe Diem!