I've had Appaloosas for a little over 30 years. I've had one go blind at the age of 22.

According to my experience...and the vets I've talked to...the horses with pink eye rims are at the most risk. Appaloosas, and some other breeds, can have pink (non-pigmented) eye rims. Apploosas also tend to have fine, often sparse hair that may result in thin eyelashes that cannot protect the eyes very well.

So, yes, the incidence of blindness may be higher in Appaloosas than in some other breeds.

If your horse has dark, or mostly dark, eye rims, then the risk of blindness is no different than any other horse with dark eye rims.

If your horse has pink eye rims, you'll just have to be careful to keep close watch for redness and irritation. If your horse won't wear a fly mask (the mare I had who went blind would scrape her face raw to get a fly mask off so I gave up on them) during fly season, you need to take extra care to keep fly repellent on the face and around her eyes and medicate the eyes at the first sign of irritation. Bright sunlight often irritates pink-rimmed eyes, too.

Word of warning: Be sure to work with your vet on eye medication. Ulcers and conjunctivitis can look the same in the early stages but using conjunctivitis medication on an ulcer or vice versa and you could have a total disaster.
Blindness
---
They dont all definately go blind but there is a higher likelyhood then other breeds. I dont know the percentage but its rare.
---
Equine Trader is New Zealands one stop equestrian website where you can
Buy and Sell Horses
. Also keep updated with the latest equine news and events.
Yeah, they don't ALL go blind, but a lot do. ;)
Anyway, I think they are pretty! I used to not like them that much...but they are growing on me!!
---
Ride more, worry less.
GOOD! My mare has dark eye rims. THANK GOD! i was really get worried. Because if she does go blind, then i know for a fact my dad will sell her, because then i wont have enough time to give her the proper care.
But i think she will be fine. She has very good fly spray.
I love appys! :) but most appys that I kno are blind so idk about that part mayb a special line so something??
---
3 barrels , 2 hearts & 1 passion
I love apps!
My fiance and I have 2! His is a leopard, and mine is either a snowflake or she's roaning.. i have no idea.
I was never really a fan of apps growing up.. thought they were too busy and were stubborn.. then i met Vega. She looks more like a qh, and when i got her, she looked almost solid in color. And her attitude... yes she can be stubborn at times, but i quickly got over that and can get her to do almost anything.
My fiance's horse isn't that busy at all, and he's just the sweetest thing, and tries his best to please you. I love my guys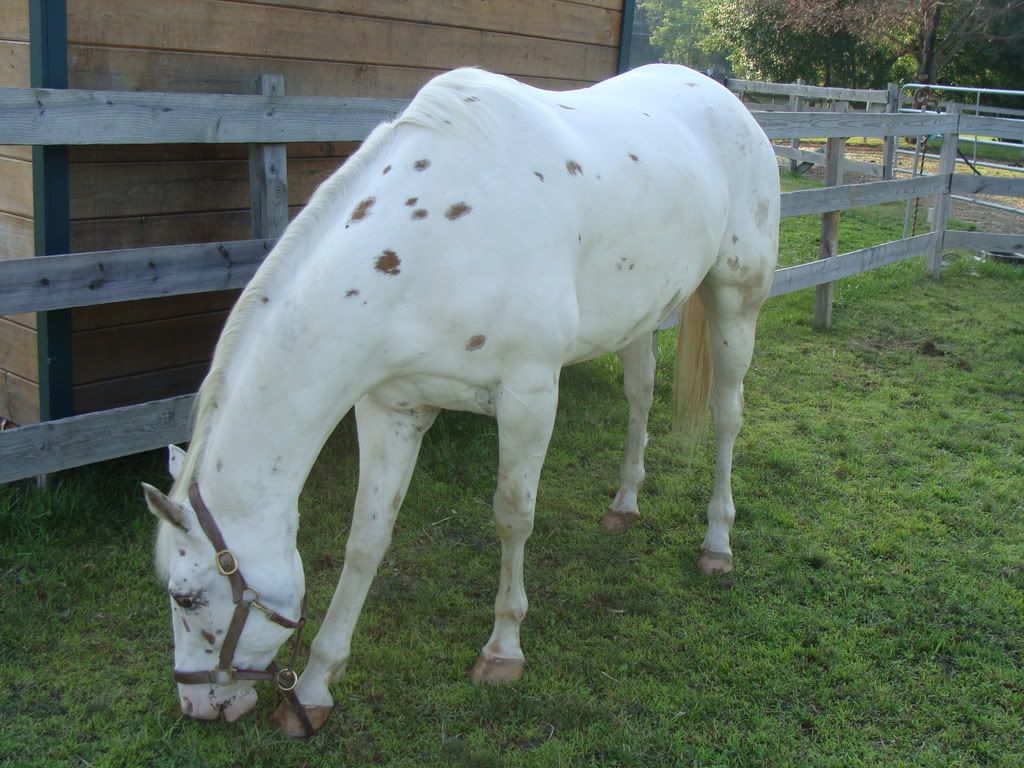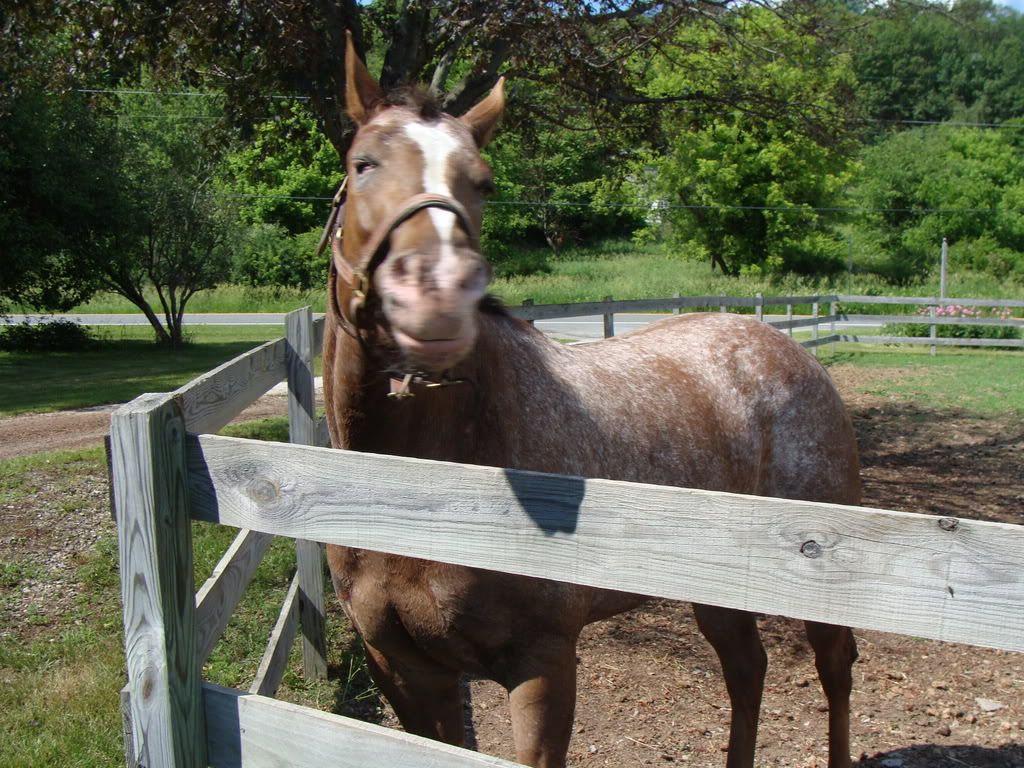 Quote:
Originally Posted by Sara
He's gorgeous!!
I've always been fond of blanket Appaloosas!
---
It's been awhile, but I'm back & back in the saddle!
I also love Appaloosas and I own 5 of them right now. My Stallion is very light He's 20 and certainly not blind. I think Apppaloosas get a bad rap But they are one of the oldest breeds around.
Quote:
Originally Posted by Small_Town_Girl
Quote:
Originally Posted by Sara
He's gorgeous!!
I've always been fond of blanket Appaloosas!
Was looking at the website and the farm is right in my state...and that's not the only nice app sporthorse they've offered for sale. Think I'll keep my eye on them:P
http://www.rugbycreeksporthorses.com/
I'd like a bit more junk in the trunk, but very nice stallion.
http://www.wapuzzan.com/photo_gallery.htm