appaloosa's -All owners!!
---
Hi


I own an appaloosa mare, name deedee, i have had her since she was 6 months old, and now she is 5 yrs old, 15hh, and at 2 yrs old i broke her to ride by myself, I ride her english, jumpers is her thing, as she likes to go high and fast, her bloodlines are amazing, with the executive, prince plaudit, pauls mad hatter, bosn red dog, king plaudit, also alot of warmbloods and thoroughbreds in the 1600s ,


post pics and info about ur appaloosa, and what discipline you ride it, and its bloodlines.

:) Thanx
Hey can you post a pic and pedigree link for YOUR mare too?
Better be ready to provide what you are asking for! LOLOLOL
I love The Executive bloodlines. I own a direct daughter of his,
a grandson (her 2008 colt-- the foal in my avatar) who also has 2 more crosses to The Exec through his sire,
Exalted Appaloosa
a 2007 filly by that same sire with 2x The Exec,
Ima Cool Maid Appaloosa
Here is the sire of the above two youngsters-- he was my previous stallion, deceased in 2008.
Ima Cool Hand Appaloosa
And, a granddaughter from a different son of The Exec--
Felicity Dun Appaloosa
This is the sire of the above mare (named The Undertaker-- son of The Executive-- these are yearling photos sent to me from his breeder Lew Ecklund)
The Undertaker Appaloosa
And, (drum roll grand finale, LOL) here is The Executive himself--
The Executive Appaloosa
I have more Appaloosas and Photos, but thats enough for now--
I ride western and play around with english occasionally
Here's my main man, Starspangled Justice or "Shoshoni" as I call him. He'll be 11 in May. I've had him since he was almost 2, did all his training myself, couldn't ask for a better horse. He is 1/4 Arabian 3/4 Appaloosa
When I got him he was DARK bay with a blanket but he gets white every year, I always say he does that to make me think I have a new horse so I don't get tired of him, lol!!
Next is my coming 3 yr old filly with Prince Plaudit etc.
Skip Tolou My Darlin Appaloosa
And my coming 2 yr old filly with Prince Plaudit way back there..
Justa Myte Sunsation Appaloosa
heres my main squeeze Streak haha. Hes not registered but I wish he was. We ride mainly trails but maybe in the spring we'll run barrels.
---
Bailey's Mountain
6 year old tb
well, i don't know much of anything about my boy, other than he's butt headed like every other appy i've ever met, but he's pretty well behaved. at least for me!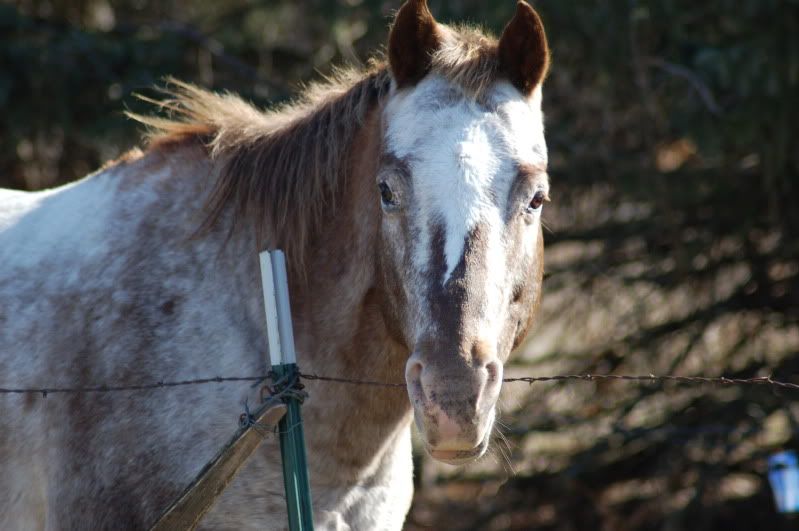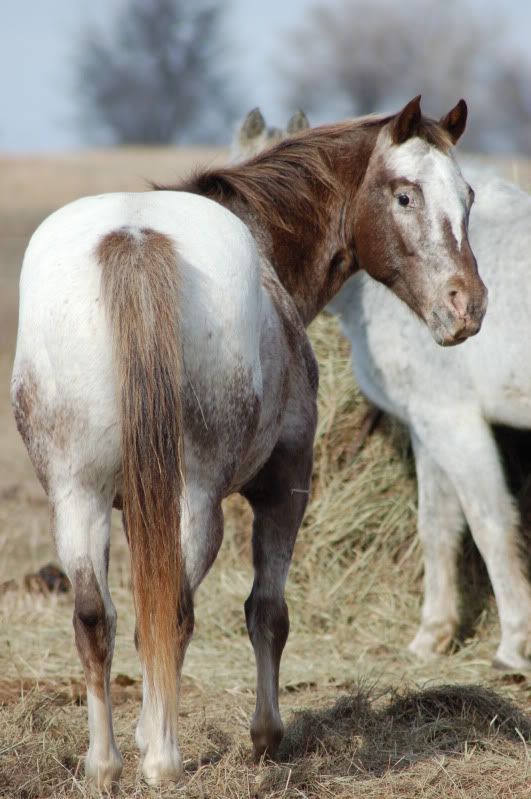 Here is my Appaloosa gelding Pro. He is 24 so we just trail ride and spend lots of time together.
Dial a Pro Appaloosa
bump


is any of ur appaloosa's registered with theApHCC (canadian registry) or the ApHC (usa registry) ?

my mare deedee is registered with the usa and im getting her registered with the canadian registry.
Ours is ApHC
---
Ω Horses are a projection of peoples dreams Ω
This is Chopper, 4 year old soontobe ApHC Gelding.
On The Rocks Please Appaloosa
This is his pedigree, name pending. He was just gelded in May, and is currently about 15-15.1 hands and growing again. I absolutely love him to death.
This is the closest I have to a conformation shot, but he's standing wonky.
Here he is doing his reindeer impression.
Modeling his thparkly headstall
Not very happy with mom's picture taking.
Aaaannd sporting his new orange SMB3's which are a teensy bit big.