Arab or Quarab?
---
Silly question I know, and it's a kinda long story as to why I wanna know, but can anyone tell me the biggest differences between a full blooded arab and a half one? I know someone who says they have a full blood, but I don't know if I buy it... It could be that since I've started boarding there, he's just gotten really fat (I also think she over feeds her horses). Here's the only picture I could find of his whole body
He doesnt look Arab at all in that picture. He looks TB.
Posted via Mobile Device
Every time I see him, I just think "Quarter Horse" or something. I feel like he's got more bulk muscle on him than pictures I've seen of Arabs, but I've only ever owned QH, so I don't know. Not really important that I know for sure, it's just... a personal pride thing ;)
I can see Arab. I think his nostrils are a little smaller and his head isn't as refined. Most people who think of an Arabian think of this:
Some of them look like this:
(image reference:
http://www.dreamstime.com/arabian-bay-thumb2619593.jpg
)
---
100% Anti-Slaughter and PROUD of it!

I see TB/QH to be honest... But you never know. I have seen quarabs who looke like foundation QHs before.
---
You can never take a Thoroughbred away from a horse crazy girl.
Hmm, my mom has a quarab and he looks similar, to be honest.
I don't have a good picture of him sorry to say, and now he's like 30. :/
---
"My treasures do not clink together or glitter; They gleam in the sun and neigh in the night."
-Arabian Proverb
Thanks for the input! That first picture, Joe, is exactly what I think of when I think Arabian, but I knew that that couldn't be a breed standard for all of them.
This is my part Arabian mare and yes she IS over weight...some tend do that...
This is Sassy...
Ognar
---
If we should meet and you forget me, you have lost nothing. If you should meet Jesus and you forget him, you have lost everything!
My old(33-38years) gelding is arab/quarter, the first pics are older
And this is the only decent face shot i can find, it's from my cell phone from a few weeks ago
My mare is a full blooded Polish Arabian (the more solid looking type of Arab, the really light boned ones are generally Egyptian bred Arabs) and she's often mistaken for a halter-bred Quarter Horse.
She's just got that whole chunky monkey thing going on. But even if she is a cross, which I'm really 99% sure she's not, she isn't a QH cross.
Summer: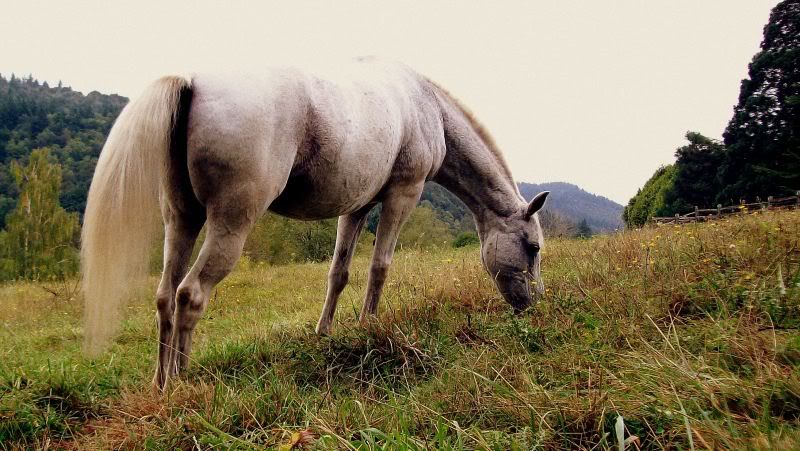 Winter:
He definitely could be a full blooded Arab. I'd bet that he's either Polish bred, Crabbet bred, or a blend of the two. Both of those "strains" of Arabian are much less typey looking than your average Egyptian bred Arabian (the more common type).
He also could be a Quarab but I bet he's not.
---
Fabio - 13 year old Arabian/Lipizzan gelding

~
Rest peacefully, Lacey.