Super Moderator
Join Date: May 2012
Location: CT USA an English transplant
Posts: 24,610
• Horses:
3
They are some fantastic Arabians aren't they. Not only did they breed some great purebreds but also many wonderful show ponies, anglo's etc
Our boy was eventually gelded at age 9 - he had a sad complicated story that eventually didnt end well - but after being nothing other than a stud horse he came to us and I broke and showed him in ridden classes. I like to think that the time he was with us was the happiest he ever had.
Keeping his weight down was the biggest problem!!!
He also did some dressage - which at the time many people said an arab couldn't do and what you call hunter paces. He would jump anything cross country but saw no point in show jumps at all.
Ugh will try to post my gelding again later.
I'm not seeing the photo insert button.
Posted via Mobile Device
I have to say, they have heart. I liked riding them on trails. I have one SE mare left who is retired and I sure do miss riding her. I love my QH's but there is something to be said about an Arabian horse....I will always have a place in my heart for the breed, always.
wsa has some really awesome looking horses, they are in a past post and are drop dead gorgeus. in my opinion
I never thought twice about Arabians.... until I got one and then another. They are Arab X but I just love them. Now I am all about the Arabians. I love their attitude and firey personalities. Not a fan of the super deep dish face, but a nice soft dish and the wide set eyes are nice.
I love the Arabian dished face so noble
---
Country Woman


Quote:
This, to me, is an Arabian where the breeding for that dish has gone a little too far for my liking:
I have seen photos of this horse before. She is so extreme that I wonder if it isn't an accident of nature (ie., something similar to wry nose) rather than an example of intentional breeding for extreme dish.
I wonder what her sire/dam looked like.
Someone else here posted that after owning Arabians every other horse's head just seems so plain and boring. I feel the same way! My first two horses were Arabians and it really took some getting used to when I bought some other breeds. Every other horse breed out there, at best, has a "level" head that is perhaps noble but not beautiful. And some breeds, well, let's just say stock horses for example, took some getting used to. So many stock horses have plain and even ugly looking heads to me. And it's like their eyes are sunk into their heads, not large and beautiful like on an Arabian. And my Mustang, well, he was no better. But the funny thing is, the better the horse treats you, the more beautiful it grows in your eyes every single day.
But it was hard going from Arabians to plain headed horses. I really like a dry head that is level to dished but not roman nosed at all. That's what I like about my Fox Trotter and her son. They are not dished, but at least they are level with curved, shapely ears like an Arabian. What the heck is it with ears on stock horses? Some of them have ears that are so short and fat. I like a shapely, curved ear and I don't care if it is a tad on the long side.
These are my Arabians (they passed away or I would still own them). I loved them so much! They were my first and second horses. Wonderful horses. I would own another Arabian in a heartbeat if I was looking for a horse and it fit my purpose.
---
Last edited by trailhorserider; 07-27-2013 at

03:39 AM

.
I love the old style Arabians! We used to own a wonderful Egyptian Arab mare named Goldin Majesty(Majic)
Now we have her filly, "Morning Glory" who is an Hispano-Arab, but still has a mildly dished face.
Below are some pictures>
Majic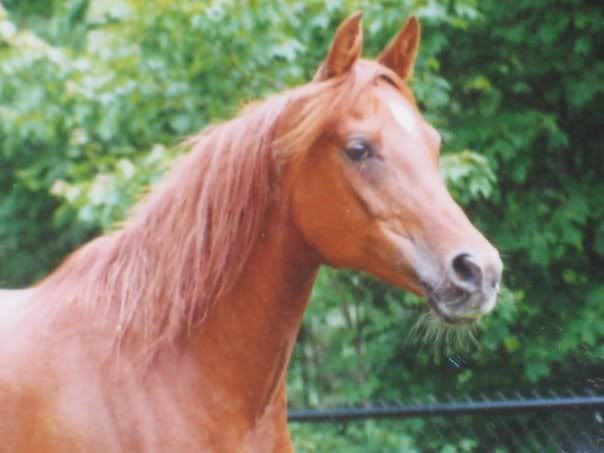 A few of Majic's ancestors that I love.
Grogor (Grandsire)>
Ansata Shah Zam.(grandsire)
Ansata Shah Zaman.
[URL=http://s240.photobucket.com/user/pamzora/media/shahzaman2_zps38ad1f51.jpg.html]
[/URL
Majic's filly, Morning Glory, age 7.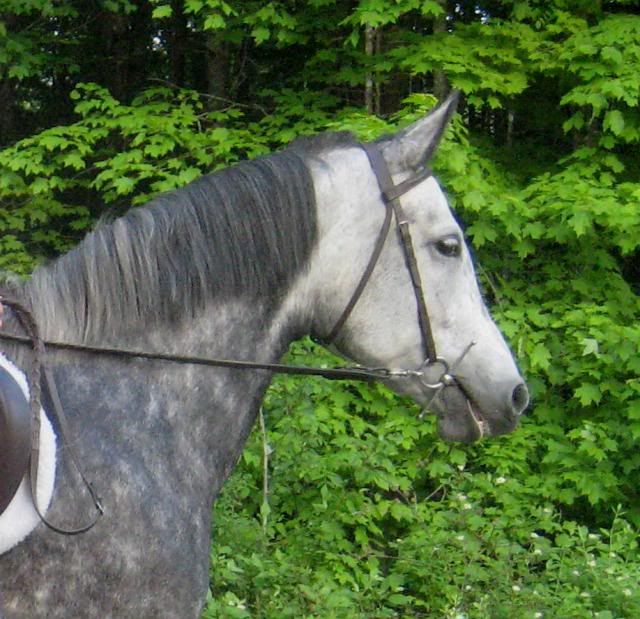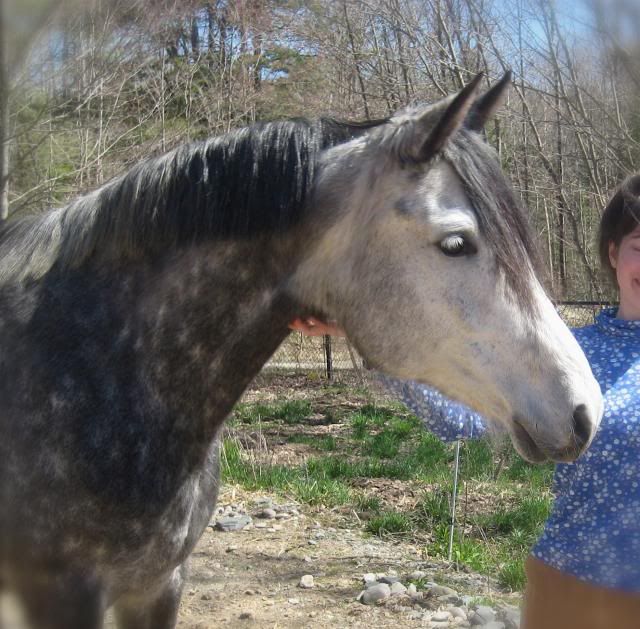 I always thought the dished face was an identification thing, much like the Shire's size and feathers, the Quarter horse's volumptuous hindquarters, and the Tb's legginess. Past that, I feel if it gets too extreme, like post-legs in QH halter horses, then it will slowly back off.
I remember as a little kid I used to always check if they had dish, because it was the only breed I could tell apart. I was always so proud if i got it right
I grew up around very spirited show horse Arabians that had really dished faces. It was something I never found pretty rather I thought they looked alien to me. I like Arabians that have a very slight dish to there heads, not extreme.