Trained
Join Date: Sep 2011
Location: Hour and a Half from Town!
Posts: 6,324
• Horses:
2
Ohhh I really like her! QH/PaintXArabs are probably my favorite horses.
Lots to like about her, nice hind end, not downhill, pretty head, seems to have plenty of bone and ??size?? at her age. Nice chest from what I can tell. Well done sweet mare!
I've had 5 over the years. Some had a heavier stock horse look, some looked more arabian... With this one I see her having a higher head set due to the shorter neck. The action shots makes me think she will have the lovely floating trot, I love that feel!
Here is our cross, he's one of the sweetest most level headed horses I've owned.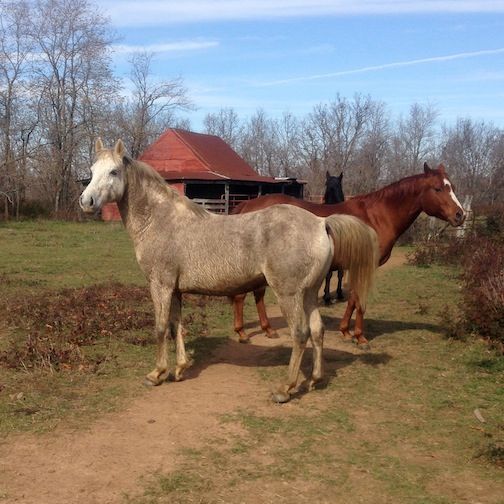 This is the first one I had, she sold me on the "breed". This mare could cover 20+ miles at a jog without breaking a sweat. Sure footed too!
Keep us updated!
---
You can get a lot further with a ladder than you can with crutches!!
What do you mean what do I mean?
I've had 3 half Arabs, and right now I've got a half Arab and a paint, and you're going to have a great horse- she'll probably be able to do almost anything...

She's adorable... I bet she'll be gorgeous in full tack, or all clean and fancy for a show. Good luck!!
---
Last edited by star16; 01-30-2013 at

05:20 PM

.
I'm extremely partial to the quarab, partly because my first horse was one, partly because I like both those breeds. The arabian gives the qh/ paint side a kick, which is what I like, lol. My quarab was fantastic- we competed in gymkhanas, mostly just poles and barrels. He ran on average 16 second runs in both. He was FAST, built completely for speed, and was pretty good at turning- not great, though. He was more speed than turn... I would say he was pretty much a 50/50 in every aspect- physically, and especially mentally, he had lots of get up and go but wasn't insane, he was so intelligent that it scared people, extremely friendly, liked people more than horses, hated dogs and coyotes (he would run for hours chasing coyotes in the desert, leaping and dodging bush and cacti, the coyote was always first to give up) and overall was just the best horse in the world for me. He passed away last April, and I still miss him very, very much.
The biggest problem with quarabs, to me, is the same as my issue with any cross- it must be done responsibly, or else you're going to get a funky little thing that can't excel one way or the other.
Overall, I really like this filly from what I see of her pictures. She looks like she's athletic, maybe taking a tad bit more from the qh side than the arabian. Overall she seems like she has a pretty good balance between the two sides. Her neck is a bit short, but that's okay. She looks well put together and balanced, with a good flow to her body. I'm not going to go into detail because I feel that I'm not as knowledgeable as I could be, but as a whole, she's a nice looking girl. How old is she? Sorry if I missed that!
She's coming 3 in the spring I know that her sire is a full blood Arabian show horse who is currently being shown. I haven't heard back on her parentage yet though. I was told the dam is a big stocky paint mare which I'm guessing is where she gets that short neck from. The current owner contacted the breeder so I can register her as a half Arabian and a pinto if I wish.
Posted via Mobile Device
Soooooooo when's she coming home? ;)

I love this cross. I think you'll like her a lot.
Going to see in her this weekend so probably Saturday.
Posted via Mobile Device
Good luck today!
I bought a coming three year old, barely handled half arab / half paint (running lines!) a couple of month ago. I regreted the buy the moment I commited, but have changed my mind 150% since I picked him up. As aloof as he was the first day, as loving and willing he's become in just a couple of days. Super smart and easy going horse, so fast in his training that he outran me (ran through a training program I usually spread out over two weeks in just 5 days). These horses are smart and will do anything for the right person!
Thanks! Supposed to go get her here in a bit!
Posted via Mobile Device
---
Noey's Herd
So did you get her?? I'm dying to know!!
Trained
Join Date: Sep 2011
Location: Hour and a Half from Town!
Posts: 6,324
• Horses:
2
Oh yes, do tell!!!
---
You can get a lot further with a ladder than you can with crutches!!
What do you mean what do I mean?