I am new and I just saw this post!!!! Ohh......I LOVE arabs!!! They are SO pretty!!! I have a 6 year old pure bred, straight egyptian, al-khamsa, blue list, bay arabian mare (that was a mouthful). Her name is GHA Stormys Moniet. And she is one of the best horses I have ever owned. I got her when she was three days old from an Arab breeder in Oregon, her dam had rejected her. To make a long story short I was totally blessed and this very nice lady brought me this gorgeous filly and only asked $100 in return (didn't even cover the cost in vet/gas bills! And this filly came to me very healthy and strong, no problems whatsoever, she has great conformation and one of the sweetest personalities. Now that isn't the full story but it would take me a long time to post the whole story on here so if you would like to hear the full story, or if enough people want to hear the full story message me and let me know cause I would be happy to tell it if people would like to hear it. Its kinda long thats all. Anyways I absolutely LOVE her and she is NOT your tipical Arabian (which are normally hot tempered and frisky), but not her, nope, just by her temperment you would never know she is a purebred Arab. Since I got her trained when she was 3 yrs. old I have riddend her with ONLY a halter and reins, NOTHING ELSE for control. She has never used a bit and I dont' think I'll ever have to. Like I said she is now 6 yrs. old and we have gone on NUMEROUS trail rides (even a couple up in the Montana mountains,very steep, hazordous trails!) and have never had any trouble with just reins and a halter. She is ALWAYS very calm and good on the trail, she has encountered DEEP rivers, ponds, mud, STEEP (up and down) hills, mountains, rocky hills, tied to trees while on a hill all night,hot conditions, cold conditions, jumping over logs, fallen trees, encountering moose, bear, many deer, coyotes, etc. She has pretty much done all the trail stuff she could do, and all with a halter and reins! We trust her enough to put almost any beginning on her, she knows her job and does it well. I absolutely love my arab, they are SO smart, loving, and drop dead gorgeous! Ok, enough talk, I'll show you some pics.!! THese are all older pics. from last year, but I'll be getting some new ones soon and will post them! I will also try to find some of the pics. that i have of me riding her on some trails around here. Well Enjoy!
One of our trips to the Montana moutains, Wanless Lake, Stormy was loaded up quite heavy but did a great job on the trail, I was very proud of her!~
Taking a break (trails in Montana)~
She's very pretty! I think the Arabs look a little thin, I like the look of larger horses better. I have also heard that Arabs are very hot, but I still think that they are very good horses, though they just look too thin to me......
She's very beautiful horsieluver. I love solid bays.

As far as temperament, I've seen more hotter Arabians then calm. There is a lesson horse at the barn I am currently at that I really like and enjoy. He's a lovely flea bitten gray.
But, one of my least favorite horses was an Arab. Of course, her ill manners had a lot to do with the owner.. :roll:
I had a farrier a while back (promptly fired for making racist slurs and various other issues) that said Arabians were one of the things that should be shot the second they land.
I thought that was quite extreme. He also said a variety of other rude things and you can bet I gave him a piece of my mind. :roll:
Anywho, I have only met ONE Arabian that I can truely say I like. His name is Kochise and he is a son of Khemosabi. Bay, around 14.1-2h and not really heavy set or anything. Very dainty. He is very, very sweet and the only Arabian Ive ever trusted.
He is I believe 25 years old this year and my cremello paint mare I had is in foal to him. Due on the 19th! I cant wait to see this cross. He seems to cross nicely on Paints for some nice pinto Half Arabs.
I'll have to dig up some pictures of Ko and his get for ya'll to critique as Im not much into Arabs at all.
Brittany
Oh, I'd love to see pictures of your cremello!
Here are pictures of Kochise and Sierra, the cremello paint mare I mentioned. Sierra will be 8 years old in March and this is her second filly (my filly's half sister or brother!
).
Ko: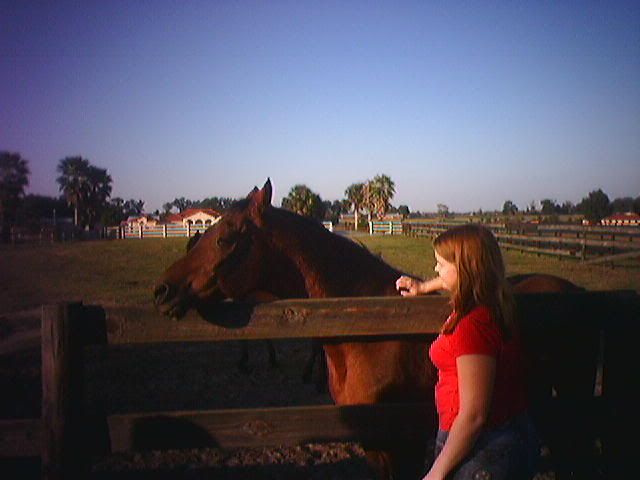 Its hard to see Sierra's color as she is a cremello tobiano. She is mostly white but her head, chest and hips are cremello. She has crystal blue eyes. Very pretty! Excuse her weight, she just had her first foal and is very pregnant in the last pictures. She's due Feb. 19th with a little Half Arab foal.
With her 05 filly Raine, who I still have and will never let go
:
I cant seem to find the other pictures I had of Ko. The one I posted really sucks
. I believe all you Arab lovers would really like him. He's the only Arab Ive ever liked.
Brittany
is she due with foal this month?!?! you will have to let us know how the pregnancy goes!!!
Yep she seems like she will go any day now. Her due date is the 19th but she is fully bagged and showing all the signs that she could drop the foal on us anytime. Im very excited!
A friend of mine has a grey Versace granddaughter that she is thinking of breeding for either a pinto Half Arab or breeding to Ko around April.
Brittany
Here are pictures of Sierra's new colt! She had him sometime in the wee hours on Sunday morning. In these pictures, he is only a day old. Aren't babies so cute! He is by Kochise, the Khemo son.
Everyone meet Golden Khing and his dam, Sierra!
And of course, the absolute best picture for last. Naturally its a foals favorite thing to do! Us humans have to have some purpose don't we? lol
aw, the pictures aren't working for me