I've not been around many Arabians, but my experiences with them has been nothing but positive.

The horse that I first took lessons on was an Arabian. He took care of me, and I will NEVER forget the first canter I had on that horse. It was like flying.

My "potential first horse" (as I like to say, as nothing is final right now) is an Arabian. Dory has energy and shows some sensitivity, but it is well placed and she is not "crazy". She is too sweet and I find her very easy to work with. She does spook from time to time but nothing bad; she catches herself and the more I ride her, the more confident she becomes. Honestly I think she has a very solid mind. In 5 rides there was a clear difference and improvement in her behavior. Arabians indeed seem like very smart horses. Loyal and willing to do for you. I'm excited to work more with her.
Like with any breed you will find both good and bad Arabians. Overall, I agree with what others have posted, that they are sensitive, intelligent and energetic. Arabs make good all around horses and can do well in a variety of disciplines. They are known for their stamina and enduranceand seem to like being sround people. An Arab needs a confident leader, especially when they are scared or unsure. With a confident rider /partner, they are loyal and very willing. With an insecure or inconsistent rider, they will be difficult to manage, but I think the same goes for many other breeds as well.

If you like Arabs, then finding the right Arab will be rewarding and bring you lots of joy. If you don't like Arabs, you will likely not be satisfied even with a great Arab.
It depends on the horse. I've ridden some crazy Arabs, some calm and gentle Arabs. One of my horses ( which is a QH) puts the 'crazy' Arabs to shame with his nutso behavior. Each horse is an individual.
Posted via Mobile Device
I love arabs!! I can name two right off the top of my head that are on my list of favorite horses to ride of all time. I think the problem is that their nature is over dramatized by unconfident, or nervous riders. Usually a horse is great depending on how it is trained, and not necessarily based on the breed itself.
Not to say that I haven't ridden my fair share of some *very* hot arabs.
Yayyyy!
---
The bond I have with my Arabian mare is unlike anything I have ever wished for. When she hears me whistle she runs in from the field or where ever she is to be next to me. She will follow me anywhere.
Also
---
The way she is around my younger siblings says a lot as well,
My gelding is half Arab, half TB, and he is wonderful <3

We have had some BIG problems, when I first bought him things were amazing for about a month and a half and then the relationship started to go downhill. He started bolting, he bucked me off, he went from lovely and steady while jumping to rushing his fences, I was THIS close to giving up on him and giving him back to his previous owner. I'm not sure what made me keep going but I'm **** glad I did!

I got a coach to help me and he was one of those "blame it on the horse" types. He saw what I was doing wrong, but the rushing fences thing? That was Monty's fault, not mine, in the eyes of that coach. Which was entirely inaccurate - it was my fault!

Anyway, long story short, it took me a year to really 'get' him, but once I did, he 'got' me, and things all of a sudden started going well. I'm not sure what changed in our relationship exactly but all of a sudden I stopped taking him for granted and started loving him for more than just 'being a horse' and now, at the two year one month mark, I can't imagine my life without him.

Monty's Arab half is 100% Crabbet, and he is a very substantial horse [solid built, chunky head and neck, big solid legs and feet] with an... interesting temperament. It's a great temperament, but an interesting one, that's for sure.

He holds grudges. He gets mad. He gets jealous. He is a human trapped in a horse's body - he does NOT act like a horse AT ALL! He's very possessive of his ladies, the moment you bring in a gelding he doesn't know he turns into the herd stallion and is out to kill the male interloper. I swear he's bipolar or something, he can go from totally lazy to just about bolting in a heartbeat with no perceptible reason and he can also go from totally cooperative to the exact opposite in the time it takes to say "he's a bit fresh".

Arabs ARE quite like cats. I find that Monty is incredibly affectionate with everyone - sort of like a ragdoll cat - but he does have HIS person, who he plays up for more than he would someone he doesn't know. But he also gives his person more of himself. He tries harder.

My guy is incredibly lazy!! He's so quiet that most horse people I've let ride him ask me if he's a QH [if they don't already know he's an Anglo] and one person asked me if he had Clydie in him. BUT, he can be strong, and if you offend him heaven help you because he can be completely contrary! Push him to go faster and he slows down or stops, ask him to stop and he goes faster... try to turn him one way he insists he must go the other... stubborn old toad he is!

Probably his funniest trait, definitely the thing I most adore him for, is the way he comes running, calling out, if he's cold and you pick up his rug. Closely followed by the way he tries to walk away, the most adorable "one is cold, thou must never remove one's rug in these conditions!" look on his face, if you approach him intending to take his rug off and he wants it to stay on.

He's too casual and easygoing to be a lord but he sure acts like one sometimes!! His Lordship is quite specific about his needs and expects his servant [oops, owner] to meet them.

He's a big sook and a real cuddler and everything that's wonderful about both breeds <3 and so easy to deal with on the ground - I once clipped his face and ears with no halter on him! He pushes the limits now and then but for a person who he respects as a leader he is worth his weight in gold and so easy. I can jump off, leave the reins around his neck, tell him to stand, and go move jumps around/adjust the height, even catch and bring in my other horse, and he'll stay right where I put him until I return.

This horse <3

Only horse I have ever had that I can tie the lead around his neck, and take off running, and he'll keep pace with me. Stop the moment I do, or if he overshoots [very possible and happens a lot, I can stop a lot faster than he can!] he comes straight to me, head low, and asking for a face rub. He's so special <3

I am totally in love with the breed, perhaps one day I will have a purebred if I can find one that's tall enough [I like my horses 16hh+ and there aren't too many Arabs that height around here] or if not, another Anglo, out of a tall Thoroughbred mare and by a particular 100% Crabbet stallion I know.
---
REGAL PRINCESS
---
Last edited by blue eyed pony; 03-22-2013 at

05:19 AM

.
To anyone reading this that has no arab experience, Please see the "warning" in the posts, not just the wonderful points, and be prepared. I've seen some crazy ones (and i mean really CRAZY), and I've seen far, far, far too many people, especially women, buy an arab because of the black stallion or king of the wind fantasy they grew up with. In both those stories they bonded magically with their horse and it all ended well. in real life its more likely that someone unexperienced with a sensitive, oppinionated(but gorgeous) mount will end up with broken bones, shattered confidence and a wrecked horse.
back to the subject at hand, I know alot of people say certain bloodlines are crazier than others, and in the case of the highly bred halter lines I think thats true. I do think that each needs to be evaluated individually. My egyptian arab is hot and oppinionated, but she is also one of the sanest horses I've ever owned, and less spooky than half the appies on the farm. In contrast, I had a polish/crabet gelding that everyone told me should be pretty mellow, who was a big, powerful unpredictable brat of a diva.
and on my prticular horse, she is not an easy ride, or a smooth one. she is small, athletic, can go forever, but smooth she is not.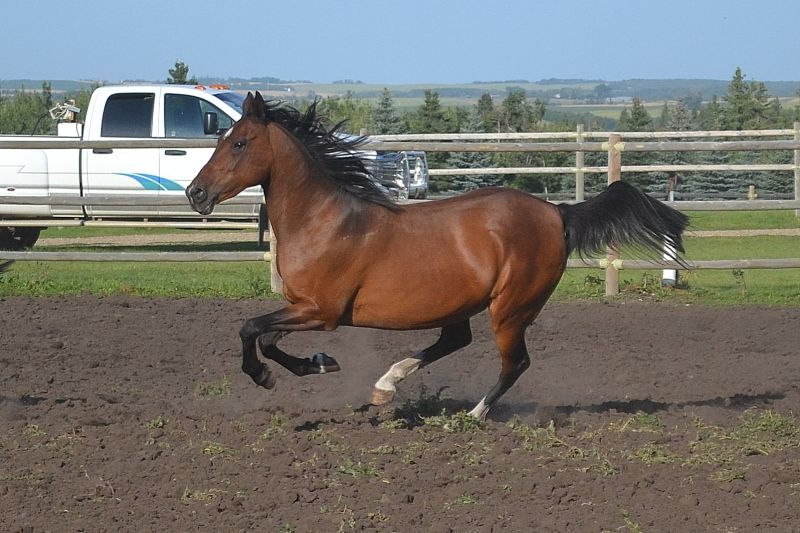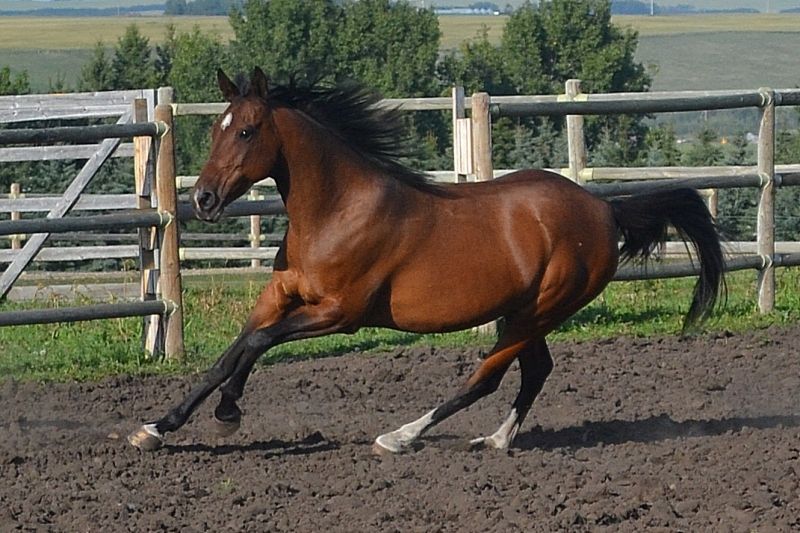 I agree with what just about everyone on here says. There are a few threads like this and you'll see the same responses there, too. Arabs, TBs, morgan's, saddlebreds, and other similar breeds have very similar generic personality types. Typically you have to be a step or two ahead at all times, they tend to be more sensitive to their riders/owners non verbal communication. They have a lot of personality for sure.

I couldn't imagine not having an Arabian. There's something awesome when you have a horse's unconditional trust and loyalty after having to work your booty off to earn it. Then, you have to challenge their mind frequently before they get bored and start looking for ways to entertain themselves. I love the bond I have with my gelding, even when we disagree or have miscommunications (like last night). I find often that my almost year old gelding has a lot in common with my social, active, curious, loving 8 year old daughter. He does better knowing that I'm there spring him when we ride
Posted via Mobile Device
He looks to me for approval and behaves better when I let him have it.

I will say that the breeding lines - crabbet, polish, spanish, egyptian - aren't as much of an indicator of personality as is topically portrayed. My straight egyptian is calmer and saner than many polish, crabbet, russian bred Arabians that I've had experience with. I know loopy Arabians of all lines. The lines do, however, typically give a better indicator of build and size. My guy is small and narrow with a tiny back and upright patterns that has become very prolific in egyptians, but through intentional breeding he doesn't have a super refined and dishy face that is also becoming very common.

It's very true that it's a breed that isn't for everyone. Same with any other breed out there. I love the challenges that my Arabian gives me on a regular basis, no matter how frustrated I get. I would get bored very quickly with any pushbutton horse.
Posted via Mobile Device