My arabian is so down to earth and well mannered. She is well trained. She recently had an injury and had been on stall rest for over a month. I thought the first couple of rides were going to be interesting...she behaved perfectly. All I know about her breeding is her mom was an polish arabian and her dad was a son of Cass Ole so I don't know if it is the bloodline or her training. She has changed my thinking about the arabian sterotype. We do trailriding.
I say nay.

Honestly, they are the last breed that I would ever choose to own as my personal riding horse - no offence to anyone here who has and loves them - just my preference. In addition to the poor personal experiences that I have had with all things Arabian, I just like a bigger and more solid body on a horse.

IN THEIR DEFENSE I work with a lot of rescues and I do not have a ton of experience with a nice, well bred Arabian horse I suppose. Maybe I would enjoy them more. That said, these rescues come in all sorts of breeds that I get along with just fine but I am *this* close to not taking anything Arabian or Arabian half. I just do not like them. I have worked with over 30 Arabians, Arabian halfs and the like and they take so long to get anywhere with. They panic, they forget, they don't understand, more of them have been aggressive than other breeds, they have ALL been buddy sour, they have been more willing to try stupid stunts like running through a fence...

My riding horses are Thoroughbreds so I am used to sensitive but these guys are over the top and I dread working with them. I have retrained OTTB's, taken two Akhal-Teke horses which aren't know for their laid back temperaments, worked with drafts, plenty of Quarter Horses, a few stubborn Haflingers, lots of ponies and Miniatures - I love them all but I am over taking un-trained Arabians.
Quote:
they take so long to get anywhere with. They panic, they forget, they don't understand, more of them have been aggressive than other breeds, they have ALL been buddy sour, they have been more willing to try stupid stunts like running through a fence...
This is because they are sensitive, intelligent horses [moreso than Thoroughbreds] and don't cope well with being treated badly. It takes a very specific type of person to be able to work with an Arab that's been handled properly from birth, because they are SO smart, and so sensitive. And they hold grudges like you wouldn't believe. My gelding makes you think he's forgotten about something you did that offended him, and then gets payback when you least expect it.
A horse never forgets. An Arab never forgives. And while they are highly intelligent, I find they approach ALL people with the same attitude. One that's been handled properly is typically a friendly, easy to get along with animal, but one that's been abused... well... let it be said they won't stand for being mistreated, and if one person mistreats them, all people are not to be trusted until they prove themselves otherwise. They're easier to push over the edge than other breeds. Easier to MAKE aggressive. And far more general with that aggression - a man abuses them so bad they turn nasty? Women are evil too. As are children. And anything that remotely looks or smells human.
And some bloodlines are just psycho, but you get that in any breed. There are Thoroughbred stallions known for throwing very nasty kickers [one that is known for siring horses that cannot be pastured with, or stabled near, other horses, because they will kick a horse to death]. QH stallions known for siring nothing but rodeo broncs. Friesian bloodlines known to be completely insane. Heck I even know of a DRAFT stallion [Clydesdale IIRC] that consistently sires dangerous foals, and not for lack of correct handling.
You DO see a higher percentage of dangerous Arabs, because unfortunately they attract idiots [they're so gorgeous to look at...], and they don't suffer fools.
---
REGAL PRINCESS
In my 63 years I have had nothing but positive expernces with Arabs. I ran a boarding stable many years ago and promised myself never, never to own a crazy TB. The only thing they are good for is running, running and more. Also, those QH barrel racers can be stupid as well and I am offended by the person that posted that Arabs are crazy. BLUE EYED PONY...YOU HAVE A LOT TO LEARN.
After this weekend and doing the first real work with my Arab for a while, I change my previous vote of yes, to
YES YES YES.
Arabs are smart and sensible, and the think, I believe that most people who have issues with them don't understand them so well. I have worked with all sorts of horses, but the Arabs ARE different, you have to love them for what they are, and you are fine.
Solid body, yeah right no solid bodies on my arabs
Mother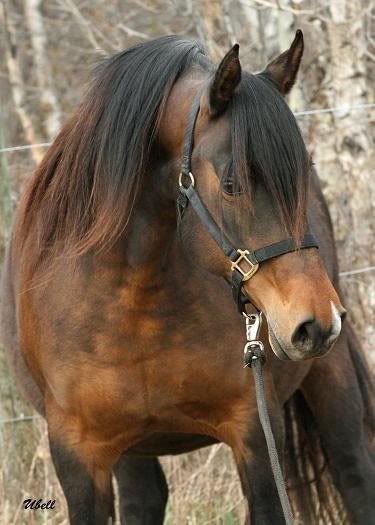 Daughter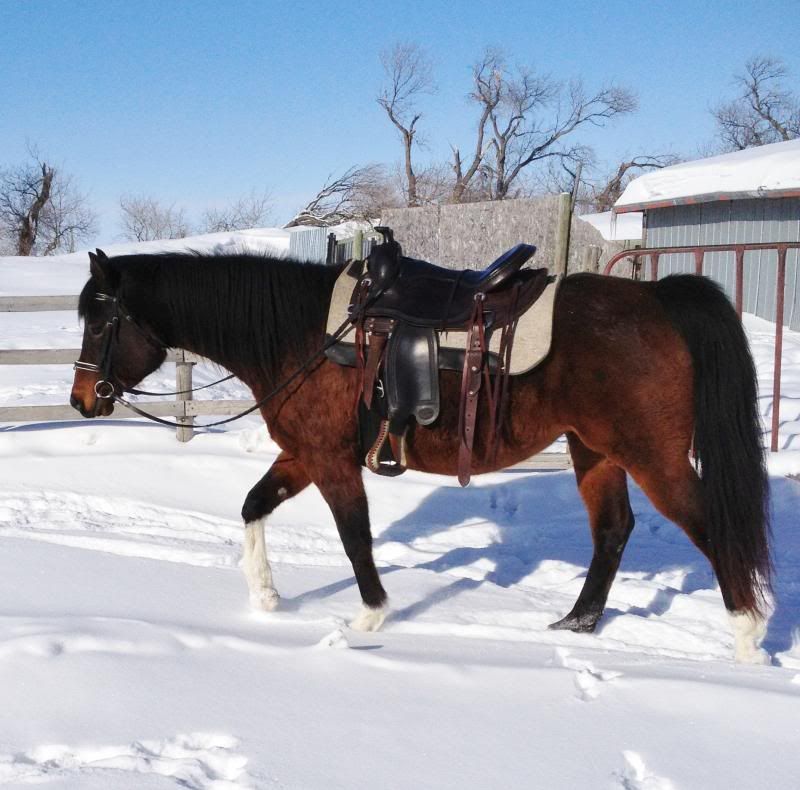 Enough solid there for most people I would think.
A teeny brag on my Arabian. We recently attended a trail clinic. We were the only ones in English tack - Dressage saddle to be specific. I was surrounded by QH's and Appaloosas in western tack. My horse likes obstacles which is why we went. He did all of the obstacles willingly, eagerly and when we had a little challenge at the end, he was voted to have done the obstacles the best. Half of them were things he hasn't come across before.

Yay for Arabs!
Posted via Mobile Device
I say YAY! I have 2 beautiful Arabs people tell me I'm crazy all the time for having them my barn owner tells me she wouldn't touch an Arab with a 10ft pole she's also never ridden one either but I absolutely love them they're very smart IMO. Neither one of mine are aggressive they're both very social and My older mare is your stereotypical hot headed Arab I love that about her but when you give her a job to do she puts everything she's got into it! My younger filly is the total opposite of my mare but she has the same determination and they're both very smart and catch on to things so easily. So I say YAY all the way to me they're the best breed out there!
OK I am confused as to why Blue Eyed Pony has a lot to learn?
Blue Eyed Pony I agree. I am sure I'd click just fine with a well bred Arabian who has had mostly good life experiences. But my knowledge of the breed comes in being the "idiot" to take them back to the beginning and fix what bad experiences have been done. My job is 15x harder with this breed for the reasons that you've stated.
Golden Horse I was admiring your little girl on another post, very pretty. You must admit most of the Arabians that I'd come across while rescuing aren't "bulky" by any stretch. And bulky or not I look better on a 16.2hh TB or Warmblood, even a larger Quarter Horse, IMO, being 6' tall
That was all that statement meant
Howdy, I'd like for you to come tell MY Thoroughbreds to run and go ahead an TRY to get my barrel horses hot. Hehe... really, they could use the help. Lazy, fat, hay burners....
One of my favorite jokes is that Arab's think their name is "Waaaalk, waaaalk". Being a former Arab owner (all of my horses in my life before my current mare were Arabs or Arab crosses) I can relate.

Arabs are not for everyone. They, along with TBs, are considered hot blooded horses, and they show it. To get along with a hot blooded horse, you need to be very confident, very calm & relaxed, and very light and gentle with your cues generally speaking. The cues I need to get some QHs to move off would have sent my Arab gelding into orbit.

Arabs, just like any horse, bond tight with their owners, and just like any horse, you will have some growing pains the first few years as you get to know each other. They tend to be very reactive, and dramatic when they do react. I use the word "teleport" to describe how they can go from one spot to fifteen feet over in the blink of an eye. They become much less reactive when they trust their rider/handler. They also tend to live longer than other breeds, and do mellow some with age, but even well into their twenties, they can give you a run for your money.

They are neither good nor bad, they are what they are. If you like a fast horse that moves off quick, is athletic, and smart, and you have the confidence and experience to be a strong leader and a good seat to sit through some spooks, go for it. If you want a consistently laid back, easy going, relaxed, on the lazier side horse, to just mosey down the trail, I would look towards the stock horse types. Arab crosses are ideal for some, if you get a good cross with a more mellow breed, you can sometimes get the best of both worlds. Arabs crossed with other more high strung breeds, like TBs and ASBs tend to be a bit of a handful IME, ie, sometimes even more reactive than a plain Arab.
YAY...definitely.
I won't go into the usual discussion of stupid or not stupid, trainable or intelligent and all that.
But I would like to tell a little story.
I used to board at a big equestrian center, 120 horses at any given time. Standardbred s, jumpers, and what not. I was the only one with Arabians, I had three. My paddock was the last, about half a mile from the barn. So I took my trio out together, one left, one right, one behind me. We had to pass a good piece of the track, where the standies were training, then along the jumping arena, to get there, and back to the barn.
One evening I got my trio, we headed home, came up to the arena. Next thing I saw was a huge white horse flying over the arena fence, getting hung up, summersaulted and ended up on it's back, right in front of us. Each of mine were about 17 hands high, snorting and blowing. We passed. Passed along the track, horses doing fast work, 5 of them, only a hedge between us and them. Again, 17 hands high, snorting and blowing x 3. Then a bunch of kids on bicycles, waving plastic bags and screaming and yelling. And again, 17 hands high, snorting and blowing x3
We arrived in the barn, everybody went in his/her stall, I took off halters, closed the doors and had to sit down for a moment........not ONCE was there any tension on the leads, not once they tried to get away from me or even ahead, no kicks, no bumps, nothing.
I'm convinced I wouldn't have survived that with any other breed.
One of them, super-hyper-sensitive, more than once got me mad because he would act up for no apparent reason. Only to learn later he aways had a reason...a lose horse behind us or in the arena, a rider in trouble or such. He also never forgot the white horse falling out of the arena. Whenever there was a white horse going faster than a walk he'd get uneasy....for years.