Big allround horse
---
Hi there,

I'm considering buying a horse.
I'm looking for a big allround horse.
It will be ridden western style (western saddle)

Wanna use it for:
- Horseback hunting
- farm work, ploughing and pulling wagons.
- riding through woods and nature
- western riding (just for fun)

Big plusses would be:
- Strong legs and hooves (would like to ride him/her barefoot, friend of mine is following natural hoofcare.)
- flat gait (i like to sit the trot)

I'm guessing i'm probably gonna end up with a draft.
I've considered a haflinger and a gypsy vanner but i find these a bit small..
I weigh more than 220 lbs, so if it has to carry me + equipment on a long hunting trip, i'm guessing im better off with a heavier horse.

I'm considering these breeds at the moment:
- belgian draft (this would be the brabant type, as i'm in europe)
- percheron
- shire
- clydesdale
- suffolk punch

Wich breed do you think would suit me best?
If you think of another breed that would be good, please say so :)

I know there is no "best allround breed", i'm just asking opinions from experienced people on what breed would best meet
what i described.

Thank you :)
My friend had a nice Suffolk quarter horse cross. She was big, but not hugely draft sized and had a great easygoing disposition.
---
We are not human beings having a spiritual experience. We are spiritual beings having a human experience. -Pierre Teilhard de Chardin
Green Broke
Join Date: Aug 2009
Location: New South Wales, Australia
Posts: 4,847
• Horses:
1
I've read conflicting things regarding draft horses. Some people readily recommend them for heavier riders however many don't.

These heavy breeds were bred for pulling weight which they can do quite well, but not carrying weight. In some breeds, their muscling and structure isn't nearly as good at carrying weight as breeds bred for riding. In addition, they don't just have to carry your weight, but all their weight as well which apparently works out as proportionally more than a riding horse. It's like you'll find many ponies can carry proportionally more than a larger without difficulty. So large size doesn't always mean that they're suitable for a large rider.

I don't know a lot about drafts and weight bearing but I have seen smaller stocky horses being able to deal with heavier loads much easier than larger horses. It's worth researching to see what your best option is. It makes sense that a heavier horse can carry more, but they're not made for that purpose, where as other breeds are.

As always though, it comes down to the individuals horse to see how they are built. If you're going to be looking a draft cross it's probably worth getting to know what characteristics are going to be best at carrying weight because crosses vary a lot.

Research it, talk to people, figure out what is best. It's certainly something to think on though.
Yeah I personally would never go full draft for a riding horse (that just my opinion) but maybe with a draft cross you could get the best of both-
Posted via Mobile Device
While a larger horse would be ideal for what you're looking for (a draft or draft cross), not just any large horse will do.

Of course, the horse will need proper conformation for riding. Many draft horses that are bred to pull aren't built to carry heavy weights (many have long backs or upright shoulders, not a big deal in a pulling horse but in a riding horse a long back is a weak back and upright shoulders mean a rough gait).
I'm not into them personally, but you are pretty much describing the old fashioned Morgan...
Yearling
Join Date: Dec 2009
Location: Southern Ontario, Canada
Posts: 1,108
• Horses: 0
I have a soft spot for drafts and have ridden Perch's, Clydes (See my avatar over there <<<<), and Belgians. I've loved them all, but it's hard to beat the Clydes IMHO.

You're not likely to find a smooth gait in any draft horse, though..at least not in my experience based on what I've ridden. The one advantage of a draft though in sitting the trot is that given their size they often cover the same amount of territory with one stride vs 2 strides of a smaller horse, so even if they can be bumpy to sit, you only get half as many bumps. ;)

If you're a new rider, go get lessons somewhere. Aside from actually learning enough to be safe (1st priority), Learning to sit the trot properly will not only lessen your pain, but that of your mount.
---
Last edited by PrivatePilot; 11-01-2013 at

08:49 PM

.
You can find those qualities in some of your stock horse breeds depending on lines they come from,Typically Some of your more foundation lines.I have a gelding in my pasture 16hh ,1350-1400LB & has the bone/ feet to go with it
That's why I know they are out there
I have had similiar ones to him too.
My particular horses were APHA with strong AQHA influence,but you will find similiar qualities in many appaloosa. Agree also too to the older style morgan or to a Canadian horse that are hardy strong breeds that would be up to the task
You are looking for a type, not a breed, so keep an open mind.
What I would be looking for is something just like this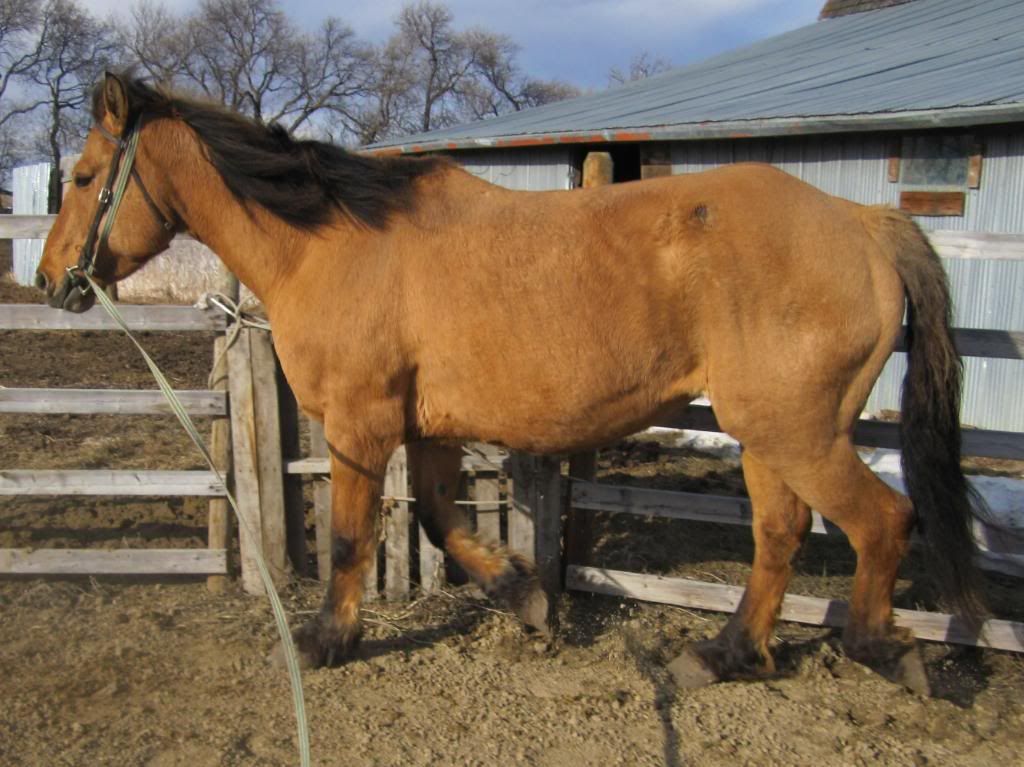 QH X some form of draft, possibly Belgian, horrible conformation, but strong adaptable and the most comfortable jog I have ever ridden bar none!
When you say pulling it threw me off a little. I was going to say old big Appy but idk about pulling. What are we talking about for pulling? You probably will need a draft for that if you're going big time. A haffy or something would be good but if you are set on height obviously not. Draft X more than a full draft I think would be better. As said you are looking for a type more than a breed, so my advice would be just look lol.