Breed Guess!
---
My new little paint horse. He is right @ 14hh.
Everyone at my barn is making comments about how small and petite he is.
It kind of hurts my feelings . I am 5'5'' and 150 lbs. I don't ride often, or hard. My plans for this guy are just trails every now and then :)
Someone told me he might be a Spanish Mustang bc of his shorter back, and petite build.
What do you think he is? I have no clue who his sire/dam are.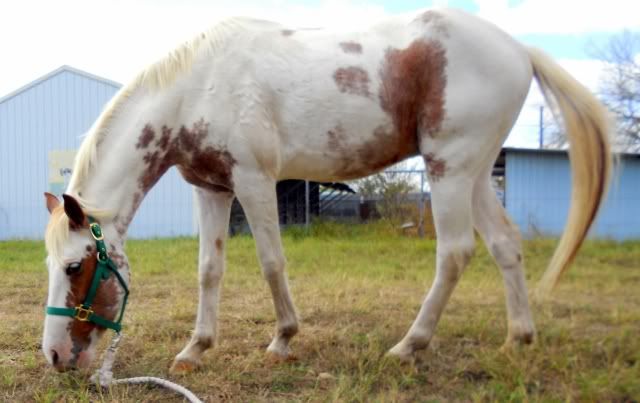 How old is he? I don't really have a breed guess, but his narrow-ness reminds me a lot of the young (2-4) Arabians at the barn I work at. He has cute ears!
Posted via Mobile Device
He was recently seen by a vet and she said he was 4 or 5
You look great on him! Don't let people get you down. I think he looks like an Arab cross. He has the short back, and a Arab like neck. The head... Not too much... His body is nearly identical too my 4 year old Arabian filly.
Posted via Mobile Device
Those Tippy little ears make me think ArabX too. I've seen tiny ears on other breeds but that tippy shape is pretty Arabian.
---
Thats neat ! I have always loved Arabs. Someone on another forum suggested American Indian horse too as they are narrow, short backed, and petite built.
Im guessing something with Arab, Paint, and Thoroughbred.
---
"Good things come to those who wait… greater things come to those who get off their ass and do anything to make it happen." - Unknown
I also agree that you are not too big for him AT ALL. I ride a 14.2h QH and I'm definitely 20lbs heavier than you (he's the horse in my avatar). For his breed, I agree he definitely has some Arab and paint in him... maybe some tb too?
Well good! Im glad to know that we look like a good fit! I shal tell people when they ask that he is an Arab Paint cross
Hard to tell. I would guess a bit of arab, just because of the way his body is structured, but you dont see much of that in his head. Another possability would be a welshXpaint as he's got a thoroughbred-like face but is smaller like a welsh
---
"If a horse fails to do something that is because he was not trained to do it. If a horse fails to do something properly that is because he was not trained properly."
www.wildestheartart.com