Breed guess? Half QH and half... ?
---
I was wondering what people thought my horses breeding might be. He is 3 years old and his mom was a grade QH, I have no information on the sire. He is just under 14.2 hands. Thanks!
His dam: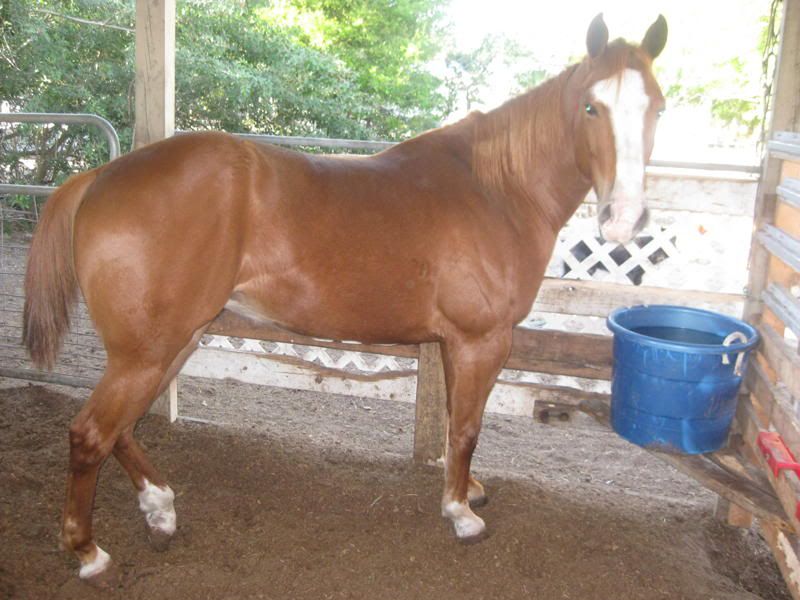 Green Broke
Join Date: Jan 2010
Location: south of nowhere, north of nothing
Posts: 4,644
• Horses:
6
Im not all that great at guessing but, with his conformation and all i would guess he might have some TB in him. Maybe his sire was TB/QH but who knows. like i said im not that great at guessing these things.
hmm... I'm thinking Azteca horse. Half Qtr half Andalusian but thats just my guess.
I was thinking he looks mixed with either QH/TB, or QH/Andi.....hes sure growing up into a lovely boy!!!
Andalusian is a new one! I think there has literally been close to a dozen different breeds people have said they think he might have in him. The most popular guesses are TB, but some think he's not mixed at all. I've also heard Paso Fino, Morgan, Welsh, Warmblood, Appendix, Arab, Quarab, Appaloosa (though you'd be surprised how many people don't know what his color is), and even draft. As his owner, I could tell you even less about my opinions on his lineage lol. Sometimes I think he might not be mixed, but then he doesn't strike me like any Quarter Horses I have seen. He is also a bit "hotter" than said Quarter Horses which also makes me think he has something else, though that's not at all to say hot QHs don't exist. He has knee action not quite like I've seen before and has a relatively short trot, however his canter is a different story... Long and sweeping. Then he's just so small! He's not yet horse sized and is leaner than my foundation QH gelding, and who knows how much or if he will grow. That being said he has energy and stamina for days, he's always ready to go and cools down quickly. Then, he has a bit of "feathering" more so than I've seen on most other horses (I trim it so its not apparent in the photos), however that doesn't always mean anything either. Who really knows, perhaps he is just a true mutt grade horse :). Would love more opinions and how you based your decision!
Posted via Mobile Device
He reminds me of a TB.
---
So in lies the madness, the pursuit of the impossible in the face of the complete assurance that you will fail, and yet still you chase.
I've been around a lot of andalusians and andalusian crosses. For some reason thats what I see in him. His eye, jowl, neck, shoulder and the fullness of barrel to flanks reminds me of an andalusian. Plus the simple fact he has the coloring of a young andi since they grey out over a period of 6-8 years(some quicker and some dont grey at all).

Might not be qtr/andi but thats what I see. Shoot I have a saddlebred/qtr(what I was told when I rescued her) mare that people are always saying she looks fullblooded or she's arabian and what not.

I've seen so many crosses mimic full blooded breeds of horses to the point its scary and always I'm always cocking my head to the side and scratching it. :)
He looks a little mustang to me. Or ya Andalusian