The Breed of My Filly?
---
So the filly I rescued last September was in really rough shape. She had no muscle or body fat at all, it was hard for her to walk, and she had really bad skin and hair. Plus she was covered in cuts. The pictures I have of her are actually a little old now, but they're of her when she was finally is decent condition. She's still building up, but since these pictures were taken she's even better. She's finally losing the baby hair she should've already lost, and she's getting a lot of muscle. She has just turned 2 not long ago, and is finally coming around. My only problem is I can't really figure out her breed. My friend and I are thinking mostly Saddlebred, with something else mixed in but we're not sure. That's where I need help.
Remember these pictures are a tad old and she still had her thick winter coat. She looked like a little wooly mammoth. If you can tell what she has in her, please let me know!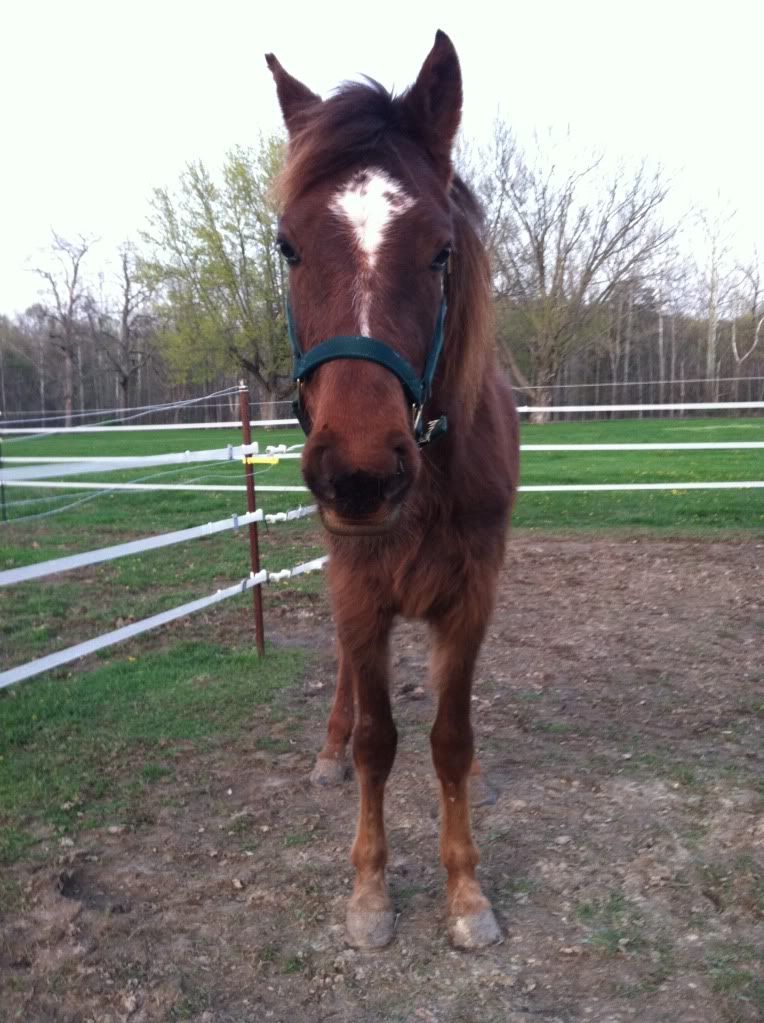 ---
Whoever said a horse was dumb, was dumb.
If your horse says no, you either asked the wrong question or asked the question wrong.
She looks like a quarter horse to me. Is she gaited?
post again when she's shedded out. I can't get a feel for anything. there is no reason she couldn't be all saddlebred.
No, she isn't gaited. She's really smooth and fluid though.
Here are new pictures, I just took them today. She still hasn't shed out all her coat but it's nothing compared to what it was. It's mostly on her belly and sides now. I brush her constantly but it's just clinging to her like velcro.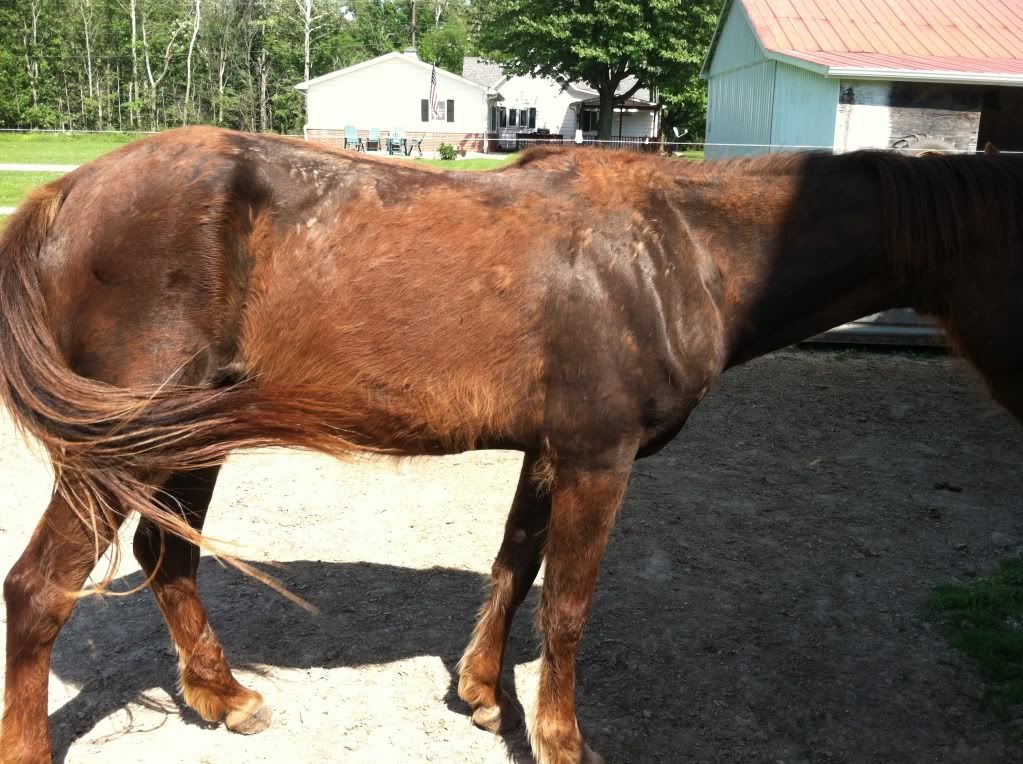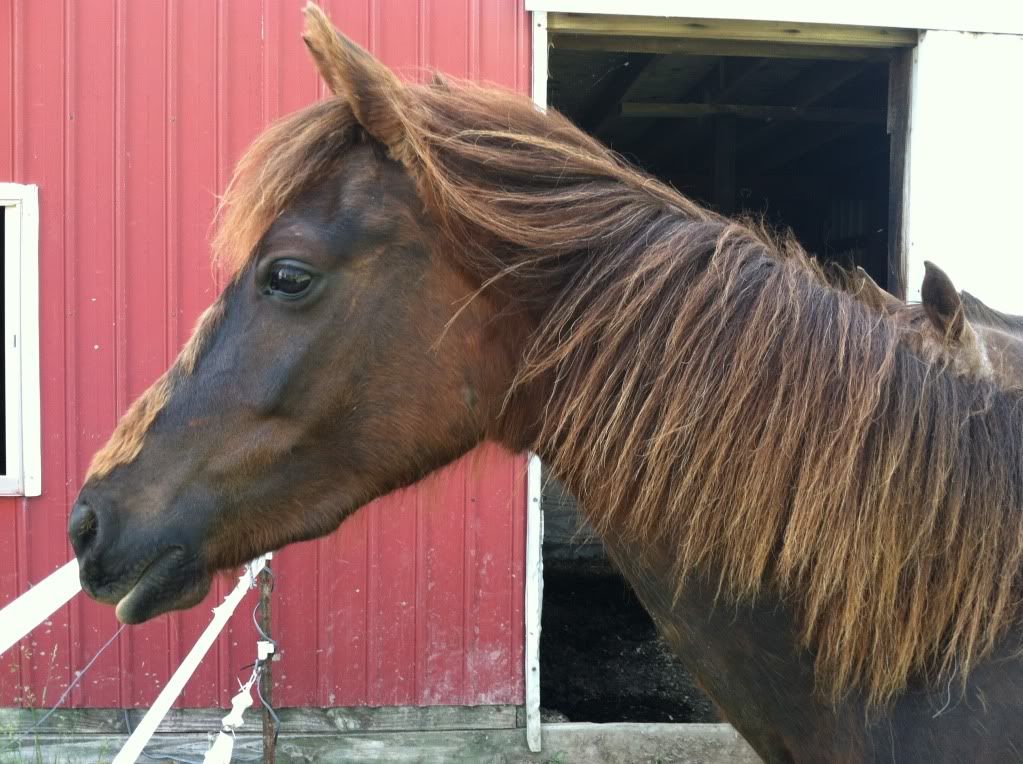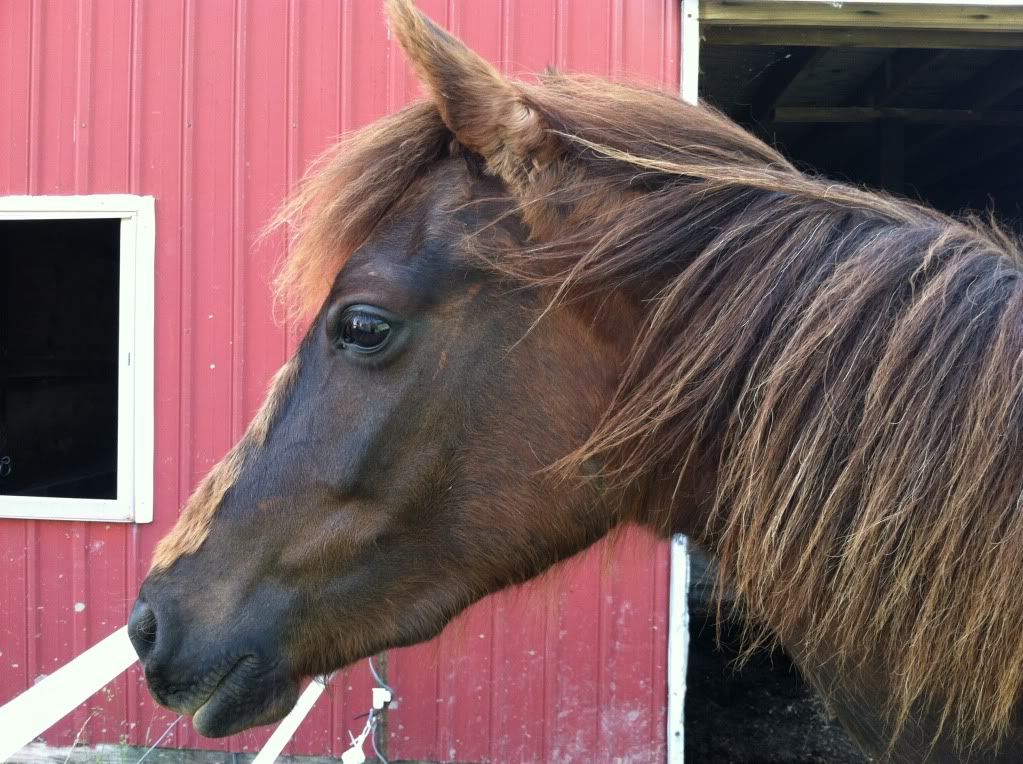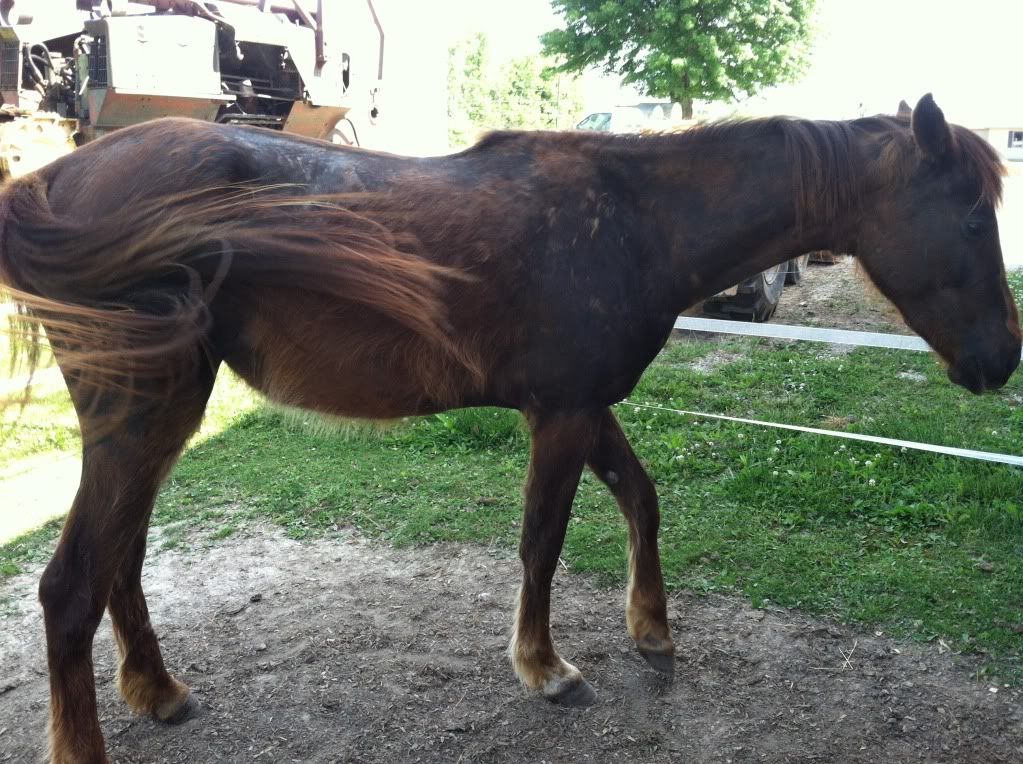 ---
Whoever said a horse was dumb, was dumb.
If your horse says no, you either asked the wrong question or asked the question wrong.
Her head looks too big for her neck.. She might have Quarter Horse in her because my cousin's QH is the same way (Big headed with small neck).

She looks like a foal getting rid of its' winter coat (that 'ugly' stage all foals go through).
---
A horse doesn't care how much you know until he knows how much you care.
My guess is still quarter horse. Has she been wormed lately?
How tall is your mare? I don't see much Saddlebred in her, but I could be wrong.

My main concern, is that she still doesn't look thrifty. What are you feeding her now? She should be getting as much top quality hay as she will eat. I would also put her on Senior Feed, due to the controlled starch level and high digestibility. Get some Red Cell too and follow directions. Make sure she has a mineral block with salt. Don't let her just fill up on pasture, if that is indeed, what she is eating now.

Have a fecal check for worms and worm her again if necessary.

In six weeks with very controlled feeding, she should look in top weight and condition.

She looks like a sweet girl but kind of sad. She has a far-away look in her eye, as though she knows something.

Lizzie
I love her face she has a kind eye
I think she will look fine once you have some extra love
and groceries
---
Country Woman


I dont see any Saddlebred. QH or possibly a Thoroughbred cross. Something about her face jsut reminds me of a TB
---
"If a horse fails to do something that is because he was not trained to do it. If a horse fails to do something properly that is because he was not trained properly."
www.wildestheartart.com
Showing
Join Date: Jun 2011
Location: Cariboo, British Columbia
Posts: 11,954
• Horses:
3
Looks like a stock horse, more than likely QH. She is missing something in her diet, big give away is how her face is shedding out, the fur down the center of her face, you see that, you know she needs a mineral salt block or something.