Breed Unknown, Only Guessed
---
So I've been doing a lot of work to figure out things about my horse here, Arthur. I've finally been able to peg down a color on him but now for something even more perplexing: his breed.
Arthur is a rescued horse that has no papers or known pedigree. So he got the easy, Quarter Horse, label that seems to be a large percentage of the "unknown" horses. Part of me was surprised he was not called a Paint.
Now I do think there is Quarter Horse in him because he is huge. He stands at 15.2 at roughly 1300lbs.
But things stand out to me that may just be in his genetics (we'll never know) or may be another breed trying to stand out. He has pronounced withers and a deep chest kind of like a Thoroughbred and a SLIGHT roman nose. If you look just below his eyes, you can see his profile convex.
Here are some visuals! Let me know what you think! Just a Quarter Horse mutt or maybe something else:
(If you look closely at his profile, is this a slight roman nose or am I looking too hard?)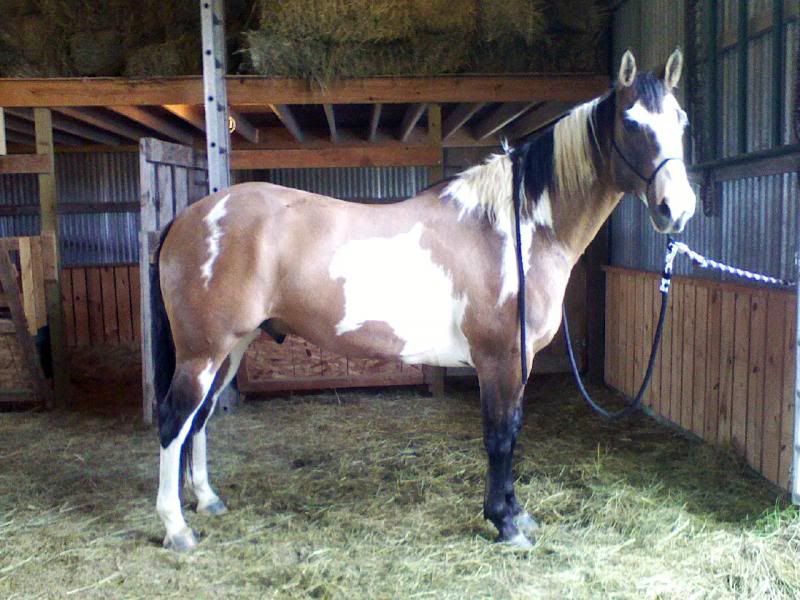 (Massive shoulders)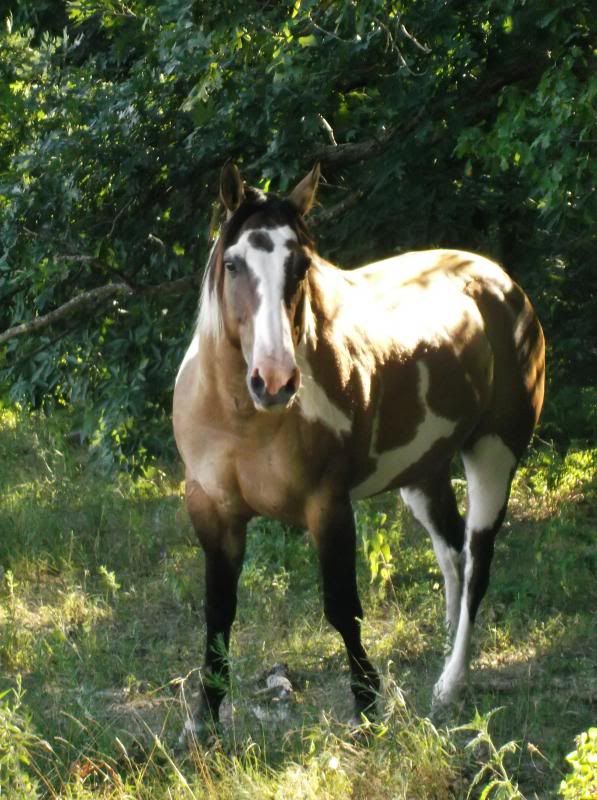 (And a big engine)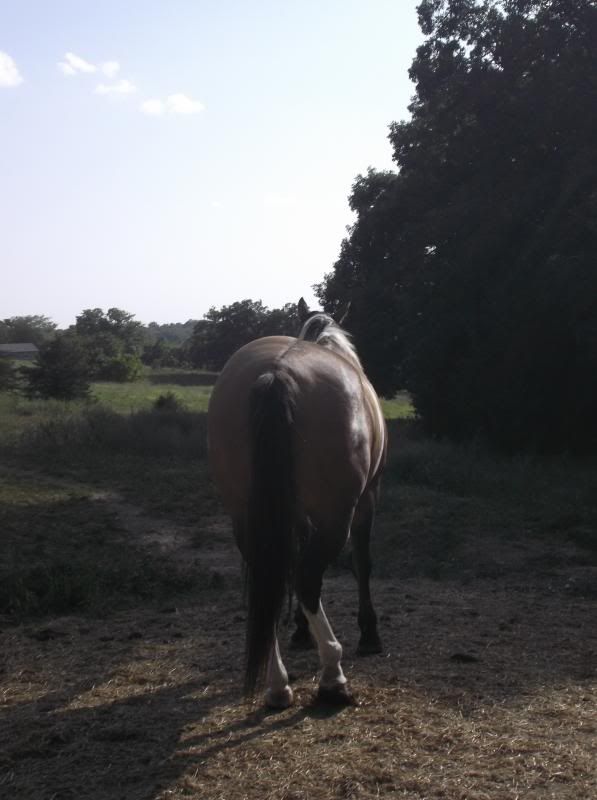 So! Think he's just a Quarter Horse? Or a Paint? Or something? I'd love to hear what you think!
Whatever he is hes very handsome! He's lucky you rescued him, he looks great!
I see mostly QH, possibly paint. And if I look really closely at him I do see some Thoroughbred.. So pretty much what you said :).
he looks qh, mostly. He's a bit overweight, though.
I can't help you with his breed, but he is really unique! I love his coloring, can't believe someone would just let such a beautiful horse go.
Posted via Mobile Device
I agree that he is exceptionally nice looking and well conformed.
i would call him a non papered paint. Paints have TB and QH. basically you have a pretty paint horse. nothing wrong with a little roman nose as far as I am concerned , now if he was Arabian you might have a problem ( haha haa)
that chest and butt remind of the old foundation bull doggy type quarters , which I love..very powerful animals ! Very Pretty horse. Congrats.
Love his color! He is a nice looking horse.
I'd agree with the previous opinions on breed crosses/possibilities.
Stock horse type.
---
If you ever find yourself in a fair fight, it's because your tactics suck. ~ Marine 1SGT J. Reifinger
He definitely has the right body type for QH/Paint. I'd go with Paint. Tobiano isn't found in QH's, but there are a lot of Paint horses that are very high percentage QH pedigree.
I think I'd have to agree with a Paint (a nonpapered one at that) or some Quarter/Paint mix.
It confuses me too, why someone would let a beautiful animal like this boy go to waste. (literally
)
Thanks for your input guys! This big ol' guy has a long happy life ahead of him as a Paint or as a Quarter Horse or as whatever he wants to be!