The Auxious caught my eye too... I'm already a sucker for drafts.....I couldn't help but notice the pile in the back ground.... a few of those and you might want something smaller
If I remember right the Carthusians were carriage horses (not exclusively), and carriage breeds tend to be longer backed. Might be wrong about that...

I love the massive draft horses like that Auxois, and the Brabant.
I like the Auxios and the Carthusian
I have never heard of any of them breeds either :)
---
3 barrels , 2 hearts & 1 passion
Quote:
Originally Posted by Vidaloco
Wow that Auxois is fabulous! I bet he could carry a load. I'm betting he rides like a mac truck though
I was about to say the same thing. Look at those tanks!
Zangersheides are getting more common, they are elite jumpers but are actually more of a group than a breed in its own right I think. Just because sire and dam are Z's doesn't mean the foal will be a Z and vice versa. I own a Zangersheide who's mainly Holstein, the only Z in him is his great, great grandsire, Alme Z.
I knew an Auxois at one point, sadly I lost contact a few years ago. She was very quick and light on her feet for her size though I remember.
Trained
Join Date: Sep 2011
Location: Germany- but not German =D
Posts: 5,151
• Horses:
2
A girl at our yard owns a Zangersheide, Pitaque Z.

You couldn't pay me to get on that. From the Pilot lines.. complete and utter nutter. She dislocated her shoulder on him after he bolted in the school three weeks ago. never seen such a big horse pick up so much speed in such a small area.
Some of our local breeds that might be unheard of in the States -
Latvian Draft - almost extinct now.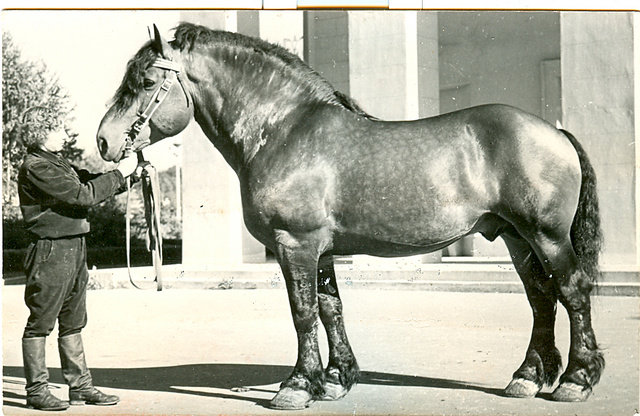 Latvian harness horse -
Latvian Warmblood -
I have a light draft type Latvian Warmblood/Harness horse, and the Warmblood and the Harness horse are the most popular breeds around here. Some breeders are also trying to restore the Latgalian trotter, but I didn't manage to find any pictures.
---
I have come a long way, to surrender my shadow to the shadow of my horse.
/James Wright/
How about the Sorraia horse they are belieed to be a decendant of the Iberian horse. This is their main color I find them beautiful rare ad endagered breed. Only 200 remain
and the KONIK
The Konik Polski are really nice to observe, we have some wild herds in nature preserves here in Latvia. :)
---
I have come a long way, to surrender my shadow to the shadow of my horse.
/James Wright/