Buckskin Manes
---
Wasn't sure where to put this..
Do all/most/some buckskins have white/cream in their manes? I ask because Bella's mane is getting whiter on the edges, with the black part in the center.
The pic is not flattering, I know. :P We're working with her.
I *think* she is a Hackney, around 11.2-12hh.
my buckskin doesn't have any white/cream in his mane at all...it is solid black. could your pony be silver buckskin?
---
Is all that we see or seem
But a dream within a dream?-Edgar Allen Poe
She could be, I'm not sure. She was an auction find.. too cute and the perfect size.
She's not *mine.* I picked her out, but she's in training to be a child's pony.
in the summer, before her mane got eaten by the other ponies in the field.. she still had the 'streaks' but they were hidden by the way her mane laid.
I don't think all have it, but it is fairly common for buckskins to have frosted manes (I like it).
Could she have some Icelandic in her lines somewhere? That would explain the frosted mane wouldn't it?
---
Ω Horses are a projection of peoples dreams Ω
Anything is possible. I think the vet guessed that she was a Hackney, but I think she's a little stockier-looking than a Hackney, mainly in the head.

After looking, I personally think she kind of resembles a Fjord/Hackney or Fjord/Welsh cross.
oops Fjord is what I was thinking lol...
---
Ω Horses are a projection of peoples dreams Ω
She is sooo cute! Congrats on finding her.
The most common name I have heard for this is "frosting". "Frosting" on a buckskin or dun's mane is seen in many breeds and sizes-- its known to occur and pretty common in Fjords for sure-- the edges of the mane are lighter, and the center main part of the mane is black--Fjords seem to grow "wider" light edges than other breeds, while in most horses it shows up on it is a thin lighter edge, like "guard hairs".
Here is a buckskin Tennessee Walking Horse who has a bit of frosting--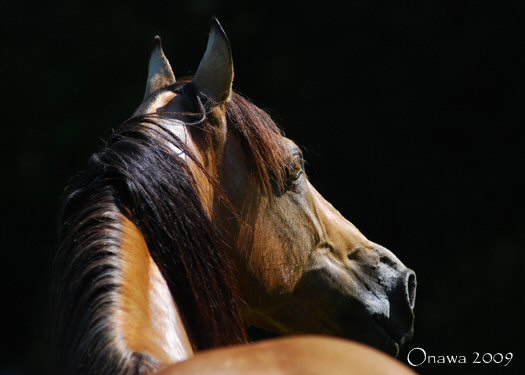 Pretty common thing for buckskin horses of all breeds. I don't have any idea what causes it to sometimes just be a few hairs or other times be like your boy. I really like the look of it, it just makes them seem more unique.
Pokey has a few guard hairs that are very white but not many of them.
Buck didn't have any until he started getting older.
---
Always remember that feeling of looking at a big, open country over the ears of a good horse, seeing a new trail unwind ahead of you, and that ever-spectacular view from the top of the ridge!!! Follow my training blog:
http://robertsontraining.blogspot.com/
Similar Threads
Thread
Thread Starter
Forum
Replies
Last Post
Manes!

chelssss(:

Horse Grooming

21

02-21-2009

11:51 AM

Fjord Manes

Whipple

Horse Grooming

5

02-05-2009

01:45 PM

Roaching manes

Lucara

Horse Grooming

28

01-14-2009

08:14 PM

Manes?

wordstoasong

Horse Grooming

8

08-22-2008

12:27 PM

Pulling manes

TheStables

Horse Grooming

5

02-06-2008

10:28 AM