Appaloosa's tend to be quite stubborn, I find a lot of them to be quite smart as well. I think they tend to be fairly level headed but also sensitive, all of the ones I have worked with seem to react a little differently to things than most horses, getting mad at them will just frustrate them and give them the "bad horse" label I have found. They are fairly versitile as well, jumping, dressage, western, trails, they will pretty well do it all. They seem to be pretty sweet in nature, but I see a lot of them being higher in rank for some reason, and I see a lot that can be agressive toward other horses. This is my appy (he is half tb tho)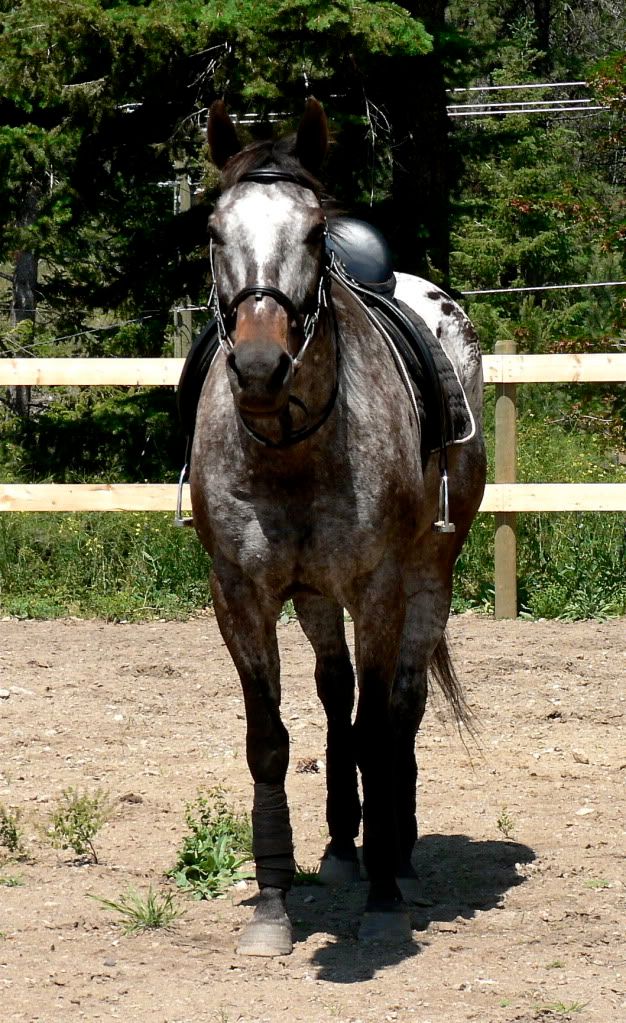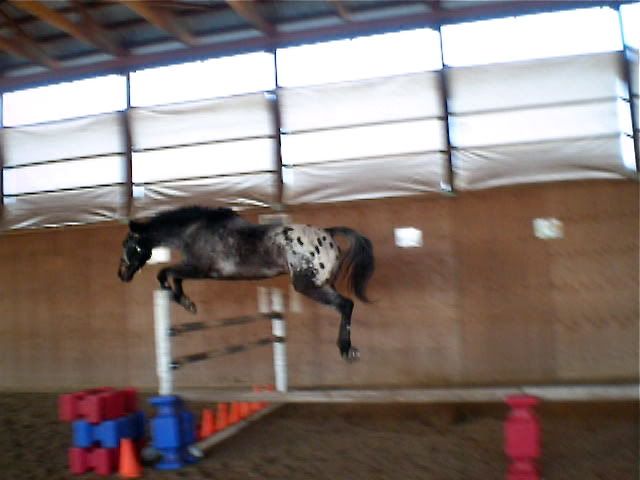 Awaface

That's a lot of horse!! He is absolutely stunning!!!!! Wow factor galore. You got the best of both breeds in his comformation. If you ever tire of him, let me know!
The schlera of the eye ( the unusaully large area of white, that is said to make them look crazy) has nothing to do with their more frequent problems with "moon blindness". It's genetic, but not to do with the schlera.
The Nez Perce are now crossing Appys with Ahkel Teke horses to create an endurance horse extraordinaire. Called Nez Perce Horse
Google Image Result for http://horsehints.org/graphics/NezPerceHorse.jpg
tinyliny

Thanks so much! I doubt I will ever get tired of him tho, he is my best friend and I could never ask for a more understanding sweet horse! He loves to stand with his head in your arms and let you rub his face, he will fall asleep right where he is haha. When I retire him he will be going to the same place he has been most of his life (and where he is now) and will live the rest of his days getting all the extra attention (and cookies) he could ever want from all the kids up there!
awaface, your horse is gorgeous and so very talented!!

tinyliny, Thank You so much for posting the link to the Nez Perce Horse!!
hi, iam new to this site.. i have a 2.9 year old appy gelding, my first appy! we raised him since birth, his mom is registered quarter horse and father registerd appaloosa.. i have to say, he really has been a great little guy, broke him at 2,have only done light riding with him..has been very quiet, never bucked when first got on him...he does have a little stubborness to him, that's a appy i think, he will certainly test you, but, never been a mean horse...will post some pics of him shortly
They are beautiful animals, they are lovely horses to ride :) <3
The disease you are thinking of is "Night Blindness" it occurs when the horse is homozygous for LP (the gene that causes appaloosa coloring). As for temperment, the appaloosa varies greatly from horse to horse some have mostly QH blood, some have a lot of TB blood, some are mixed, and some have Arab blood. The ApHc registers an appxapp (which either can have little "appaloosa blood" if there really is such a thing), appxQH, appxTB and appXArab. They used to register (way back when) just about anything with spots. It has never and will never be a recreation of the Nez Perce's horse, that strain is long gone. It's relatives the Colonial Spanish Horse are still alive and many still appaloosa colored, but they are not Nez Perce horses. The Nez Perce weirdly chose Akhal Tekes to cross Appaloosas to I can't explain that decision.
This is what a LP (appaloosa) Colonial Spanish Horse looks like they are closest to the original Nez Perce horses:
This is Chief Pushmataha a purebred Choctaw CS Horse also registered ApHc:
Vindicator:
To-Bulls:
History of appaloosas, confirmation, and pros and cons in a nutshell.
---
It drives me nuts when people always call appaloosas colored quarter horses. They are a breed. And they are not all that similar to QHs. Somewhat in build i guess to your average person but they are very different. The appaloosas history is not totally confirmed but they did originate in North America. They were short spotted and roan horses seen near the Palouse river. So people would say "thats a palouse horse" and it soon turned into appaloosa. The native americans were the first to be seen using the breed because their spotted and roan coats were perfect camouflage while out hunting or in battle. They also tend to have coarser longer coats and coarse mains and tails. They are made to withstand brush and harsher climates then the american's QHs who generally have a shorter finer coat, mane and tail. Appaloosas come in red roans, blue roans, red and blue roans, black, bay and sorrel with blankets. They also have snowflake , Leopard, and few spot patterns. And i have seen a few whites and palominos. They can even be registered solid and will usually throw color if bred to a colored appy. Conformation wise they are usually short, around or under 15.1 hands. Have a more narrow chest than a QH and have longer sloping hindquarters instead of very pronounced ones of a QH. They usually have a slighty more sway or curvy back and not quite as short as a QH. They usually have a slightly longer neck and face than a QH. They are used for racing, so the blood lines can be mixed with TBs and you will usually see them very tall long and lean. I think they might also have a heightened sense of smell and hearing. As far as personality, They are very brave and smart. They were war horses back in the old west and usually have more stamina and drive and can tolerate harsh conditions. They are also hearty eaters and have good feet. And a true appy usually will have a slightly heavier bone structure to them than a QH. Especially in the legs. They are good at being able to perform many tasks and can be versatile, mine did dressage and barrels and trails. Their fall backs...They are very STUBBORN and if they can, they will get set in their ways. And ive never met one that can be rode in a simple snaffle outside of the round pen. When they are out in the elements they tend to want to run and be free spirited and have a good time and will fight you if you hold them back. They also have a high risk and are prone to going blind due to uvelitis. Mine was completely blind. But it didn't stop him much. And its best to keep lighter ones out of the sun or with sheets on. And always fly masks to protect eyes from sun exposure for long periods. They also seem to have good longevity cause heres mine in his last days, in his late 30s, hes a little thin, but he still wanted to go ride and wouldn't let anything take away his spirit. Best horse i ever had. Would definitely recommend them as a top notch breed!