What don't you agree with ? do you want a underfed horse thats malnourished and unable to perform at its best ? Guess I don't understand what you are eluding to. By the way how is Acworth, lived there for many years.
Quote:
Oh, and if you're hoping to get into veterinary medicine, you really need to up your game concerning your spelling and grammar. They're both atrocious.
Bahaha. Thank you!
---
-Kelsey
Horseless currently. Hoping someday that will change.
I'm disagreeing with the original post, hadn't read the remaining comments yet! I'd quote it if I were referring to a comment! :) Sorry for the misunderstanding!!!
And it's good! Boarding is too expensive out here though
haha.
---
-Kelsey
Horseless currently. Hoping someday that will change.
I hear there is a 2 acre per horse law there now, boarding 400 a month ? I couldn't afford either, I have 10 horses of all breeds never be able to afford all that money. I'm sorry too, thought you were digging at me. I've had horses since I was about 17 yrs old, have seen some pittiful things, and hate to see underweight horses. I take all precautions to keep mine at healthy weights and work extremely close with my vet to make sure they are healthy. I live on an island in Alaska and have no local vet, I have to fly mine up from MO, so , attentivness to them is of utmost importance.
Quote:
I am watching the Queen's Plate on right now and NOT ONE of them looks skinny.

And these are race ready thoroughbreds.
It is ladies day today.
Inglorious a filly beat all the boys !!!!!!!!!!!
Yeah for the girls !!
I don't agree with you at all, it's just the same argument as when people say that horses are thin because they are old.
Here is my TB when he was straight off the track - race fit, no rib showing.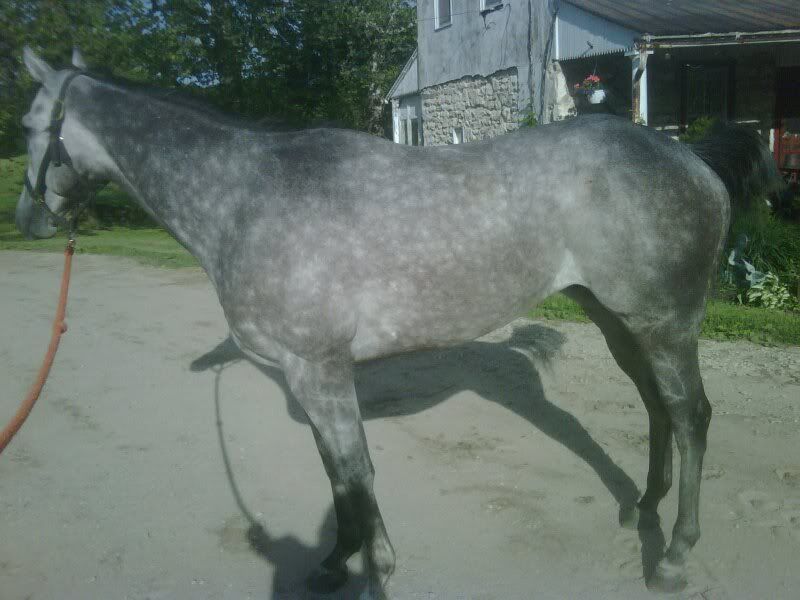 If you are seeing ribs, you are doing something wrong.
Seeing as you want to be a vet, these might come in handy...
The Henneke System of Body Condition Scoring - Kentucky Horse Council
http://www.admani.com/allianceequine...ore%20Card.pdf
Note that your contention that TB's should be skinny is of course wrong, as you have been told repeatedly...racing TB's should be in a 4 to 6 condition - rarely, though do you actually see a 4 or 6 on the track - although you might on some rinkydink local county track.
Pictures can be deceiving, but your stud appears to be a 3 or maybe 3.5 in that picture. If that is the case he is underweight.
By the way, most responsible breeders keep their breeding stallions from 5.5 - 6...it is generally wise to keep breeding stock, both stallions and mares, in a moderate to moderately fleshy condition...
I agree, no ribs is a good thing. Up those rations. Not all TB are hard keepers, but most need lots of food, especially working TB or any horse as far as that goes.
I have some pictures of Secretariat during his breeding career that a boyfriend at the time took for me when he and his colleagues were visiting the breeding farm where he was standing.

He was a CHUNKY butt, so if you're holding Secretariat up as an example of breeding fitness you need to have seen him during his peak breeding years. Even at racing fit, he certainly wasn't skinny like that horse in your bad photoshopped pictures.

I'll be more than happy to scan and post them tomorrow, if anyone wants to see what the great Secretariat looked like in his later years as a breeding stallion. They're some of my most prized possessions.
---
You want the truth? You can't HANDLE the truth!
I found an article for horses in general, not just thoroughbreds, although it does mention secretariet.
Horse Weight Watchers
Everyone freaking out over a little rib never sounded right to me. Go back and look at her pictures. That horse does not scream unhealthy, he looks skinnier than ideal in ONE PICTURE. For crying out loud, I swear you people argue for the sake of arguing sometimes.