I love old horses for teaching kids, my grandaughter's first horse was an old Clydesdale, at the age of 7 she is now riding a 14yr old spotted draft. Still just a babysitter but she is learning :)
I agree TOTALLY with Tigerstripes. Ponies are typically spookier and higher strung and more independent than horses. I am being a little stereotypical but that has been my total experience with ponies. An older horse would be perfect for your children to learn on. We bought a 27 year old mare for that purpose...then when all the kids wanted to ride her...we had to buy another 20 year old QH mare :) to accomadate all the eager riders. Older horses have been there and done that and will give your kids the confidence they need to persue more challenging horses in the future. We have a pony named Peaches, she is the most difficult of all the horses, and my daughter has all the bumps, bruises and scrapes to prove it. She is a brat. I think your best bet is definitely an older QH, and I always love to see the elder horses get to live out thier final years being loved by kids...its a win/win situation. And don't think because a horse is older it is on it's last leg. Our 27 year old QH still competes in barrels and places in the top three!
I am going to look at a 14 year old quarter pony today, I am going to take her out for a ride to see how she does. I will update later, hopefully with pics!
---
Rayne ~ APHA mare - Rebel ~ APHA colt
Whiskey ~ grade filly - Moon ~ APHA filly
ok here is a pic of one prospect, she is an 8 year old QH/arabian cross. She looks like QH to me and seller says she has QH temperment. She looks like a beautiful mare to me. What does everybody think of this pic of her?
had to delay going to see the 14 year old quarter pony till Saturday
---
Rayne ~ APHA mare - Rebel ~ APHA colt
Whiskey ~ grade filly - Moon ~ APHA filly
She is stunning very pretty...When you go to look at the horses you are interested in be sure to take your kids along, make sure the people selling it ride it for you first then you ride it, then let the kids ride it while you lead it around.If that goes well consider letting them ride in an enclosed area so you can see how the child and the horse match up. When buying horses live by the saying "Trust none of what you hear, and only half of what you see". The problem is the same for all horse buying situations, BUT when it comes to the safety of children it is even worse. Just because you say you are buying the horse for children you would think people would respect that, but some will lie about things to get the horses sold more quickly. This horse being 8 years old is still a juvenile, some say training should begin at 6 because thats when a horse starts to grow out of "childish ways"...so this one could...and I stress the word COULD...be a little spunkier than you may like. BUT age can't be a determining factor solely...it just gauges where the horse is at in growth...at 8 they are like a pre-teen I guess in human age. I have seen horses left out to pasture till they were 12 to be worked with, so just be extra cautious about it. And ask a million questions...What do they feed it? Who is their vet? Who trained it? Who does the feet? How often does it get ridden? Who rides it most? Make a list a mile long if you want...BUT here is the big no no when shopping for horses...don't shop with your heart...shop with your head. You want a horse that will suit your child and provide enjoyment to teach them the lifetime love of riding and enjoying horses. The wrong horse can destroy that very easily....it's very tricky and you want it to be almost perfect...
Found the right pony for my kids!!! She is a 14 year old quarter pony and is a real sweetheart. She knows when there is a child on her, she slows her pace is very aware of the child riding her. Her confo isn't perfect but look at the smiles on these kids........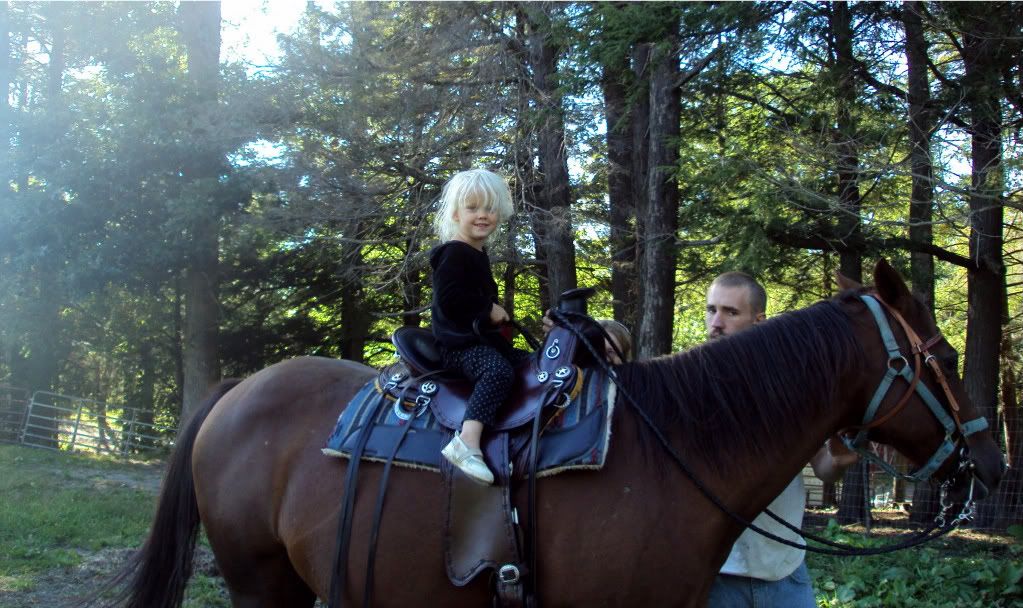 ---
Rayne ~ APHA mare - Rebel ~ APHA colt
Whiskey ~ grade filly - Moon ~ APHA filly