Difference between mustang curly and bashkir curly?
---
I have been looking up all the information that I can find on the American Bashkir Curly horse and stumbled upon the curly mustang. I know that the curlies ran with the mustangs when they were discovered by the Dameles in the late 1800's. I am assuming that a mustang curly is a cross between the Bashkir curly and the mustang.
I believe the difference would be that the bashkir is an actual breed bred fora specific reason. Where as the curly mustang is a mixture of different breeds that aquired the bashkir curly somewhere along the lines which would make it just a mustang with a curly coat.
---
just a small town girl with a big town dream :]
That makes sense. A mustang curly would probably have more of a mustang build, but with curly hair. I'm going to buy a Bashkir curly and unfortunately there is no paperwork on him. It makes no difference on whether I would take him or not. I'm head over heels in love with him. I'm just dying to know where he came from! :)
Well mustangs come in a wide range of builds haha. Im not very familiar with bashkirs but I believe they are smaller and quite stout right? Congrats on your new boy :]
---
just a small town girl with a big town dream :]
That's true. They do come in a wide range of builds. The curlies do too. Mine is a big guy! They used to breed with drafts (not sure if they still do). I find breeding and genetics to be fascinating, but it makes my head spin too! lol
Well thats cool! I was just basing off the ones I've seen in person The tallest I've met was about 15 h and fairly stocky the smallest being 14.1 nd fairly stocky as well.
---
just a small town girl with a big town dream :]
My aunt used to breed Curlies. I own one myself, he was my first horse. Honestly, I've been around Curly horses for 10 years and have never heard of a "mustang curly" besides the Curly X Spanish Mustang mix that I also own.
What I'm guessing, because I've seen them on the BLM website, is that a Curly got in with a Mustang herd, then was picked up and that's how the lines got crossed. A "wild" Curly.
I'd love to see pictures of the Curly your looking at. They are super rare and a lot of horse people don't know about them. I take mine to shows and he gets soooo much attention and comments about what a puppy dog that he is. When he was 4 he was ridden by an 8 year old at a speed show and was the calmest horse there. People couldn't believe the way that he acted.
My aunt went out to South Dakota and purchased 3 mares, a stud colt (which she gelded) and leased a stallion and started her Curly herd from them. She got them from Ernie Hammerick whom if you happen to google, you'll find that he helped to create the stockier Curlies. Bad Warrior was one of his best known horses, and my Curly and Curly mix go back to him. He had alot of Quarter Horse blood in him and had Curls.
Curlies are wonderful, wonderful horses. I just wish more people knew of them and understood them. Back in the day, Americans used to push the herds of Curlies off cliffs like they did for hunting buffalo because they thought they were diseased due to their Curly hair. The Souix Indians saved the breed by herding as many as they could up to Canada.
Quote:
Originally Posted by
BarrelracingArabian
View Post
Well thats cool! I was just basing off the ones I've seen in person The tallest I've met was about 15 h and fairly stocky the smallest being 14.1 nd fairly stocky as well.
You're most likely seeing the old fashioned lines. The "foundation" of many of the Curlies was the Quarter Horse and Mustang and stayed between 13.3 and 15.1 hands high. In the past 20 years, many people have taken the Curly and started crossbreeding to Warmbloods, Thoroughbreds and Ponies to get the different sizes. Curly Ponies are sooooo stinking cute! But there's nothing like a 14.2 Curly because you know that they have the old fashioned blood running through them. It's super exciting! Curlies are a great mystery.
I'm so excited to find someone who is passionate about curlies!!!! I've been researching the heck out of them. I just read the book "Nevada's Mystery Horse". It was all about how the curlies were saved and how they went from less than 300 to now over 4000! If I can figure out how to post a picture than I will get one up today. I think my guy was gelded late as he was acting stud like yesterday around a couple of old geldings. He has been an absolute gentleman with me, but this was the first time I've seen him do anything that was rude. I tied him next to these old guys and if they so much as swung their head around in his direction he got very loud, pawed the ground, and even reared up a bit. Being new to the horse world, I didn't know whether to interpret this as stud behavior or if he was "weirded" out about being tied next to strangers. Unfortunately, there is very little about his past. I know he is 8 and that his previous owner had kids on him. The day before I started leasing him, a 7 year old rode him all day. Anyway, sorry about the novel...;). I'm just so excited about this boy!
Very cool. Doesn't sound quite like he was being studdish to me. More along the lines of insecure possibly at being next to horses that he doesn't know? My mare does that, she'll squeal and strike out when she's excited about new horses. She acts slightly mareish and nickers and squeals and acts kinda naughty
Where did you purchase your Curly from?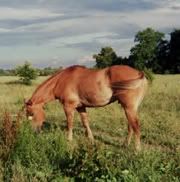 This is my boy Jasper.
This is Sonic. We rescued him and we able to find a new home for him after a couple of months. He was pretty malnourished when we got him, but he's a really thick boy now! He filled out something fierce!