003 (Medium).JPG
I'm not sure I did this right. I haven't posted a picture on here before.
This is Curly. He still has to gain some weight. So far, he's put on over 150 pounds. The current owner has had him for about 2 months. I am leasing right now, but I plan on buying him soon. I'm not sure where he came from, but we live in southern Nevada. I wish I could know some history on him.
I'm glad to know that maybe he wasn't acting "stud-like". Because I don't know the history on him, I have no idea what he's like with other horses. He does fine on the trail with everyone, just not standing around.
---
Last edited by Newby32; 01-03-2012 at

04:14 PM

.
Your horses are gorgeous. My guy is super curly after riding. It will be interesting to see how he looks next winter after eating well. The people who had him before his current owner had no idea that he was a curly. Everyone at the barn is interested. Many people have never seen curlies and they think that his coat just came in really thick.
There are varying stages of curls that Curlies can have. There are straight Curlies that look like a regular horse and then you can have a Curly with tight long ringlets all over their bodies. My Curly gets pretty Curly in the winter. I can probably get some pictures of him tonight when I go out and feed them just so you can see what he looks like. His mane doesn't seem curly, but I can tell his legs have some wave to them. My Curly mix is straight haired, but hypoallergenic, and he gets soooo fuzzy in winter. It's like his hair decided since it can't curl, it's going to foof out! LoL.

I would definitely be curious to see him next year after better nutrition. See if his coat curls more then it did this winter. It's like his bottom half if curly, but the top half is quarter horse. LoL. When Jasper came back to us, because he was underweight, his curls weren't very good that winter, but they seem to have gotten better over the years so I'm sure good nutrition plays a part it in.
---
"The greatest pleasure of a dog is that you may make a fool of yourself with
him and not only will he not scold you, but he will make a fool of himself too."
-Samuel Butler
I'm going to try and take some better pictures tomorrow. All over his back there are light golden curling hair. When he is sweaty it kinks into curls all over his body. Also, I wonder if the weather here has something to do with it. It can get into the 20's and 30's and night where he is boarded, but this winter has been surprisingly warm. We are riding in weather that is in the high 60's! It's been so great. It seems like it would come in thicker and curlier if it was colder.
002 (Medium).jpg
Here's another one that you can see how thick his hair is. Hopefully, in another month we won't be able to see those ribs anymore. :(
---
Last edited by Newby32; 01-03-2012 at

04:51 PM

.
Quote:
Originally Posted by
BarrelracingArabian
View Post
I believe the difference would be that the bashkir is an actual breed bred fora specific reason. Where as the curly mustang is a mixture of different breeds that aquired the bashkir curly somewhere along the lines which would make it just a mustang with a curly coat.
Yup...curlys are a breed. Mustangs are not. The OP's horse looks sort of like a rare Womamtang to me...a very rare breed developed in early Europe during the last ice age. They were developed by crossing native horses with stunted wooly mammoths...
Don't have alot to say since I know little to nothing about the Curly's but they have always intrigued me when I first heard of them a couple years ago. Those guys are sure good looking though you two!!

Hope all goes well with you and your boy Newby32!
They honestly are such a great breed. The best, most honest and trainable breed ive ever worked with. They are super forgiving. My first horse was a Curly, i was 11, he was a yearling and i made mistakes that everyone makes but he didnt seem to care. It never affected him. My trainer loves the Curly breed.
I got pictures of Jasper with his curls. Ill post them in a bit.
Posted via Mobile Device
Good picture of his mane...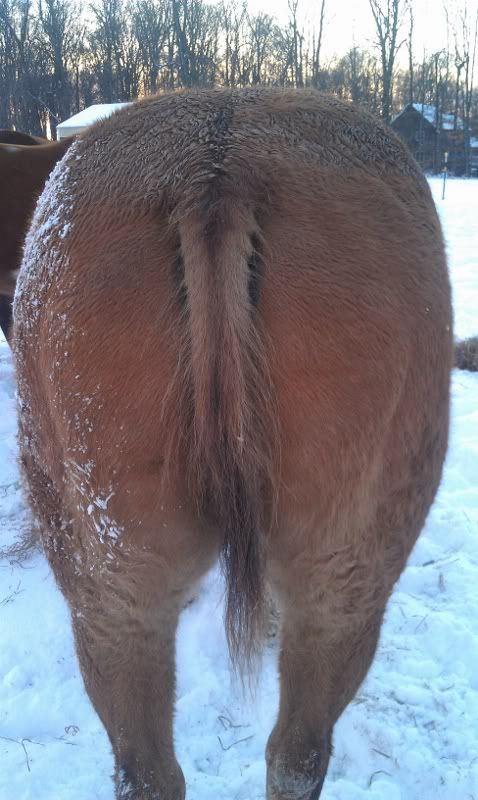 His, unfortunate tail. It used to be thick and down to his hocks, but either it's been chewed off by the previous owners horses, or that's the way he is now...??? I might try some mane and tail growth on it this spring...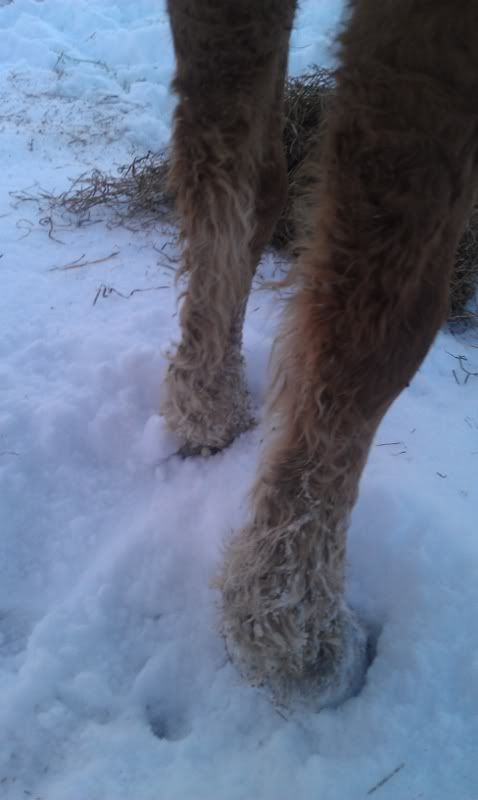 His curly legs...
---
"The greatest pleasure of a dog is that you may make a fool of yourself with
him and not only will he not scold you, but he will make a fool of himself too."
-Samuel Butler
Do you guys find your curlies smell different than regular horses?

My friend has a curly Missouri Fox Trotter and he has a particular smell to him, especially when he sweats. He smells more like a wet dog than a horse! I know they are supposed to be hypoallergenic and so I don't know if that has anything to do with it or not, but he really smells unlike any horse I have ever met.

He's not my horse so I probably shouldn't post pictures, but he's a very curly palomino Missouri Fox Trotter. Tons of mane and tail. Mane on both sides of his neck if she doesn't keep it banded. He looks like a barbie horse.

Is the curly gene in Fox Trotters a separate mutation from the non-gaited curlies? This guy is tall and leggy like a gaited horse too, not built like a Mustang curly.
PS. It seems like I've read somewhere that the Russian Baskir Curlies are a separate genetic mutation from the American curlies. But I don't remember where I read that. Somewhere on the Internet.

I assume the Fox Trotter curlies and the Mustang curlies must be related somehow but I don't know that for a fact. What is interesting is that Fox Trotter curlies seem to have lots of mane/tail while non-Fox Trotter curlies seem to have sparser manes/tails.