Quote:
The judges at schooling shows are often not rated judges. Just someone.....I would have complained BIG TIME to the show organizer if a judge had made any such comments.

As for paints in dressage and eventing. Someone is making huge profits breeding pinto warmbloods. They are highly sought out in those disciplines. Check out Art Deco and his get.

As for the more subjective, none performance based disciplines....I won't comment for fear of flaming.
I should just say to someone that my horse is actually an imported pinto warmblood worth 50,000 and see if that changes their opinion? i wonder what people would say then? would they still think the same. or is it just a "paint" horse thing
Quote:
I should just say to someone that my horse is actually an imported pinto warmblood worth 50,000 and see if that changes their opinion? i wonder what people would say then? would they still think the same. or is it just a "paint" horse thing
That would just mean you payed more for the horse, it wouldn't be more impressive.
---
"The trouble with the world is that the stupid are certain and the intelligent are full of doubt"
-Bertrand Russel
I give you Pay n' Go.
:)
---
Up where I live, in open shows all you ever see are QH's and Paints. It's the English breeds that are discriminated against over here. I rode a National Show Horse in English classes(this is a horse that places hgily in dressage)and that whole day we placed low or not at all. I spent the day having people go, "what is that thing?" obviously, its a horse. Discrimination does happen, especially if the judges are used to seeing the same breeds over and over again. That's just my opinon though.
---
To see the wind's power, the rain's cleansing, and the sun's radiant life, one need only to look at the horse.
There is no longer discrimination against color in most of the divisions at A rated shows. Perhaps in the regular working and conformation hunters there's still a preference for bays, grays and chestnuts, but paints, apps, palominos and buckskins all do well in children's, juniors and ammy owner. And they're all over the unrated and schooling divisions.

In the dressage ring, since the scoring at least attempts to be objective, I don't see how color is a factor. Do you believe you get lower scores on your cumulative marks because of the horse's color?

You might want to take an unbiased look at your horse's conformation, movement, way of going and jumping form. Those may be the reasons for his lack of acceptance in hunters or dressage, not his color.
Green Broke
Join Date: Mar 2009
Location: Kansas in the summer, Kentucky most of the time
Posts: 3,028
• Horses:
3
mmmk. here you go. Tell me that these horses were discriminated against:
As previously mentioned, Pay N' Go
Mon Gamin
Rainbow: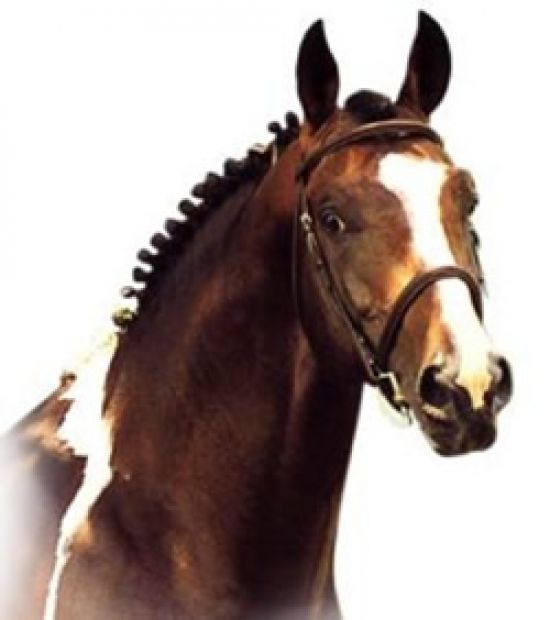 his son, Rijn Beau who is also a stallion:
Art Deco:
Sempatico:
and finally, one of my favorites, Falcon Splash (CCI* eventer with a 15 year old):
Point proven yet?
---
Look like a SUPERSTAR, Ride like a FOUR STAR, Win like a ROCKSTAR
Eventers: Making BAD Dressage look GOOD!
Oh tell me about it!
I have been to quite a bit of shows where we have had a beautiful round, and not even placed, and then the others didn't do near as well and won. It really is frustrating!
That being said, it is not like that at every show.
I have a WONDERFUL paint who is a cute mover and loves his job, so if these idiots want to mark us off, let them. Who cares? You love your horse and it's about fun, some people just can't accept that.
Although, I've never seen anyone get marked down in the jumper ring. You're competing against the clock, not on beauty, style, etc. Unless they're lying about your time...
Sometimes the judge at our local shows will be biased towards the barn running the show
Anyway, don't let it get you down, just keep having fun! Sorry this is happening to you
---
Last edited by dreamrideredc; 04-11-2010 at

10:23 AM

.
Quote:
Oh my gosh, I totally agree with you! Enter the ring on a horse like mine (I'll put up a picture of him here) and everyone is like, "Oh, he is out of place, you don't worry about beating them." Yeah, just watch the judge give "that Paint" the blue ribbon. He moves just as well as the Thoroughbred hunters and, heck, we get noticed more by the judge in pleasure classes because we stand out! Maybe the people who have Thoroughbreds are just jealous. (No offence to all Thoroughbred people. Just a select group of them.)
I'm a tb owner I think he's cute!
People always tell me that tbs can't make in it the hunterjumper rings. And that my horse can't make it in the eq. ring which is probably true. Not that there aren't some fantastic tbs in the eq ring.
---
---
Last edited by Trissacar; 04-11-2010 at

10:56 AM

.
I have the same problem. I have a 17h paint and I find that it is frowned upon in the dressage and hunter world
Yeah I was telling my friend(who is no longer lol)how I'd love a paint and she told me they wouldn't make it past the local shows. I was quite offended.
Similar Threads
Thread
Thread Starter
Forum
Replies
Last Post
Discrimination?!?!?

mlkarel2010

Horse Shows

6

05-01-2008

06:35 PM