Green Broke
Join Date: May 2009
Location: Winnipeg, Manitoba, Canada
Posts: 4,510
• Horses:
2
Unless I'm mistaken, I believe EVERY horse has pink skin under the white markings (obviously grey's are the exception as it's not the true color, just a de-pigmentation of color). There may be an exception or two, but it's pretty much a universal rule that any white markings will have pink skin beneath them, the rest of the animal will have black skin.
And she definately looks Arab to me. Good old fashioned Arab. They're not all skinny looking stick figured pogo legged giraffes y'know. She has the refinement and daintyness, I'm definately seeing pure Arab.
And just as a classically hilarious example - this is my gelding Playboy, who is 100% purebred Arabian. He was bred on my grandpa's farm by his registered stallion Lyn-Sur Karasma and out of his registered mare Seynde Star. Do you think Ansata Ibn Sudan would be ashamed to know this is what his great grandson looks like?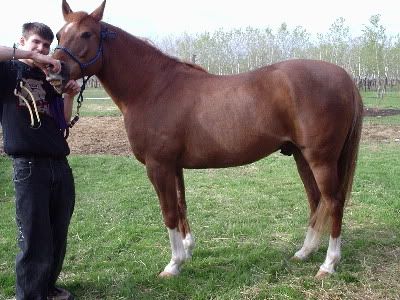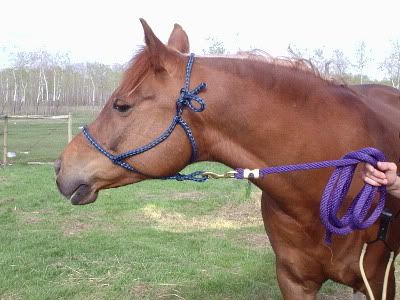 And yes, I've actually had people call me a liar
Don't ask me what was wrong with these genes, both of Karasma's sons looked idental (Playboy's half brother Allah). His fillies were fine, but his colt were just ugly as sin.
---
Quote:
I hope God tells her to smash her computer with a sledgehammer.
Green Broke
Join Date: May 2009
Location: Winnipeg, Manitoba, Canada
Posts: 4,510
• Horses:
2
As an added note, the tail has nothing to do with it. She's obviously moving out at a low, long trot which my Arab mare does and never raises her tail. She only does a pig curl with her tail when she's prancing or galloping about like a maniac.
Prancy Zierra:
Calm Zierra:
---
Quote:
I hope God tells her to smash her computer with a sledgehammer.