Does anyone own an Icelandic Horse?
---
Hi everyone!!
I just joined this forum and I am crazy about Icelandic Horses. I am a freshman in college, so unfortunately I can't own one right now, but I am saving up to get one in a few years. I would just like to know if anyone here has an Icelandic, and if they do, are there pictures? I would love to hear stories about your horse and how you got him/her.
Thank you!!
I don't own one but do love the breed. There are 2 members from Iceland one is Sissmut-icehester, I know she has one mare and foal Icelander. You might look her up when she is logged on if she doesn't see this post.
---

"Until one has loved an animal, part of one's soul remains unawakened..."
- Anatole France
Foal
Join Date: Sep 2008
Location: Smearing gum on the underside of your dining room table.
Posts: 11
• Horses: 0
I used to own one. But we had to put her down last Winter.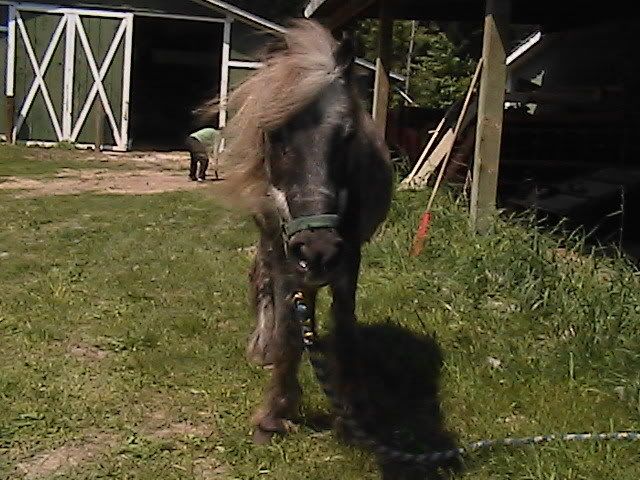 Penny Grey, she was approx. 38-45 yrs old when she died. Most stubborn horse I've ever known, XD. We got her three years ago. She shed a full garbage bag full every Spring.
We got her from a guy who had just bought her so his grandkids and nephew could ride her when they came over. haha, she bucked the nephew off the first day and he decided to sell her right then. She hated the water. But she loved to race the bigger horses. I would love to get another one though. Ah, *coughcough* for my sister. Of course.
---
Last edited by MyMonkeyHero; 10-30-2008 at

03:30 PM

.
I do, I do :)
I have two, a 5 gaited mare and a foal, that is most likely also 5 gaited
I looove icelandics ! living in Iceland I have gotten to know many of them and read a truck load of books about them , so if you have any questions, ask away :)
edit to add pictures !
---
Last edited by Sissimut-icehestar; 10-30-2008 at

04:30 PM

. Reason: to add pictures
I dont have any Icelandics, but they are a great, hardy breed!
My neighbor that I got my Curly mare from is crazy for them (she has back problems) and she would have no other breed. She loves their small but hardy stature,and their ability to survive. She provides the necessities for her horses and they are taken care of well, but they arent "coddled" by any means, and the Icelandics are a great breed that can live off of nothing. She used to have a buckskin gelding with a frosted mane and tail with BLUE eyes *******OMG DROOL***** I wanted him sooo bad...they were asking five grand for him. Not too bad, considering...he was soooo flashy.....
I love my Curlies till the day I die, but I wouldnt mind a Icelandic
---
Shaneequah, 1998 gaited Bashkir CurlyxArab mare
Treyue, 1999 3-gaited Icelandic gelding
Loki, 2001-2015 Icelandic gelding
What an incredible breed. They are big in Europe. Used to live in France and tho there were not a lot of them around, they are the neatest breed I have ever seen. One of those "one day I'll own one" things
Stunning photos by the way! Simply incredible!
yeah, I think there are about 80 000 icies in iceland, and 70 000 on the mainland of europe, and only about 3000 in north america (don't jump on me if those numbers are wrong, my mind could be fooling me)
But M2G I wouldn't have taken you as an icy person
you are such a devoted draft fan, and icies aren't much in the height depertment
and thanks for the compliment :)
---
Last edited by Sissimut-icehestar; 11-01-2008 at

02:47 PM

. Reason: spelling
When we were kids our neighbor owned two of them, she still does actually. The must be pretty old ponies by now! But they sure are pretty!
I want one!!! *taps foot impatiently*
---
kickshaw
Justin (qh/tb)
Boo (asb)
I LOVE them, and they're one of my top faves :)

Never owned one, but my friend was friends with a lady who had two mares, and we used to go ride them all the time. They were so fun! SOMEWHERE I have photos of them, will have to find them... they were both chestnuts. I would love to own one someday, who knows!