What you have is a dark bay or sometimes called a seal bay or brown. They can be mistaken for black as there will be times they will appear to be black but any horse that shows lighter brown highlights is not a true black.
True blacks do occur.
black horses
the genetics of the black coat
Black horses have at least one E+ allele at the extension locus (i.e. they are of genotype E+E+, E+e or E+ea). This dominant allele causes the production of the black eumelanin pigment.
The A or agouti locus controls the distribution of black pigment in horses with at least one E+ allele: whether it occurs evenly throughout the body, as in true black horses, or only in certain parts, as in bays and browns.
The recessive allele Aa of the agouti locus has no effect on eumelanin production. Horses of genotype AaAa therefore have a base color of black. It is the Aa allele that is rare in some breeds. Breeders interested in producing black foals would ideally have horses of genotype AaAa E+E+, i.e. true-breeding blacks.
The coats of some black horses fade Ė or rather redden - in the sun. The genetic basis of so called fading and non-fading black isnít currently known. However the phenomenon is well known and not confined to horses, occurring in people and cats, and probably in other animals too.
Since red (chestnut) horses are true-breeding for red it is easy to breed red foals. It is more difficult to breed black horses, since they may be of genotype E+E+ or they may be heterozygous. Breeding together heterozygous blacks may produce chestnut foals.
Some black horses bleach and some don't, but that doesn't mean only the ones that don't are "true" black. Bleaching can happen in any color... I've seen a palomino bleach to the point where they looked cremello.
I didn't read this whole thread so I don't know if this was already said or not, but a true black horse will not have any brown hairs. A lot of horses that look black are really brown. I seen someone put a a few photos. If you look in the flank and around the muzzle is usually where you will the see the brown.
I think this little filly is a bay. It would be nice to see her shed out tho.
I think all horses can fade. My Dun gelding who has alot of dun factor will fade in the summer if I allow it too. His dorsal stripe will almost disappear unless I keep a sheet on him and feed him a good diet. I like adding paparika to his grain to help with that.
A lot of horses have false dorsal stripes like your chestnuts and bays that hay them. I don't know much about the gene thing but I think its considered a dilute gene or something like that. A real dorsal stripe will really show up and they will have other dun factors to prove that is a real dun marking.
Heres is my boys Dun factor.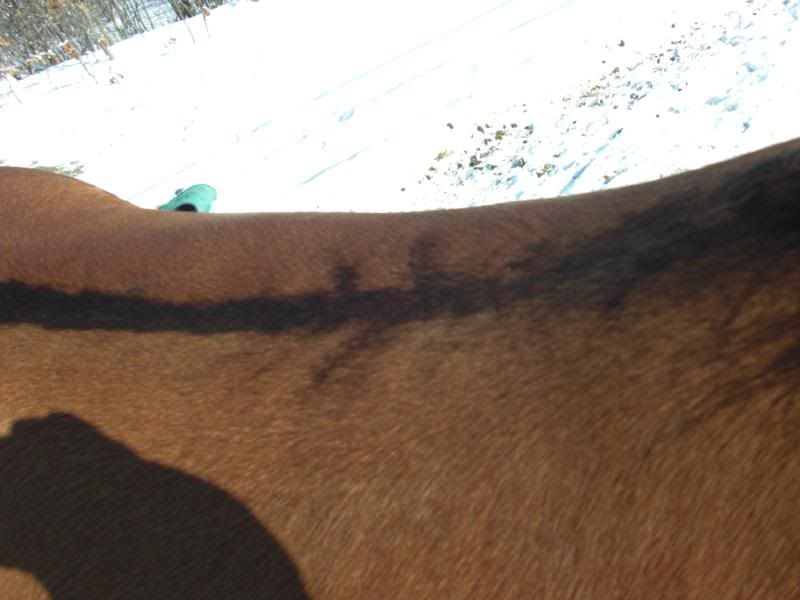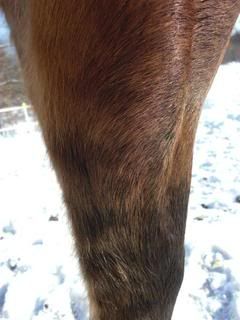 I found a picture of him after I body clipped him and he was sun bleached from a few years ago. You can barely see his dorsal or shoulder stripe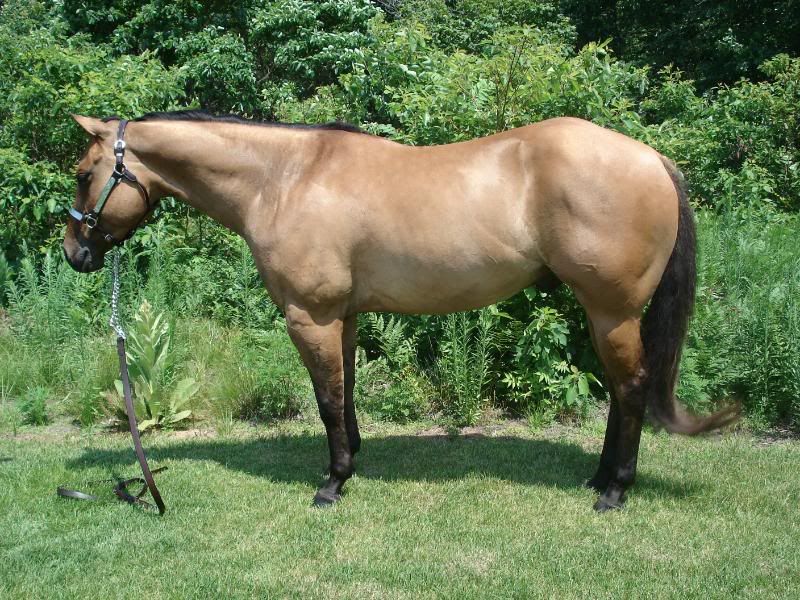 ---
Quote:
Originally Posted by
whitetrashwarmblood
View Post
An old farmer once told me that true black horses don't turn brown-ish while being out in the sun all day. True?
If that were true, no Friesians would bleach. There are no bay Friesians. And I've seen some pretty sunbleached ones.
Fred, the black percheron. Hes definitely black but because he was kept up in a stall in the front (the sun constantly was on him), and they let him out during the day, hes started to bleach out.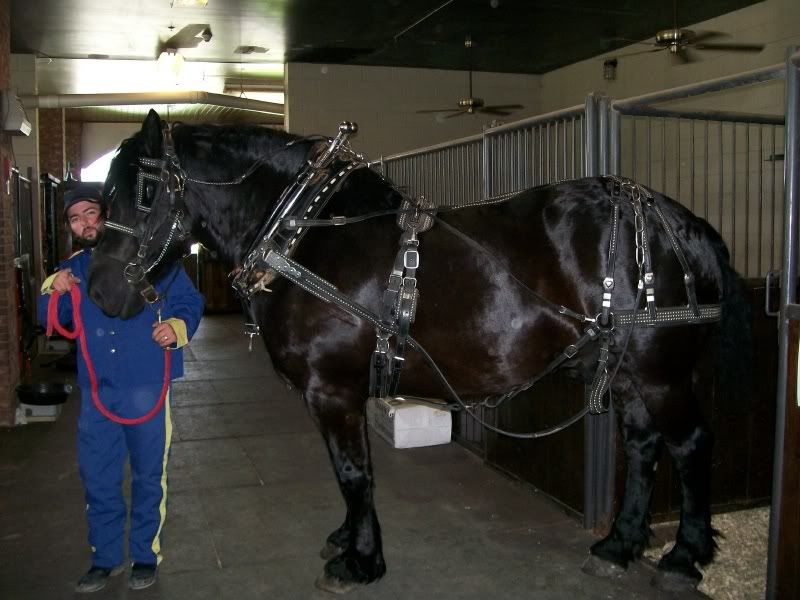 The horse in question looks bay to me though. Even in the darker picture you can see red highlights
I have to agree that the little filly is a bay. She is going to be a very dark bay, but a bay none the less.
As for their being a "brown" gene (different agouti dispersal pattern) While its true people often confuse dark bays for brown, but I usually see more liver chestnuts being mistaken for brown and on occasion smokey black will look brown too (or bay for that matter) which has nothing to do with agouti. So this is why I really doubt that brown is another way agouti effects a horse as the most brown looking horses I've seen were liver chestnut and red based horses do not show agouti. Although it'd be interesting to see if liver chestnuts carried the agouti factor, and that was just their way of reacting to it. Of course, I doubt it, as agouti just controls the dispersing of black pigment... but still... it'd be interesting to see.
A very interesting topic! My colt is a 'smokey black', and has been DNA tested--no agouti gene. But he has the 'seal brown' look around his nose, and his hair bleaches easily. This summer will be his first 'real' coat when he sheds out... so we'll see!
---
Dressage in Jeans
- My blog with dressage tips for happy, relaxed horses, specifically for those who ride dressage in western saddles, no saddles, cowboy boots, or jeans. ;) Also now with cute pygmy goat pictures! :P
Mayfield, could you share a picture? I've never actually seen what a smokey black looks like before, lol! I've only heard of them =)

I'm going to get in touch with UC Davis today for information on getting the color kit... Everyone has me really interested now, lol!
lol, Sure! I'll show a couple so you can see how he 'changed' so far.
Here he is only a few weeks old:
Here he is about 4-5 months old--and you can really see the 'creme' in this one!!
And here he is with his winter coat:
As you can see... he's all over the board so far!! Let me dig up the results from his DNA testing...
Okay:
E/e for 'red factor', with this: 'basic color is black, bay, or brown in the absence of other modifying genes.'
a/a for agouti, the recessive gene. 'Black pigment is distributed uniformly.' [Pssht. not yet! lol]
And one 'Cr' gene from his cremello german warmblood dad, which is SUPPOSED to be recessive if with a black gene.
*rolls eyes* who knows what color this boy is going to be! I can't wait for him to shed out. ;)
---
Dressage in Jeans
- My blog with dressage tips for happy, relaxed horses, specifically for those who ride dressage in western saddles, no saddles, cowboy boots, or jeans. ;) Also now with cute pygmy goat pictures! :P