Duelmener wild horses
---
Hey,
just cause I thought it was intersting, I'd like to introduce the "Duelmener wild horses". They're actually not 100% wild, but a group of ~300 horses that live freely in an evironemtal protection zone in Germany (actually, the area is primarily protected to keep the breed alive). They're on the list of endangered breed.
The entire herd is captured yearly on the last Saturday in May, and the yearling colts are caught (on foot) and auctioned off, which is a pretty traditional event in that region.
The breeding stallions are left with the mares from May to September (in order to synchronize the birth of the foals).
They're a very traditional breed, mostly grullo/grulla and dun colored, sturdy little ponies (between 1.25 and 1.35m), and most of the ones that are sold are used for driving and as kids ponies.
There are some breedings of domestic ones (i.e. both parents have "owners"), in which case they're not called "Duelmener wild horses" anymore, but just "Duelmener".
Just thought it was a neat breed, and don't think anyone has mentioned them on here before.
(None of the pictures/video are mine)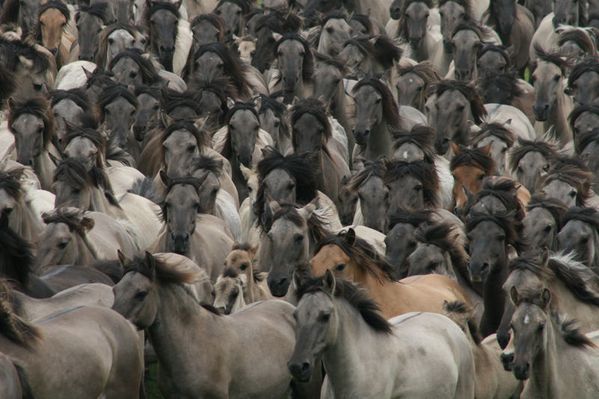 "Pinocchio" - auctioned off in 1995 and goes L/M dressage (which is about Level 3)
Video of the capture:
Very interesting breed
---
Country Woman


Very cool, had never heard of that breed before. They are really beautiful.
Teen Forum Moderator
Join Date: Dec 2010
Location: South East Texas
Posts: 7,157
• Horses:
2
Thats really neat! Definately stout little guys, aren't they?
---
Everyone in your life is meant to
be in your journey, but not all of
them are meant to stay till the end.
I LOVE that second picture!
Iv a picture of one of these in one of my horsey books, their beautiful! love the pics of them all running wild!
Wow! This is very cool. Never heard of them myself, so maybe I can teach my fellow horse people (in real life) about these guys. ;D
I'd never heard of this group of horses. Thanks for the pics and video. They seem like very sturdy, all-around little ponies. Do they ever auction off the fillies?
No. The breed is considered "extremely endangered", and none of the mares leave the herd, only yearling stallions. There are, however, a few registered mares born in captivity.
Posted via Mobile Device
Oh what a pretty breed never heard of them before
Similar Threads
Thread
Thread Starter
Forum
Replies
Last Post
Wild horses?

Pamandhorses247

Horse Breeds

6

02-08-2012

11:40 AM

Wild horses?

Pamandhorses247

Horse Training

2

02-08-2012

07:37 AM

Wild horses?

Pamandhorses247

Horse Talk

1

02-07-2012

08:59 PM

Wild Horses

On The Bright Side

Horse Talk

24

07-23-2010

12:05 PM

Wild Horses, Wild Dolphin video

Pinto Pony

Horse Videos

6

04-14-2010

03:38 AM