Extinct Breed: Narragansett Pacer
---
I've always been interested in extinct breeds of horses. Their jobs, why they were bred, their origins and why they became extinct. I keep finding these breeds and thought maybe some of you might be interested in learning, or sharing your opinion or knowledge of them.
Again, due to the TWH threads we've been having, I got curious and looked up the TWH origins. The Narragansett Pacer popped up. I researched that, and its extinct.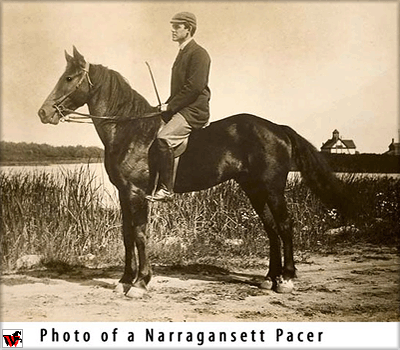 The Narragansett Pacer is of unknown origins and is said to be the United State's "first" original breed of horse. It was created in the state of Rhode Island and there is evidence stating that it dated clear back to 1676. Not old by other country's standards, but definitely old for America! The breed predates America's Thoroughbred imports.
It was commonly described as short (14.1 hands), sorrel and homely looking. Its unknown whether the breed paced or ambled, since both terms were used to basically describe a soft gaited horse, but there is evidence that it did, infact, amble. It had a clean head, a long neck, crooked hocks and traveled with a high tail.
When citizens of Rhode Island began to pan out, this horse was eagerly sought after because it could travel extremely fast over long distances, and the gait was easy to ride. It eventually became prized as a racing horse and the race to improve the breed for this purpose began. It could pace 1 mile in just over 2 minutes, and 3 miles in 7.
The Narragansett Pacer became extinct when Rhode Island transformed from a settlement and into a booming, prosperous state. Bridle paths were opened up for motor vehicles, weeding out the use for a smooth, fast horse. Another thoerized cause for extinction was the fact that they just weren't very pretty. It existed for about 200 years before it randomly became extinct.
The Narragansett Pacer contributed to many of the gaited horses we have in the United States today, including the TWH, ASB and Standardbreds. It was said to be the breed of horse who carried Paul Revere in his famous ride, and was also a favorite mount of George Washington.
---
And those who were seen dancing were thought to be insane by those who could not hear the music
Neat! You need to post more of this stuff! Thank you!
Its really amazing because you can definitely see this horse in the TWH's and ASB of today. Especially that neck in the TWHs... my own TWH had that same neck. He also had a strong resemblance to the front legs. Of course, other breeds came into play and whatnot, but the characteristics are still there.

Its amazing how such a popular breed became extinct so quickly.
---
And those who were seen dancing were thought to be insane by those who could not hear the music
Wow, thanks for sharing. Loved it!
Thank you for teaching me something new OP :)! I think it's quite an attractive looking little horse...
Ah the foundation for Saddlers. Thank you for posting. This is the horse that created my breed, along with Thoroughbreds.
Posted via Mobile Device
Thanks for sharing! That's really interesting! One breed you may take interest in is the Sorraia. They're not extinct, but are very uncommon, and were supposedly the actual breed of horses that the Spaniards brought over. They started many of today's american breeds. One example os an american relative is the kiger Mustang
---
"It is the difficult horses that have the most to teach you" - Double Dan Horsemanship
That's interesting! Thanks for posting :)
I think some breeds become extinct to out crossing so much that the original breed vanishes. I love the look of this breed though TY for the info!

TRR
Thank you for having the interest to look these old breeds up
I might point out one very important word regarding this extinct horse, as it applies to Tennessee Walkers. Especially when folks complain their Walking Horse isn't "in gait" if it isn't performing the breed standard of the running walk.
That would be the word "Pacer". Pacing is in the Walking Horse gene pool and it isn't going anywhere no matter how hard humans try to breed it out. Just like they have tried to breed the Shuffle out of the Appaloosa and the Singlefoot out of the Morgan
Which segways nicely into my next comment that, for anyone not interested in TWH history, it might surprise some folks to learn that the Foundation Mare of Record for the Tennessee Walking Horse is a black Morgan Mare by the name of "Maggie Marshall". What I can't remember is if she is the three time or four time granddaughter of the famous Figure, a/k/a "Justin Morgan Had a Horse".
Great stuff on the Narragansett Pacer