Guess the breed???
---
Ok sorry these arent the best photos. I will get a body photo tommorow. He is obviously an appaloosa crossed with "mystery breed" See if you can have a guess? I have posted it somewhere before so no cheating haha! These are the first photos of my baby i have put up also. Hopefully have a few more over the next few days. Good luck!!!! :P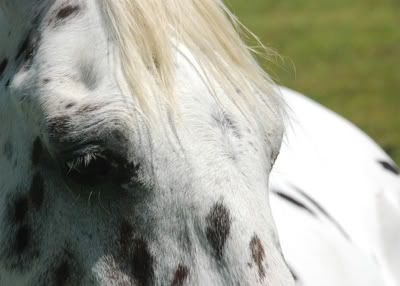 p.s. I was experimenting with eye shots obviously haha....ill have to get some full body! Sorry!
Hey hows it doin.... I am gunna say, appolusa cross ARAB. Prove me wrong lol.. i suck at these guess the breed games :P
---
AUSTRALIAN STOCK HORSE SOCITY
umm my guess would be appy cross tb. am i right??
P.s he is a really goregous horse!!
I was also going to guess thoroughbred
i am going to guess qh or arab

love the colors :)
---
horsegal101
haha ok maybe one of you could be right.....DEFINATELY getting body shots for u this arvo!!! Then we'll see what ye come up with!! Someone is warm.....;)!
...
---
How'bout a POAXAppy or just POA or Just Appy, maybe P.O.A crossed with TB?...
breed
---
I think your horse is a quarter/ throuhgbred cross.
Yeah fordchik... i was thinking along those lines too..... But i still think he has a Arab head on him...
---
AUSTRALIAN STOCK HORSE SOCITY