Gypsies! -very image heavy-
---
Well for one of my labs we went to a Gypsy Cob farm today, got a nice tour from the owner and saw his herd of 12 Gypsies and some other, light riding horses he keeps. While they're not really my cup of tea, when it comes to breeds, they were very beautiful horses. He has horses ranging in age from 7 months to 12 years. His 6 original horses were all mares that he brought over from Ireland in foal to stallions he had picked out while over there choosing his mares. He still has all 6 of his first mares and has managed to pick up some others along the way! My favorite of his Gypsies was his 5 y/o, grey stallion, Leannan. First of all, I'm a total sucker for dapple greys, and this guy is still fully grey, even at 5! He has only two foals on the ground (both the 7 month-olds) and from what I can see will be a very nice stallion. All his Gypsies are train to drive and ride both western and english, even a little rudimentary jumping (though most of them prefer flatwork and after 2 jumps they think they're done). One of his younger horses actually really loves to jump, so they'll try to take him more in that direction if he doesn't take to driving equally well.
I came to really respect this man as a horseman and breeder in the 45 minutes we were with him. I won't lie, I asked a TON of questions, including questions regarding why he chose to keep Leannan a stallion, why he gelded others, etc. and I was incredibly impressed. He truly cares about the quality of his horses and this year didn't even breed any of his mares because of the market and the economy. He's definitely not just breeding these horses because they're pretty and because he can generally get a good price. He carefully pairs mares with stallions so that the resulting foal has a high likelihood of good temperment, conformation, AND talent. His horses are definitely an example of that. Now for pictures!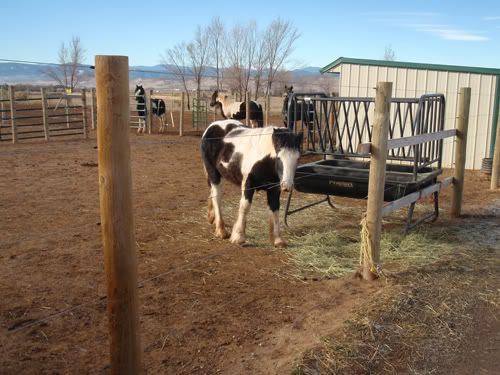 One of Leannan's foals, a colt. He's greying out and I'm sure will be stunning when he's a dapple grey/white tobiano!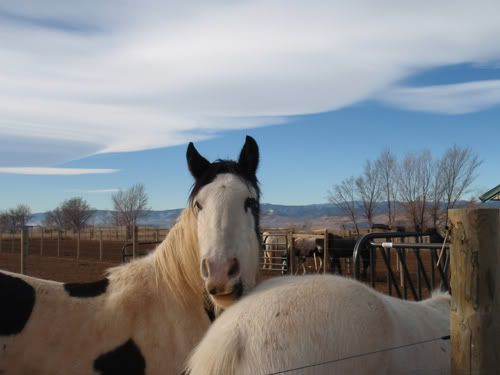 3 y/o gelding out of one of their homozygous tobiano mares.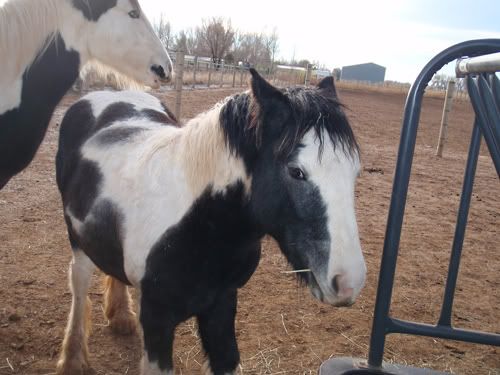 Closer picture of the greying-out colt. xD He just wanted to eat.
Donkey! And Kodiak in the background, who is not owned by the BO.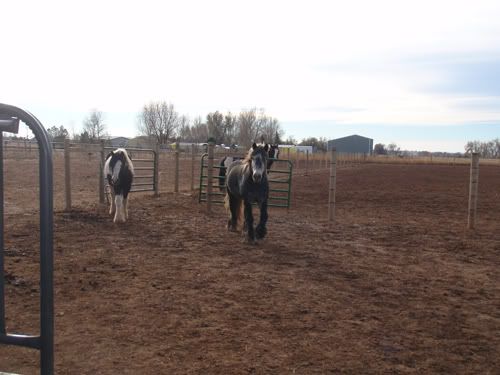 -drool- Leannan on his way over with a gelding friend.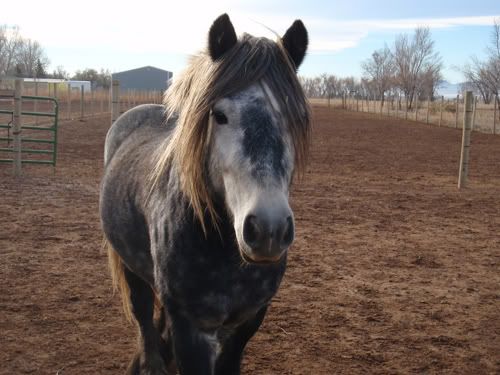 I freaking love him, oh my gosh.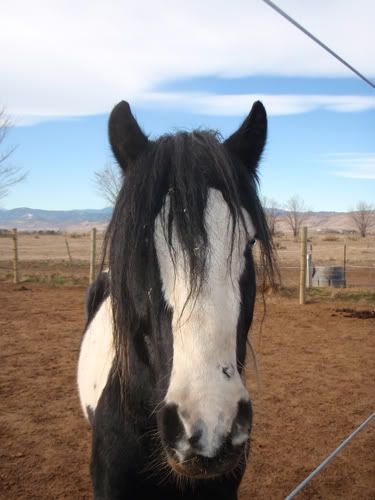 Gelding friend again! His name is Glendalough (glen-da-lock).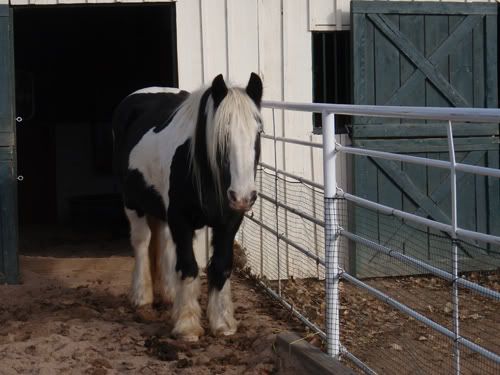 One of the broodmares. She colicked a few months ago and then developed laminitis, so she's being treated for that and gets to walk on sand.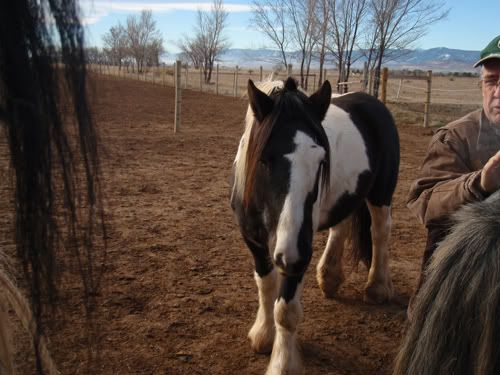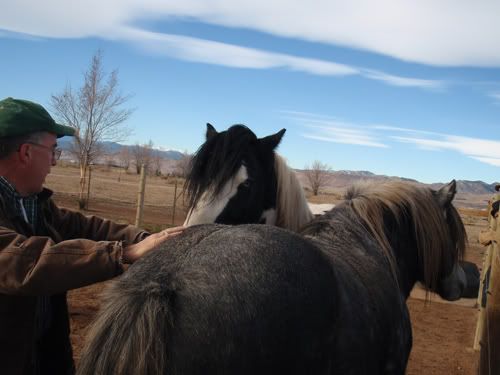 His horses really love him. You could definitely tell.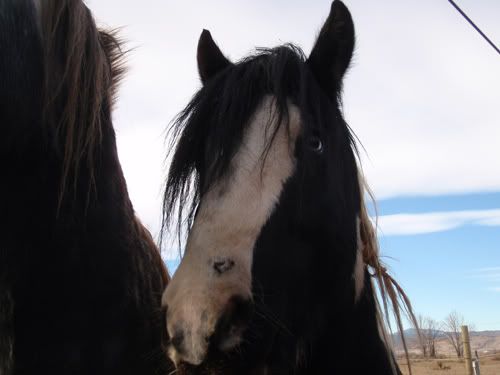 ---
"Always be yourself. Unless you can be a unicorn. Then, always be a unicorn."

Absolutely stunning!
---
100% Anti-Slaughter and PROUD of it!

Gorgeous! Good to know that there are responsible breeders out there.
---
Horses are like therapy ~ and almost as expensive
Wow, I especially like the gray!
What fun. I know the owners and some of their horses. I met them at an Equine Affaire a couple of years back. They also own some very nice, original Gypsy caravans. (vardos)

Many Gypsy breeders in the US, have 'gone green' and not bred anything for the last year or in some cases, the last couple of years. We don't want our breed ending up in kill auctions. Unfortunately, we still have one greedy breeder, who is expecting 60 babies in the new year. That is disgusting by anyone's description. Almost all of us in the breed, are horrified.

Lizzie
Started
Join Date: Sep 2009
Location: Port Orchard Washington State
Posts: 1,870
• Horses:
3
Those are pretty horses! One has the same facial markings as my Vanners daddy. Very pretty!
---
When life gives you lemons....chuck em at whoever is giving them to you!
I don't want lemons! I want cookies!
@FeatheredFeet - Oh their caravans were gorgeous too! I love the one he's currently restoring!
---
"Always be yourself. Unless you can be a unicorn. Then, always be a unicorn."

I love the stallion, I was literally drooling over him. LOLage.
---
Cowgirl: A better-looking cowboy with brains.

Life is short!! Hug your horse!!
One breeder is expecting 60?????????????? babies!!!!!!!!!!!!!!!!!!!! That is atrocious!
---
"Equine-facilitated therapy employs a form of biofeedback for practicing self-awareness, emotional management, and relationship skills that human role-playing exercises and discussion groups cannot begin to access." Linda Kohanov (The Tao of Equus)