Haflingers :D :D
---
I'm a new owner of haflinger mare. Anyone else here owns haflingers? Tell me about them!
Oh im jealous! I rode a haflinger once in germany when i went there on a olidy, they are so pretty!
---
If there are no horses in heaven... im not going.
You might PM Goldenhorse on here if she doesn't show up - she has Haffies...
I love haflingers!! I looked sooo hard when buying a second horse, but they were a bit out of my price range. So cute and sturdy.
LOL, what would you like to know?
The are the most beautiful, annoying, endearing, smart, stubborn, lovable big people in small bodies that you can get
I have, does a quick count, 1 Stallion, 3 mares, two yearlings I pure bred colt foal, one haffy x draft/Qh foal and am waiting (impatiently) for the birth of a Haffy x Arab baby, which I'm very excited about.
They often test you when they change homes, I think of them as the adopted child who will suddenly go through all sorts of tantrums and bad behavior just to make sure that you do love them, be firm and consistent and you will win through.
Often they will keep going along with things that you are training them to do but they aren't actually learning, just doing and then when you try and take the next step they will have a mini melt down because they don't understand. So try and take things slowly, even when they seem to be getting things.
You may want to invest in some extra locks or chains around your doors and gates, in their ever eternal quest for more food they can become quite the escape artists.
That's all for now, I have to go play with some Hafflies, but you can read all about Haflingers and their people on this site
Haflinger Horses
Oh while I remember,they can be a NIGHTMARE to fit a saddle to
Congrats on your new haflinger! I currently have one - he is 10 and has been in my life since he was a yearling. His name is Toby (registered Motley RR) and stands a bit over 13.3 hands. I had another one but he went to a new home last year.
I find them mischievous and fun loving, but will give their all for you as well. They are super smart which means they can learn quickly - both the good and the bad so make sure you are only training them what you want them to learn and not inadvertently teaching them a bad habit.
Toby used to be a bigger handful when he was younger, but seemed to reach a more mental mature stage when he was around 8 years of age and now he is a good solid trail partner. They tend to be easy keepers and keeping the weight off of them is the challenge. A sniff of oats is enough to put pounds on their hips. But Toby will practically do cartwheels for a peppermint.
They tend to have good strong hooves and many can go barefoot even on rocky trails.
There is a haflinger gathering scheduled in Lexington KY in October if you are anywhere near there.
---
All I pay my psychiatrist is cost of feed and hay, and he'll listen to me any day!


I have a student that has one. He is fabulous. He fox hunts, trail rides, does dressage and jumps. Now, her young daughter practises her vaulting on him.
here he is with his owner
At a hunter trial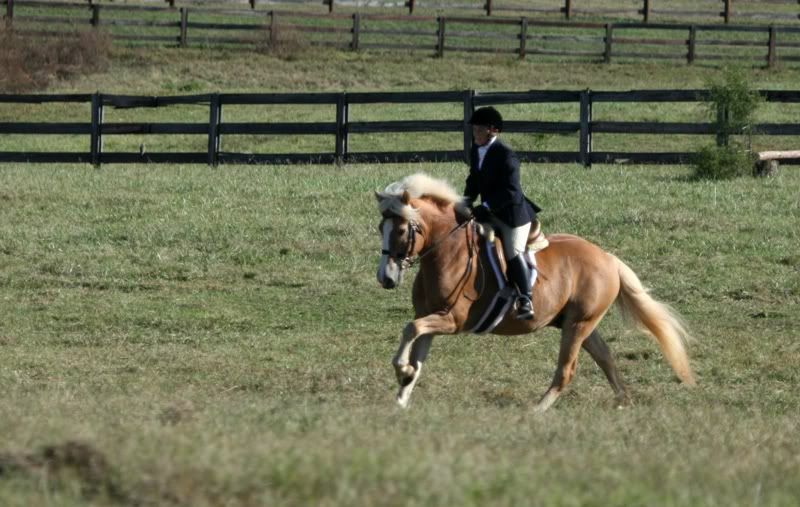 On his first XC training
Enjoy you halfie and post some photos!!
Banned
Join Date: Jul 2009
Location: In a land far far away, or so I wish.
Posts: 12,825
• Horses: 0
I am a newer Haflinger owner. I have only had mine for going on eight months.

As GH points out, it is a good thing they are so cute. MFM (my Haflinger) is not afraid of anything which tends to get her in real trouble. She opens gates, she opens doors, etc. She has 'that is not latched only closed' radar, so when doing chores I can not just close a gate I have to make sure it is totally latched if I have to run and get something.
When she gets in trouble she looks at me with those adorable big brown eyes and all is forgiven....sigh.
We have one that is used in out thereaputic riding program! her name is Cindy. she's good with the kids. but has her moments sometimes (not a big fan of hats being passed to or held by her rider. so that eliminated one fun game for the kids lol). But as soon as she knows she has an able bodied person working with her she starts testing you. be on the ground or in the saddle. but she's such a sweet girl, <3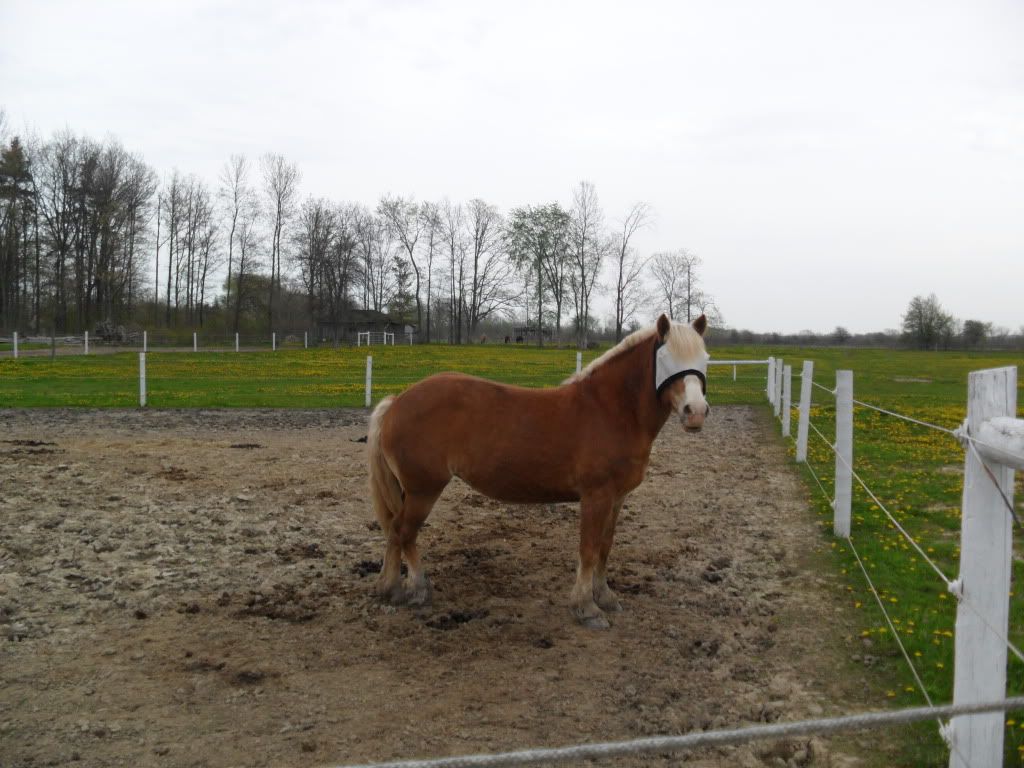 OK, pic overload, here are my guys,
Alto, my Stallion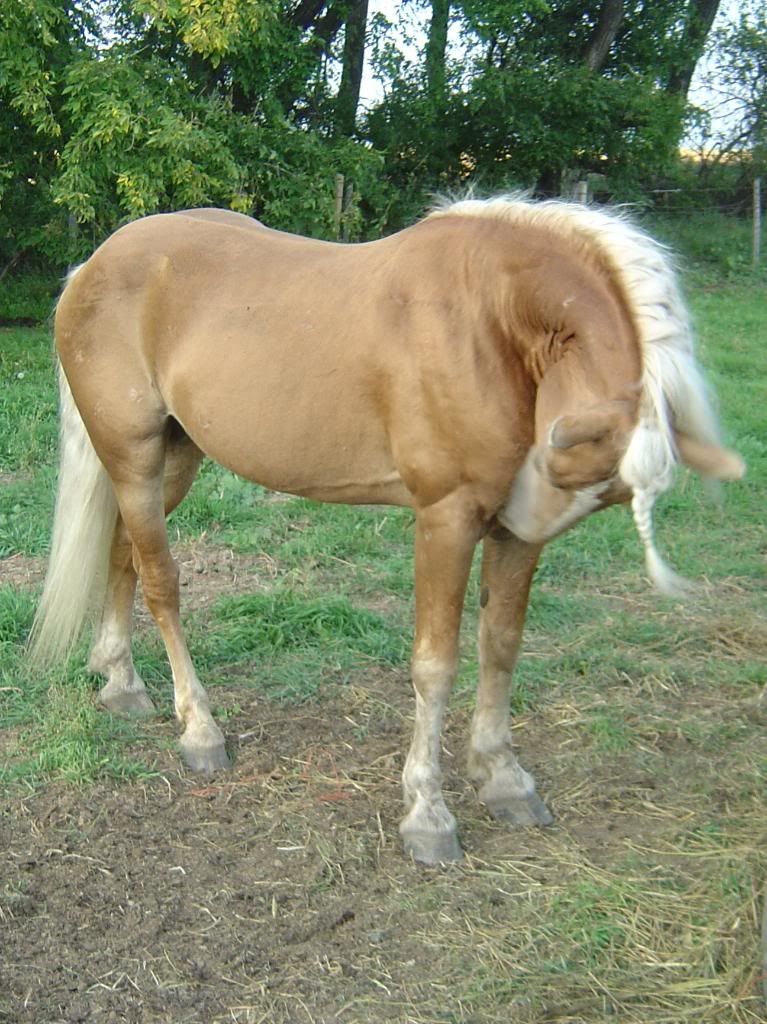 Fancy, senior mare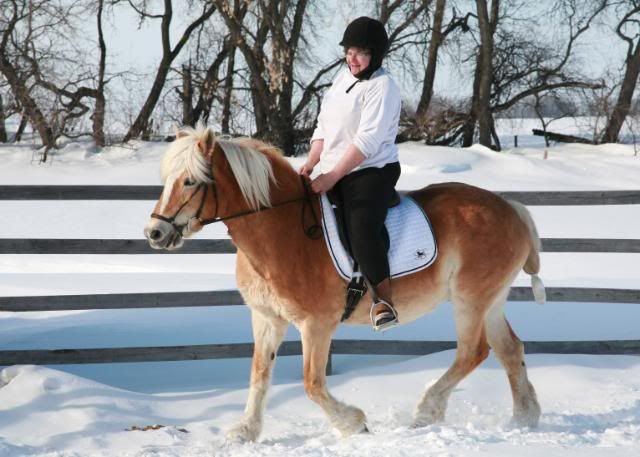 Destiny,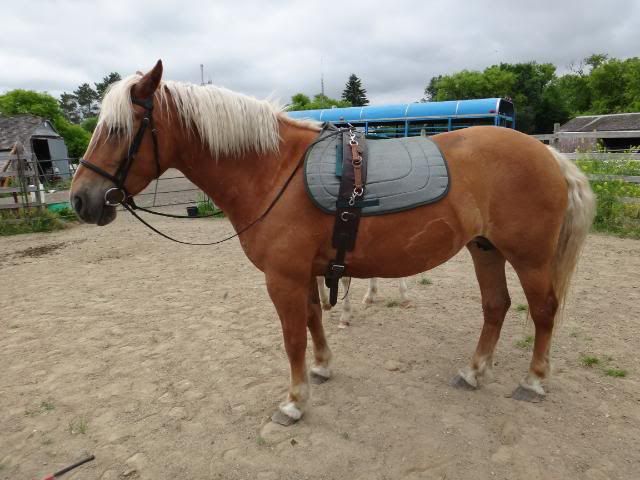 And Destiny with her baby Wombat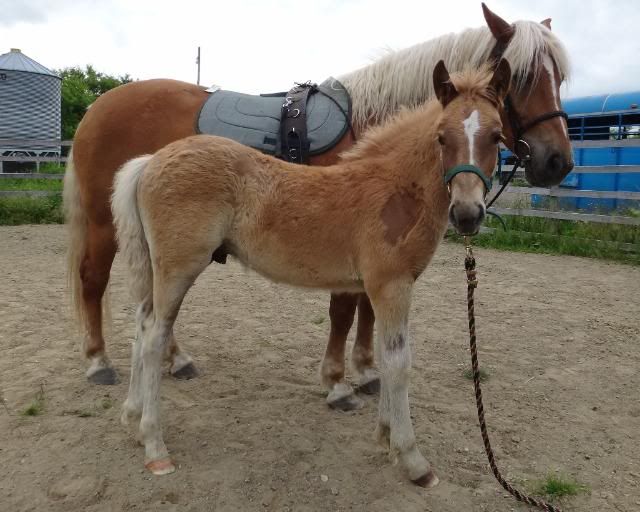 Elena, showing a touch of 'Haffytude'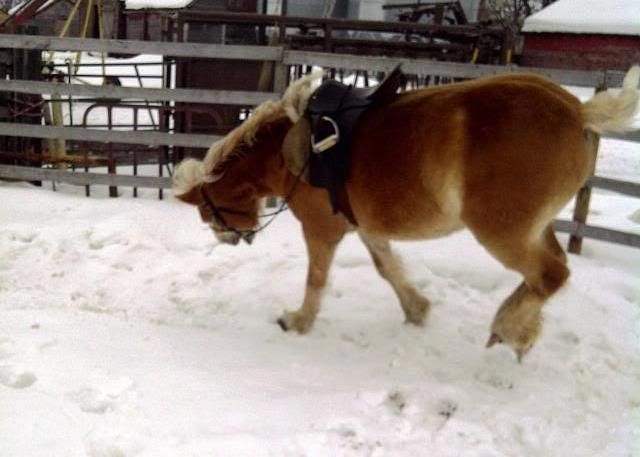 The yearlings Alfie and Prince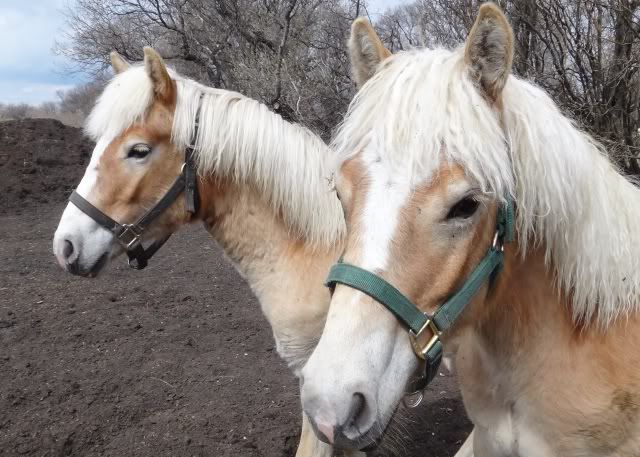 Stewie the Moose, half haffie, half moose,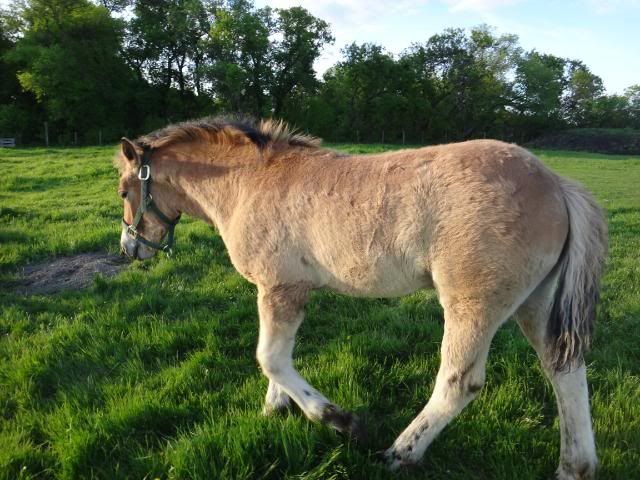 and last and not least, the Harab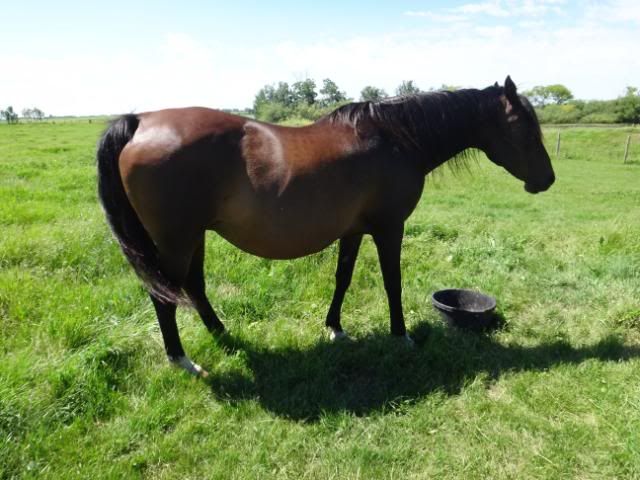 OK, I know you can't see him, but he is shy so isn't ready to face the world just yet