Green Broke
Join Date: Oct 2009
Location: Outside of Oklahoma City
Posts: 2,653
• Horses:
6
Well...TECHNICALLY. The gene pool is staying pretty clear since you're breeding to a different SPECIES. Hahah!!
---
Be wary of the horse with a sense of humour. - Pam Brown
Hi everybody,
I found this thread when searching the internet for ponies like mine
as in fact I do have a Fjordaloosa.
He was bred in the Netherlands. There they breed Appaloosas to Fjord mares to get tough and reliable as well as handsome ponies for a childrenīs riders camp,
De paarden van Het Fjordenpaard | Het Fjordenpaard
Sometimes they sell some foals at
Paarden te koop
and so I got Okkie when he was 3,5yoa.
Okkie is 5 now and Iīm just starting him very slowly.
See you,
Birgit
---
Last edited by Wallaby; 07-09-2014 at

04:59 PM

. Reason: removed link to Facebook, added photo
He is all sorts of cute....
Fjule..love it. Grabby hands for me as well. I have a QH with sooty that has a perfect line of black down the center of his mane and black core to his tail. No fjord anywhere I promise. One of these days I'll have to get pics. If I roached it it would be really noticeable but left long you don't unless you are up close brushing it out.
Quote:
When people cross a fjord with anything what were they thinking? The answer is beyond me.
Unless they are aiming for this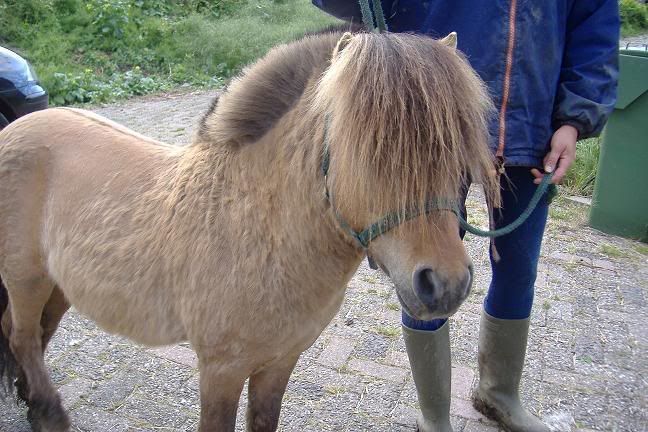 Oh My Gosh that mini is sooo cute!!!! And I'm not a big fan of minis!!!
Thx for inserting the picture for me, Emily, seems I canīt send a PM yet....
Gonna read the link you sent me, sorry for the inconvenience!
Violators may have their membership suspended and may lose .......
The words MAY are key here. The rules aren't saying WILL.
How would the registry ever know that you bred your mare to a different breed of horse? Especially if the foal is not able to be registered.

If I had a fjord, I would be tempted to outcross for a fjule. They are stunning. As long as there is a market for the foals, I doubt it matters if they have papers or not. I'm sure there are people out there willing to spend the $$$$ to buy a fjule.

I don't know what the population of Fjords is, but I would start to worry about too much inbreeding... That Fjordaloosa is stunning too.

I wonder if you could cross breed for sport horses/ponies?

All AWS sport horses are evaluated on their own qualities and/or performance records. The AWS is open to all breeds of horses and ponies. Whether previously registered (would be recorded with AWS) or non-registered as long as the horse is breeding, training or participating in one of the four disciplines that the AWS supports (Dressage, Eventing, Jumping or Combined Driving).

Eligibility for Registration
To be eligible for registration a horse can be of any breed or combination thereof. The sire and dam is not required to be registered for the offspring to be registered.