Help me! Registering Jasper!?
---
Okay guys I need some help! I'm registering Jasper with the Pinto horse Association, but since I have No idea what breed he is and who is parents are I'm having a little trouble? And what exactly is outcrops papers and do I need them to get him registered? Oh and I don't know his exact birthday do I make one up? I know he was born in March but that's it. Below is what I need help filling out! Oh and If you guys feel free to chime in!:) my first choice for names is "All Jazzed Up"
Thanks!:)
Posted via Mobile Device
Do you have anyway to get in contact with his previous owner(s)? I feel like knowing his sire and dam is a little important to get him registered lol!
His previous owners got him at a auction when he was a yearling from the Amish so I doubt his parents are registered:/
Posted via Mobile Device
CAll or email the registry and ask them for help. They would be more than happy to help you through the process.
Contacting PtHA is a good idea, however, you simply need to put "unknown" for the name of sire & dam and leave the rest blank. Your pinto certificate won't have a pedigree on it. You will have to check the "undocumented" box and pay the $125 registration fee plus your membership fee.

Put as much information as you know about his birthdate & gelding date. I'm not sure how they handle that, but I would bet they choose January 1st of the year you indicate or possibly the first day of the month/year you put. It really doesn't matter as long as you submit your photos and fees.

I hope you enjoy your new pinto!
Posted via Mobile Device
Thanks I emailed them I think he makes all the requirements? But I'm not sure with his black skin what do you think?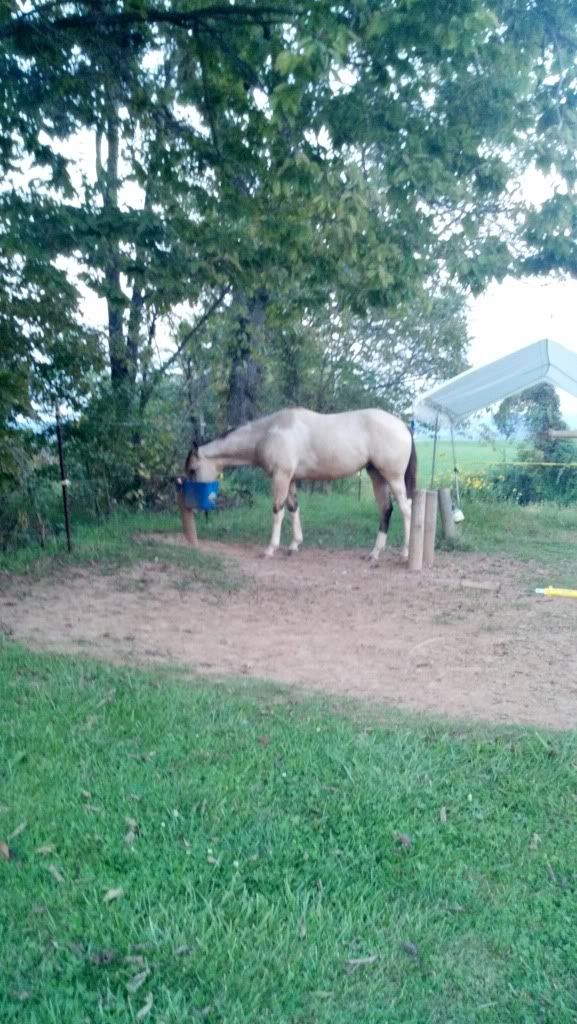 Oh and any name ideas all I have is "All Jazzed Up"
All Jazzed Up sounds nice
good luck
---
Country Woman


He's a Tobiano Buckskin. He;s going to have black markings.
WELL I know that but on the form it was talking about pink skinned horse which made me wonder about him
Posted via Mobile Device
good luck with your horse
---
Country Woman