His breed?? color?
---
This is my favorite horse of all time. =) He comes to the camp I work at and he's my little buddy. Haha. What do you think his breed is? I've always figured he's a POA, but his head is really refined looking, to me, and he has pretty high action and he's not really western-y looking like most of the POA's I've ever seen pictures of... Maybe he's a mix? He's a perfect little english pony, western isn't really his thing. He's around 13 something hands...
About his color, he has light brown spots on the lower part of his belly (if you look closely in the last picture you can see them), black/agouti hairs mixed in everywhere with white ones, and he has brown around his stripe on his face. he also has brown hairs in his mane, not so much in his tail. He also has a few black spots but not so many.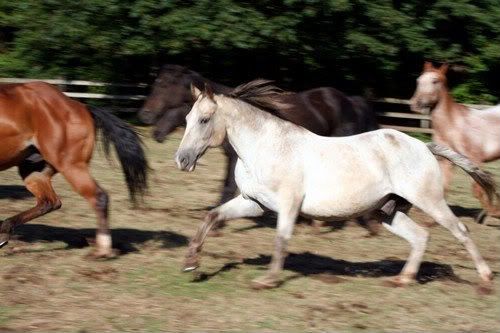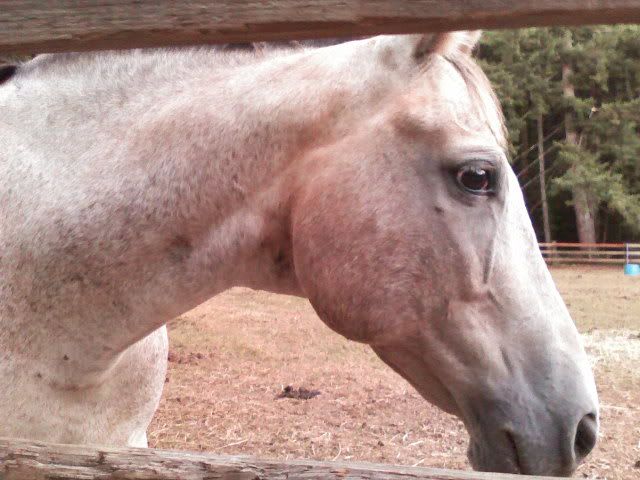 his color a roan...probably red roan. He looks like a quarter horse cross to me.
He looks like a varnish roan - not a classic roan. Classic roan would still have a dark head. Varnish roan is a appy trait that also shows up in POA. I suspect he is at least POA in part.
---
All I pay my psychiatrist is cost of feed and hay, and he'll listen to me any day!


To me he looks like a marble appy/palouse. . .
---
..xx.. S.C. Ginga boy ..xx..
"" dont fight with you horse, hes stronger than you , don't try and outsmart him , hes always one step ahead, instead bribery and corruption :P""
Oooh, he's cute!
When I saw the pics, I immediately thought QH!
But as the others said, he could be a cross.
---
Ride more, worry less.
POAs have quarter horse in them, so hes probably POA, fewspot. Very cute by the way! POAs are one of my fave breeds, my colt is a POA and super sweet.
---
Treasure Valley Gypsy watching over her kid brother CR Sizzlin' Jet Chex
Thanks! I think he's the cutest little guy ever. =D
Yeah I would think he was a QH too but he's really really short to be a full QH. I've never measured him exactly but I'm 5' 8" and I can reach all the way around to the bottom middle of his belly when I stand next to him... My ankles and feet were also always dangling below his belly. =P
I would have taken him home instead of Lacy but he was really too small for me and he has a giant lump under his throatlatch, you can see it well in the last picture that appeared over the winter when he was where ever they keep the camp horses and I didn't want to have to put him down right after I got him becuase it was growing really fast. =( So he's probably not even alive anymore at this point. We had even pulled strings to get a vet out and lance it becuase we thought it was an abcess but she said it was a bad tumor. Sad day.
He does have a very pretty head! From the size of his jowels and neck I would almost suspect that he was left a stud until later in life.

I'm really not sure on his breed so I won't even bother guessing. But he looks like a rose gray to me.
He is a varnish roan appaloosa color. I know cuz my old man is the samecolor. Not a grey cuz he isn't all white on his neck and face. Not a classic roan cuz he's got roaning on his face.. Not sabino. What breed ? Probably POA or maybe a grade appy of some kind. Click on my horses and then Cheno.
---