Honest question but kind of silly question about Fjords.
---
I love Fjords.
And I understand they come in different shades. . . .
and like all horse people know, horses have millions of personalities, however, has anyone else thought about how people pick their horse out when it's with a bunch of other Fjords?
I was looking at some pictures from Norway and there is just so many Fjords in one pasture boarding place I have no clue how people don't mix their horses up!

Again I am genuinely curious and not trying to offend anyone in anyway, I love Fjords!
Anyone have experience with this?
---
Rem - 9 yr old Paint gelding; Lelouch - 9 yr old Connemara X Welsh gelding; Ejie - 8 yr old Arabian mare
I think it's just a matter of knowing your horse[s]. You notice things like the way they stand, the shape of their ears, the way they move, etc. We had several Fjords at the therapy barn I worked at. I could tell plain as day who was who, but I still clipped their initial into their coats because many volunteers just couldn't tell.

I had two barn cats that were very similar, most people couldn't tell them apart, but because I knew then so well, I could tell the difference in the way their fur layed, shape of the nose, etc.

I also work at an animal shelter. We currently have a litter of four all black kittens and nine black lab puppies. They start out with different colored collars, but eventually you pick up on the little things if you handle them enough.
---
"Great spirits have always encountered violent opposition from mediocre minds."

Have you ever tried to find your horse in the herd at night? Now that is fun. You are looking at silhouettes. Their shape, the shape of their ears and neck and head. If you are lucky with the moon you can see markings up close.
Posted via Mobile Device
Yep, you just learn to look for tiny differences. I once worked for a lady who had five black Morgans who were all around the same size. I learned to look for conformation differences, which side the mane lay on, super tiny white marks no bigger than a penny, etc. Eventually I had no problem telling the difference between them all.
All males sense, thanks!
Posted via Mobile Device
Lol! I wonder the same thing about Friesians: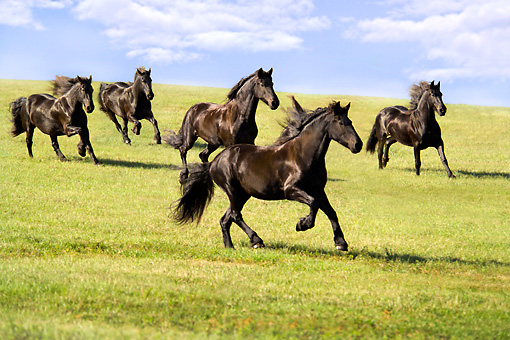 I always wondered if, before the owners got to know them, they mistook them for other horses and never realized it. I know if I get into Friesians, I'm going to have a driving pair, a mare and a gelding. Easier to tell apart that way
---
EQUI
LOVE
People often confuse my grey Arab and another boarders grey Arab. To me, they look nothing alike but people sometimes ask who I'm riding.
Posted via Mobile Device
The therapy program at the barn where I board has two Fjords- the easiest way to tell them apart is that the gelding (aside from being a gelding) has a long, thick forelock that's always over his eyes, and the mare has a shorter "normal" forelock. It's all about noticing the little things as you become more familiar with them.
I've felt the same way about all the bay horses at our barn. Now I have a cremello and there's no mistaking him for any other horse there!
Speaking from experience, when you get to know individual animals, you just know which is which. Where I keep my horse, she has been in pasture with her dam, sister, and brother all at the same time. They are all solid black TWH's. Most people can't tell them apart. But because I have worked with all of them, gotten very close to them, I can tell them apart just by slight differences in their ears, facial structure and build.
Back in the day we used to breed coonhounds. All the same color: Black and tan. To me, they all looked entirely differant. One may have had a slightly longer nose. Another had slightly too short of ears. Another had bigger "Pumpkins" on their eyes, or their shade of tan was lighter or darker or more smutty or even their eye color might have been a differant shade or one may have more wrinkles.

Selena and Bailey looked very much alike back in the day too. Bailey was a lot thicker than Selena, but they both had a similar face marking, big butts, and chub.
---
Pssh.I didn't pick up the wrong lead
It's called a counter canter...
...A very advanced maneuver.