The horse that changed your opinion
---
Hey just wanted to see those horses that changed your opinion on the breed.
Personally I have never like appaloosas, infact I used to always have appys excluded on my dreamhorse searches, even the crosses.
But then I got Fable! When the lady first emailed me her, I wasn't very excited, infact the only reason I went to see her is because there was some other horses nearby, so I was like why not?
Fable changed that, now Im still not big on the full appys (just not into stock type horses) she is registered Raz Bar Jaykime.
She is amazing, never shy from a trail, jump or anything! We can go into a full gallop across the field jump whatever is there and then I nice jog no issues, I have ridden her up to her withers in the ocean and through some abandoned farm buildings. She has definitly changed my opinion on the breed, who are the horses that changed yours?
:)
May I also had I think she is prob one of the most beautiful horses I have ever met o_~
---
Last edited by Thyme; 11-22-2011 at

12:09 AM

.
Shes beautiful! And I'm the same way.. Not a fan of appy's or many stock horses. But I'm glad she changed your mind! :) I'm waiting for my horse to come.. One day lol. But for now I'll live vicariously through others :P
Fable is appy x qh? arab?
Mac is an appy and he is also extremely versatile, and a bit cunning, too.
Let's see . . .
I always thought draft horses would be heavy on the hand and clumsy of foot, b but Zulu is light on the hand (usually) and very nimble. He is also sensitive in ground work, very sensitive.
IMG_2455.jpg
I always though the same thing about the draft crosses then I saw this full perch rocking the dressage ring on day!
There are some appy people at the trails and Fable is often refered to as a Colored Appendix lol
Beau is the horse that changed my mind about TBs, OTTBs to be exact.
When we decided to get a companion for our 9 yr. old Belgian mare, I had my mind set on finding a nice, calm, middle aged Paint.
What we ended up with was a young, sensitive off track Thoroughbred!!
I NEVER wanted an OTTB.....I'd heard too many horror stories about their wild and dangerous personalities..
And those I'd known from the TB farm we used to board our draft at lived up to the horror stories I'd heard. Example: one bit the BO's 12 yr. old daughter in the forehead, removing a hunk of skin and flesh (wasn't there but heard it was bloody and traumatic for the child) leaving her scarred, and ruining her emotionally so that she no longer wants anything to do with horses...other horses there were barely ridable, oftentimes they were biters, one bucked the rider off and she flew into the barn wall....
so of course I wanted nothing to do with those dreaded TBs I'd heard so much about.
Until we met this guy: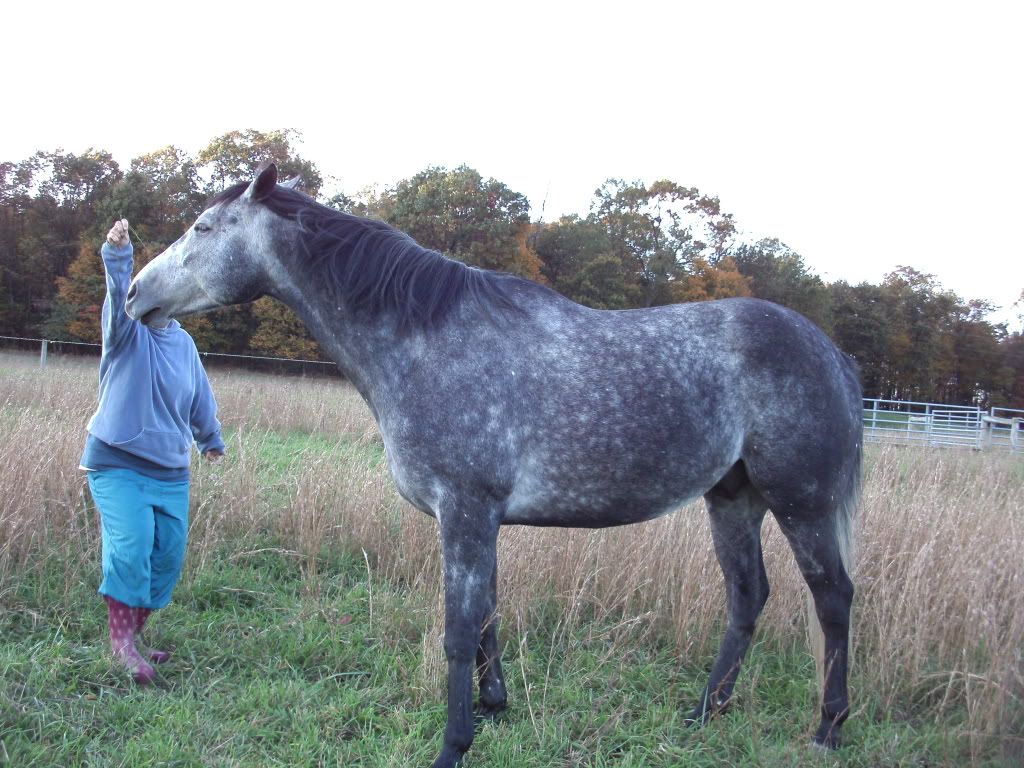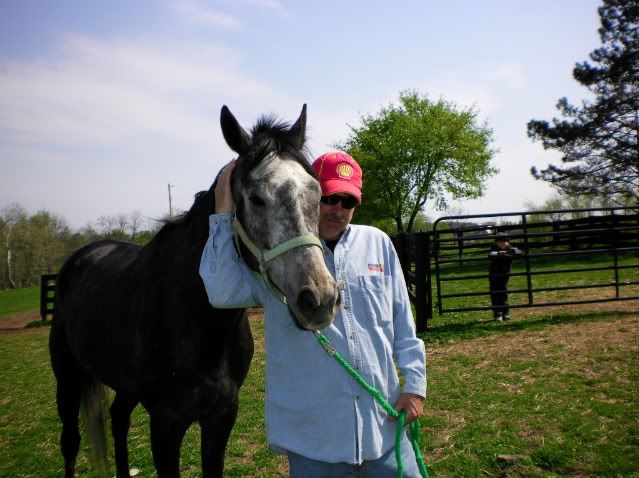 When we bought him he was a bit of a handful....bossy, rude and without any manners whatsoever.
But he was also intelligent, trainable and very sensitive.
Two years later, he is now the friendliest, most agreeable, human oriented horse I've ever met. He chooses to spend time nuzzling or licking or just standing with his human herd over his equine companion.
He IS still high energy and very mischevious....he needs mental stimulation and physcial activity.....but he is the most fantastic, well behaved horse ever, without a vicious or violent bone in his body! He is nothing like the horror stories I had heard....
What I love about him the most is shown in this video:
He is affectionate, more like a dog than a horse.....and very human oriented.
Beau, I was the opposite of you! (by the way, your Beau is GORGEOUS) I actually wanted a Thoroughbred because the lesson horse I rode was an OTTB and we got along really well. Before Shamrock, I came real close to getting a rescued TB from the upstate (which meant I'd have to drive 3 hours to look at him). I never really considered wanting a Quarter horse because they just always yelled western to me and I'm an English rider.

Then, along came Shamrock..

When I talked to his owner on the phone, I didn't have high hopes for him. He didn't seem to know much about him & he kept saying, "He's real big!" like he was trying to deter me from coming to look at him. I decided to go look at him (he was 30-45 minutes away rather than 3 hours) and fell in love. :) He was a tad lazy and dirty, but he loved attention. And was beautiful! For a "backyard" horse with no real job, I felt that he was very nicely built (my trainer & farriers think so too).
I have never had anything against QHs. I did think that I would not be likely to ever get one that would be an excellent advanced eventing candidate. That was until I met Scotty. This little 15 hand guy was the smartest and most athletic horse I may have ever ridden.
I met him when a local trail rider was having trouble loading him in a trailer. I offered to help load him and there was just something about this horse that intrigued me. The owner asked me to work with him and the rest was history. This horse was smart in an almost scary human way. After he figured out that loading in a trailer meant he was going somewhere interesting, all I had to do is throw the lead over his neck, and tell him to load up. He would trot up to the trailer and jump in. Once, I was sitting in the truck when I did this. People were amazed when he trotted around and jumped in.
He was showing prelim getting ready to move to intermediate when he sold. I was SO sorry to see him go.
Scotty gave me a renewed appreciation of the versatility of the QH.
---
Last edited by Allison Finch; 11-22-2011 at

09:21 PM

.
Allison -

Hearing that story of Scotty gives me encouragement for Shamrock! I hope one day he'll be that willing to jump in. :) The only time I've seen him in the trailer is when I brought him home. Which reminds me, we should probably be practicing trailering. Haha.

I must say, though, I wish I knew if he is good at it or not. His previous owner told me that he had never loaded into a 2 horse before, so it'd be best to bring a stock trailer to get him. However, I don't own a trailer & the only one we could borrow was a 2 horse. The previous owner didn't even give Shamrock much of a chance to get on by himself before he was using what I felt like were unnecessary measures to get him in (like putting a rope behind his buttocks and using the pressure from it to get him moving). :/
I'm gonna have to say Percherons were the horse I least expected to fall in love with. I was the kid who grew up reading the Thoroughbred books and wanted to race the wind. I loved paints and colours. I loved blacks, and DESPISED greys...
So naturally when Bandit came along he was the exact opposite of everything I thought I loved. He was big, and a draft, and GREY (yes I was very superficial at the time
).
I first met him on my first day working at my first farm. The barn manager told me to "go get the big black one" - he was a very dark grey at the time, so dark he was almost black. So I went out, lead rope in hand, grain in the other and proceeded to stalk the reluctant horse around the field. Eventually I got a lead on him, after three tries... and then he proceeded to turn tail and bolt, dragging me - who wasn't smart enough to let go at first
- over a log and dumping me on my backside.
But I came to relate to the gelding on an emotional level. The troubled horse, who had been mistreated and never given a proper chance, taught me how to work with horses - especially flighty, kickers who bolted and were scared of everything.
He taught me a lot, and I came to love the look and feel of Percherons. Since Bandit, Percherons have been my favourite breed.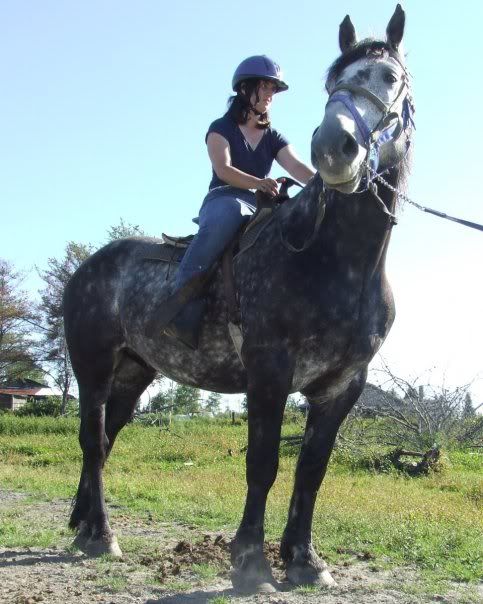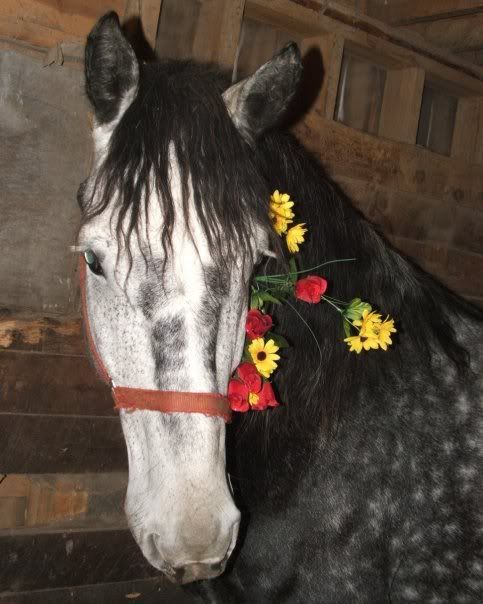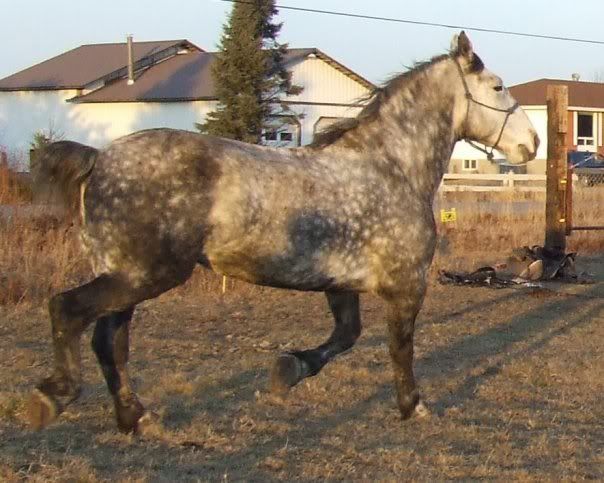 ---
A canter is a cure for every evil. ~Benjamin Disraeli
Minor example:

I've never liked Quarter Horses, looks wise. I've always thought they were just plain; common looking. Common... That was my resounding thought about them. Everything you saw in a roadside field was a QH. I also was never a fan of their conformation. Too short, down hill, too muscular...

I met a horse named Lacey a few days ago. Beautiful... Not common looking at all! She was tall, lean, well conformed, and buttermilk palomino. She is the only QH I'd ever met (and I've seem many!) that I would buy in a heart beat.