Well, Arabs may not be my favorite breed, but before I rode Dez I really tried to avoid riding Arabs. All those Arab stereotypes and some personal experiences with ones that fit stereotypes. Well, Dez and I may not have gotten along the greatest but she showed me that Arabs are pretty amazing horses, extremely smooth, fast, pretty level-headed and mellow. Extremely gentle too.
PhotoReflect - IN THE GAME action photography - MIHA Districts Ludington 09
---
"And somewhere in the northwoods darkness a creature walks upright. And the best advice you may ever get is: Don't go out at night..."
Great responces love the pics!
Well when I was younger I didn't think Arabians could barrel race. (Mind you, I was only ten years old, and in my infinite and undying wisdom I had completely take on the opinion that arabians were hot, skittish, psychotic creatures who would break down their legs if they ever even thought about turning a barrel)

Well one day my trainer slapped me on this tiny little grey arab mare and said "Go play."

That was the end of THAT theory.
---
Pssh.I didn't pick up the wrong lead
It's called a counter canter...
...A very advanced maneuver.
I have a couple of breeds that were on my "never in a million years" list. Arabs were top of the list, followed closely by TBs. I'd heard (and believed) all the typical arab and TB stereotypes, and I just didn't want to deal with that. I was in love with paints and QHs.
Well then, I got the opportunity to start working with this chick (who has become one of my good friends) who had two arabs and an arab/saddlebred cross (to begin with). At first, I wasn't sure what to think. All three of the horses were incredibly intelligent and, although the arab mare and the arab cross gelding were a little high strung, the arab gelding was the most laid back, lazy horse I'd ever met. After I got to know the horses well and worked with them, I fell in love with them, even though they were *le gasp* arabs. One of my other really close friends has an arab gelding who is the sweetest thing, and the trainer at our barn has an arab and, even though he's a weirdo, he is a sweetheart. Anyway, the arab cross gelding became my first horse and I still consider him my heart horse (Aires is too, but yeah).
Here's Kintari, the laziest arab in creation...he's also the prissiest gelding I have EVER met. He will park out as absolutely far as he can to avoid splashing himself when he pees (Aires will barely park out when he pees lol) and he enjoyed spa days a little too much. lol
And then there's Remi...she was a little crazy, but it wasn't her fault. She had an injury that caused neurological damage. The vet didn't expect her to live, much less be ridden again. She was started back under saddle last year.
And then there's my Dakota-man. He is a bit high-strung, but such a sweetheart and so willing to please, once you gain his trust. He also LOVES kids.
This is when we first started working together: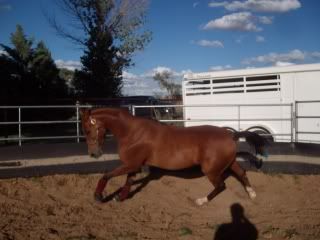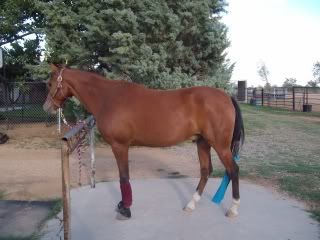 And this is his "Really? You're taking pics while I'm standing here on the hot walker? You suck, lady!"
And then there's TBs. I thought that, like arabs, they were all insane. I couldn't have been more wrong. My friend with the arabs bought Compton, an 8yo OTTB, from a horse dealer who was leasing the barn she is leasing now before she was for $500. He was severely underweight and very aloof. Several months, several pounds and a lot of love later, he is an amazingly sweet horse that I just love. If he had been available when I was horse hunting, I would have snatched him up in a heartbeat.
Skater boy Compton says "Hey, dude. What's up?"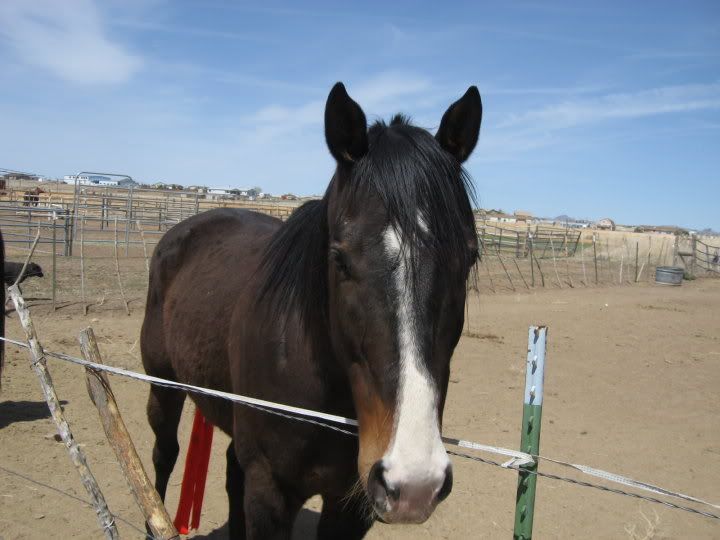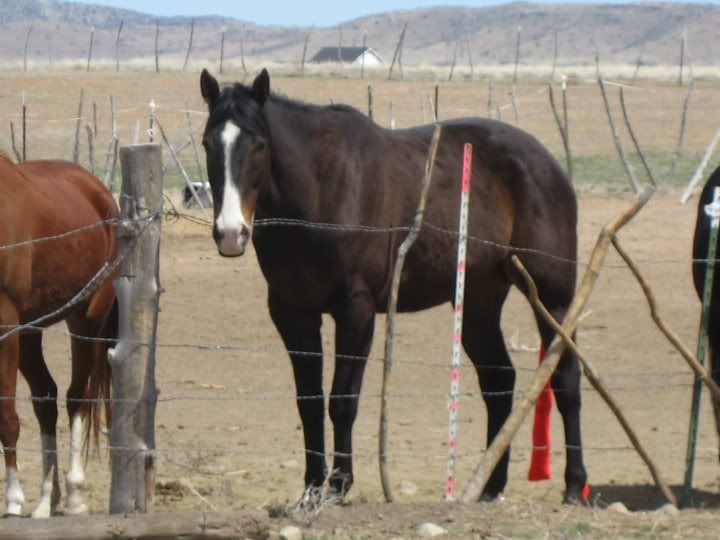 ---
Do not tell me I can't...because I will
show
you that I can.
I was always a Thoroughbred and Arabian person, though we also had ponies and Warmbloods. I guess the breed I didn't want anything to do with was Quarter Horses as the ones I saw in the sixties and seventies in Australia were short little muscle factories that may have been great for cutting in the pen, but for long days of mustering or endurance rides or dressage or jumping or polocrosse, which we all did, they just weren't the right build and didn't have the stamina required. Then I saw the more modern, taller QHs coming in and realised that these horses probably could do dressage and hacking and jumping and looked comfortable for long days in the saddle... and I bought a QH colt that couldn't even be registered as a QH at the time because he was a Perlino and they wouldn't register them, named him Days Of Gold and he has now won thirty national champions/titles and has quite a few Quarter Horse national champions and reserve national champions in hacking and dressage (as well as halter). He was the first Perlino or Cremello stallion to get registered with AQHA (AustraliaQHA, not AmQHA) He went on to change the minds of many, many people who didn't think a Quarter Horse was suited to anything outside western disciplines, and his offspring now win at eventing, jumping, dressage and hacking all over the country.

Here's a video of him over the years from 2004-11. The opening 'hack' class was this year at the World Show Down Under and the 16.2hh Palomino behind him is one of his sons, a horse that is beating Warmbloods, Thoroughbreds and Anglos in open dressage. Most of his riding scenes have my daughter Kate on his back (she's 5'11" so she makes him look short but he's just a tad under 16 hands), any scenes with a tubby lady in the saddle are of me (I won a couple of national champions at the Australian Quarter Horse National Championshps with him before Kate was old enough to ride him at QH shows) and then our very tall male friend, an international level rider, is on him in other scenes making him look like a pony. A lot of his major wins have been against all breeds under non-western judges, and I know he changed a lot of their minds about Quarter Horses as well and a few of the judges actually bred to him to get QH cross horses to compete with in their favourite disciplines.

So, he changed my mind, and he's changed the minds of thousands of other people who thought Quarter Horses were mainly for western disciplines.


---
"A bad day at a horse show beats a good day at home doing nothing" - Leanne Owens
---
Last edited by Mambo; 11-28-2011 at

11:12 PM

.
When I started riding, I was put on an Anglo-Arab named Rave On. What an amazing babysitter of a horse. When I got a little older, I stuck primarily with stock horses and became very fond of them. They were safe, steady and calm... unlike those 'crazy' racehorses.

Then I started working at the track, on the harness racing side. At first, I was really nervous about working with these horses. I'd heard a lot of stories about how high strung racehorses could be and I was scared. Then I met my first Standardbred and I was smitten. He was a giant (to me, anyway) gelding named Blue Star Legacy. He looked like an overgrown Arabian and he was the kindest horse I'd ever met. He never put a foot wrong and I got the distinct feeling that he was looking out for me. As I worked my way down the shed row, I found that most of the Standardbreds were just as kind and willing. I was hooked. Now I own my very own Standardbred (my heart horse that I spent 12 years searching for!) and I recommend the breed to everyone. I honestly believe that any future horses I own will be off the track Standardbreds, because I love the breed that much.
I grew up reading about the Black Stallion and fell in love with the idea of having a flashy, spirited Arabian or TB. I just thought I had to have the kind of horse that danced through life on tip toe and stole the show by entering a room. Goodness, was I a naive youngster! In all the breed books you pick up, QH's are just the plod along, dependable, quiet, and most of all PLAIN ranch horse. Great for getting a job done, but not much to look at. Well, when I was about 16 I started cleaning stalls for a QH breeder just to try to get some exposure to horses since my parents could not afford lessons and I needed a first job anyway.

Half-Pint was a spunky, dark bay appendix colt who was out of a TB mare. He was a gateway horse for me, helping me see past the breed label and actually LOOK at the horses on that farm. He did not change my opinion of the QH, because somehow, to this day he was more TB in my eyes. After him, though, I got interested in Jack.

Jack was a 3yo stallion at the time and already had his first foal crop on the ground (this was an oopsie, but it turned out nice). He was not broke to ride yet, though he had a ton of ground work and perfect manners. I had only been riding for about 8 months when I was the one to start Jack under saddle without much trouble at all. It was his temperament that swayed me.

From then on, I was hooked on that intelligent, trainable mind. I also learned that there were some truly gorgeous and flashy looking horses among the QH's, too. I now own two of Jack,s daughters, both of whom are very smart, refined and flashy young ladies.
I've always been a WB girl (know nothing of pedigree, just love riding them!) but leased a few Arabs. They were the stereotypical "crazy Arab" that took off for no reason, or flipped over backwards because something simple frightened her. Wasn't until a friend convinced me to come ride a horse he had for sale that I changed my mind about all Arabs being crazy. Loved it so much I wanted a full or half Arab horse, which is when Izzie came into the picture :) She is a horse that is changing a lot of people's opinions on Arabs :)
I was totally against the Thoroughbred breed and all for stocky short quarter horses/paints ( Hence the name ) . I dont know why i was against them but something about the body build just didnt do it and they were too hot for me.. Till the day i found my beast and his mom. :) I LOVE thoroughbreds and i have NEVER had a problem with them. I love how sensitive they are and i love the energy. My boy proved to be one of the smartest horses i have ever met and honestly i dont think i could have ever found a better horse.
And yes he shakes hands. ;)
---
♪♥♫ A horse which stops dead just before a jump and thus propels its rider into a graceful arc provides a splendid excuse for general merriment.
~Duke of Endinburgh ♪♥♫
Cute ponies in here!
I`ve always been an Arabian fan though. ;)