im not keen on the tb or any of the lighter breeds. i like them but i would never own one, i love the heavier breeds myself the shire, suffolk punch, clydsdales all of them have great temperments and are great to ride ,drive and show :)
It's hard to generalise with breeds but with what I've seen of thoroughbreds I really dont like them. Sure, they're beautiful and alot of the have potential to do pretty much anything from dressage, to jumping and hacking. But really, the beautiful, filled out and well behaved ones you see in the show ring or competing have taken alot of work. I'm talking literal blood, sweat and tears.

My ott has taken 8 months to fully retrain, feed up and have him in show condition. So much work has been put into him. I've cried alot, been though alot of pain, gotten my hands and fingers torn and swollen, but havent fallen off, thank god. But it really has been worth it. He's never been unplaced, everybody loves him and he's just a pleasure to own now.

But I guess it depends on the individual horse but alot are like this.




Keeping in mind that the above was stated for ones that ahve raced a fair bit. The less they raced the easier it will usually be. Although my friend has an unraced thoroughbred and she's still stupid at her first couple of outings (unlike mine, who raced for 7 years and was an angel at his first outing) and is a b**** to ride.
aww.. i love tbs. my girl is amazing and i wouldn't trade her for anything!
---
There is something about jumping a horse over a fence, something that makes you feel good. Perhaps it is the risk, the gamble. In any event it is a thing I need.

To ride a horse, is to ride the sky
I absolutely love tb's! I love all horses but Tb's are definately my favorite! I just love their energy and athletic ability and drive! They are so determined and strong but beautiful and elegant at the same time. I could go on and on and on.
yeh i love my ottb heaps. he is the most gentle and loving horse i could ever own. thoroughbreds all the way they are my favourtie breed. ( i was lucky my boy was only race for a year and has been easy to retrain.)
i only have t/b's. i love them for eventing,
i find that they are more suited for eventing, and most have the potential for high level eventing.

the mares especially give you there best shot. they just go and go at a comp, unlike the geldings who i find tend to slug, and brake down easy.

MY PERSONAL OPINION ONLY

country kid
---
When you mix training and dedication your called... a professional
When you mix compassion and caring your called... a friend
When you mix bravery and selflessness your called... a hero
When you mix all three your called... A FIREFIGHTER!
Yeah i like TB, :P They are a multi use horse.
---
AUSTRALIAN STOCK HORSE SOCITY
I have owned and worked with many OTTBs. I have never had one I disliked. Unfortunately my pocket book won't allow me to own a hard keeper right now that costs an arm and a leg to feed, so I don't own a TB now. I own a Morgan now that could survive off of air. If it weren't for the feed bill, I'd always own a TB.
---
Elizabeth
Proud owner of Pride & foal-to-be
the tb in my option, is the perfect breed. There usually pretty well tempered, or the ones ive rode are, & they are talented in liek everything!
Foal
Join Date: Jul 2007
Location: In my horses stall, feeding him cheez-its
Posts: 109
• Horses: 0
I have a thoroughbred, he's such a sweetie, with a wonderful personality. He still has those random TB moments, where he trots in place, and won't walk. But he is a doll, and has a dreamy trot an canter once he calms down. Heres my boy, his name is Echo, he's 4 years old, 16.1hh, and raced only once
: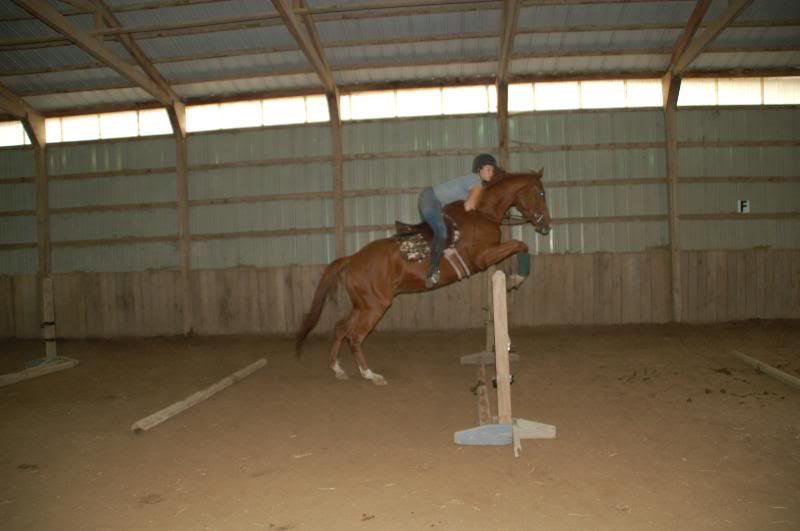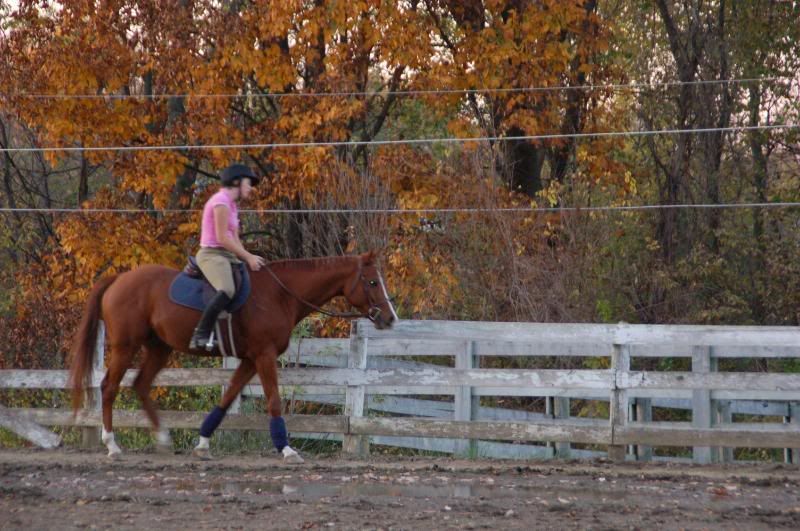 I love him to peices. Hes hard to train, but in the end, it will all be so worth it! I've seen him improve greatly in the past 3 months, and hopefully it will all come together!
I'm totally in love with TB's!!