By the way...Hi Gracie and Jubilee!!
Hey Jamie!!! So glad to see you again!!
---
"'For I know the plans I have for you,' declares the Lord. 'Plans to prosper you and not to harm you, plans to give you a hope and a future'" ~ Jeremiah 29:11
I looooove thoroughbreds. a lot of people say that most thoroughbreds are way too hyper but the two that ive owned have been pretty laid back. they never tried to buck me off or rear or anything. actually the horse i have now, gabriel, was on the track for about 3-4 years i just bought him last year straight off the track and were already starting to go to local shows. just yesterday we went to thr fair and did hunt seat equitation and got 3rd and 4th out of 5. and that was in sight of the carnival-all of the rides and people screaming. and that was only our 2nd away show. anyway, heres some pics.
my old thoroughbred that i sold, cleve
and my current ottb, Gabriel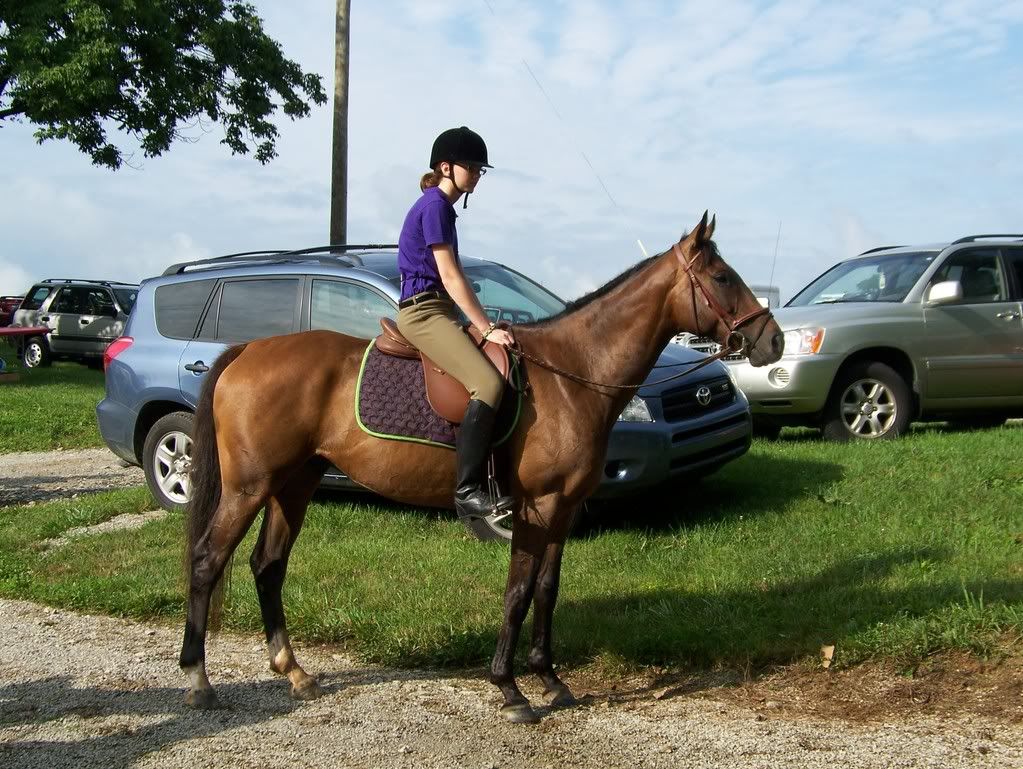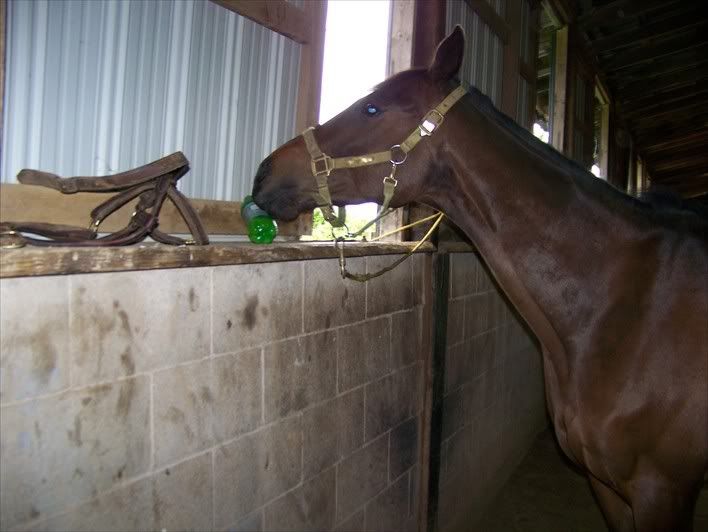 he likes mountain dew. lol
---
My horse's feet are as swift as rolling thunder, He carries me away from all my fears, And when the world threatens to fall asunder, His mane is there to wipe away my tears.
He's soo cute, hehe I love the pic with the Mountain Dew!
---
Ride more, worry less.
I am not sure how much of a fan I am of TB's...since I have never rode one.
I might be soon though. My wife has one, and it might become my trail horse.

That being said...one of the BIGGEST complaints that I see here is from one of the biggest mistakes people make with OTTB's...and that is trying to ride them too soon after they come off the track.

The life of a Track horse is so totally different. They have never been taught to be ridden really...they do nothing but train really...hardly learn any maners at all. This is a gross generalization I realize....but true of MOST OTTB's life. They (and we...we have rescued several now) suggest that you give an OTTB about 6 months to decompress, and to get used to life off the track. Hand walk, groom, etc...but dont ride. Then when you are ready to ride, kind of start over almost like starting a young horse.

Everyone that we have done this way has turned out great. Good minds, and no buck offs no issues. One is doing mounted shooting, one is at a jumper barn, one does fox hunts...and the others are pretty much just companion animals/trail horses. Just something to keep in mind.
Is there some reason why y'all pulled up a
3 year old
thread?
---
You want the truth? You can't HANDLE the truth!
HAHAHA.
it wasn't 3 years old to me...hahaha.
I was going through recent posts and this was near the top. Paid no attention to when it started...lol.
Whooops.