View Poll Results

: what breed do you think he is?

thuroughbred
0
0%
Quarter Horse
1
25.00%
Morgan
0
0%
Appendix
3
75.00%
other
0
0%
Voters: 4. You may not vote on this poll
Hunter type? answer two questions please. need to know if training is worth it :)
---
1) by the pictures shown above... do you think my horse could be a hunter or in equitation?
2) what breed do you think he is?
he is 15.3 hands has jumped up to 2'3. is going to school higher soon.
He looks QH-ish to me, but then again he does have that roman nose...
I think he has potential :) Hunter is all about "pretty" so if he gets some good training you'll be on the right track :)
---
Every great dream begins with a dreamer. Always remember, you have within you the strength, the patience, and the passion to reach for the stars to change the world. ~Harriet Tubman
Banned
Join Date: Jul 2009
Location: In a land far far away, or so I wish.
Posts: 12,825
• Horses: 0
For that height jump, you can do either with him.

No idea what he will do as far as a bascule and front end over larger jumps. Many horses that jump very nicely over larger jumps are lazy over smaller jumps.

He looks honest. He is putting forth a good effort for you even though you are jumping up his neck.


I think you need to improve your base of support before moving on to higher jumps.
thank you! and yes i do need to fix my position. my release wasn't so good either :/ we both rushed into that jump he tend to be excited and race to them. but he is very honest never refused a jump yet. :) i want to do 2'6 that jump was 2' he cleared 2'3 with almost a foot to spare. anymore sugestions? :)
is this a roman nose?
Banned
Join Date: Jul 2009
Location: In a land far far away, or so I wish.
Posts: 12,825
• Horses: 0
A roman nose is where they face appears to concave when looking at them from the side (profile). Think the opposite of the dished look that is so common on Arabians now days.
Can not tell from that front shot if he truly has a roman nose or not.
Will see if I can find an example and post it.
Edit to add:
Found one.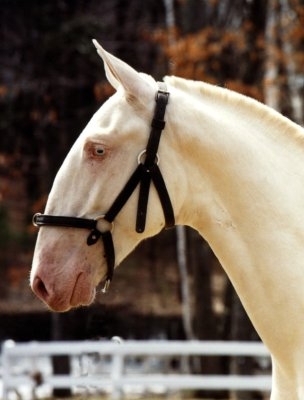 oh he definetaly does not have roman nose then :)




to any one else... more opinions about his potential in the hunter circut?just local shows and trisate and small association shows thanks :)
showing locally in the hunters you may do well. it's hard to see. does he get clean changes? that will knock you down, more than you can imagine (if he doesn't)! he has to get perfect distances in each. Because he doesn't have papers and you aren't sure his breed.. you have to be aware of what classes you enter and what shows you go to. They may be more involved in conformation classes etc. I would avoid those. Have you ever shown hunters and equ before ?
---
Count My Strides - Shane, Bought 2-18-06, Mustang.
"I whispered to my horse, "i'm afraid of falling" and he whispered back, "i have wings".
no i have not. right now just open clases. w/t/c i was busy training him how to jump and the english riding style. he was orginally a semi resque. he was put out to pasture to rot. I was originally looking for a thougouhbred but at the time i was not along in my riding and i wanted a baby sitter. her was completely green but had a great temperment. he is a quarter horse mix. vet said 1/4 thoughbre 1/4 morgan and 3/4 quarter horse. or on a ratio of that. he does flying lead changes and we are working on auto changes over fences.
there are more pictures of him on the horses page also.