I love my OTTB
---
Since I got him he has improved so much! He went from being this super high strung sterotypical TB to a fairly layed back horse. I plan on doing dressage with him, he has a huge extended trot and collects up really well. He even has a fairly natural big walk, something a lot of dressage riders have to work really hard to get. We've even done some jumping! He's got a huge jump, and I feel kinda bad since I haven't jumped in over five years so I'm kinda rusty with my releases, but he's pretty forgiving.
Anyway, I would love to see your OTTB and hear what you do with it!
Here's Rocket...
yay for bad cellphone pictures!!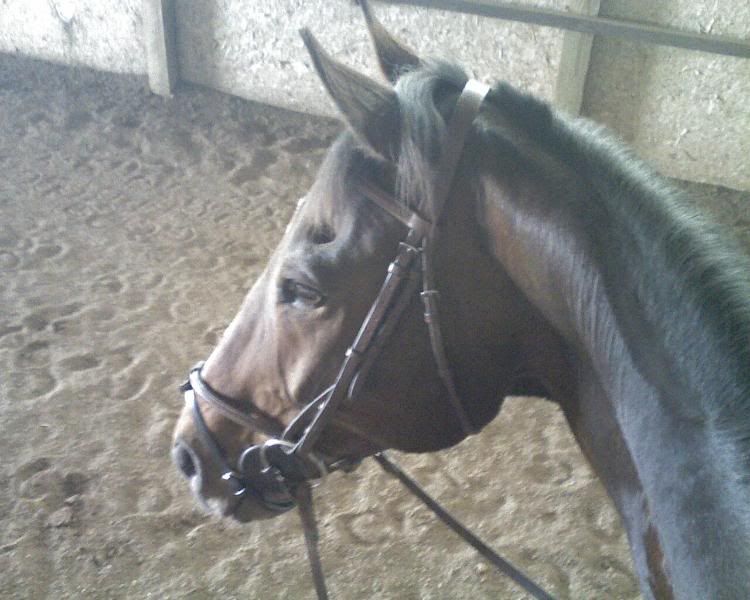 "what are you doing up there?"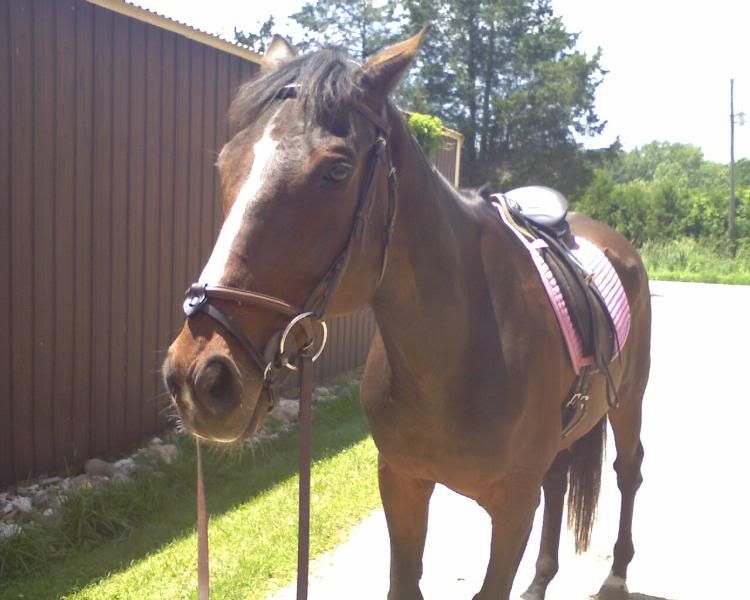 I think pink is his color, he however does not look amused.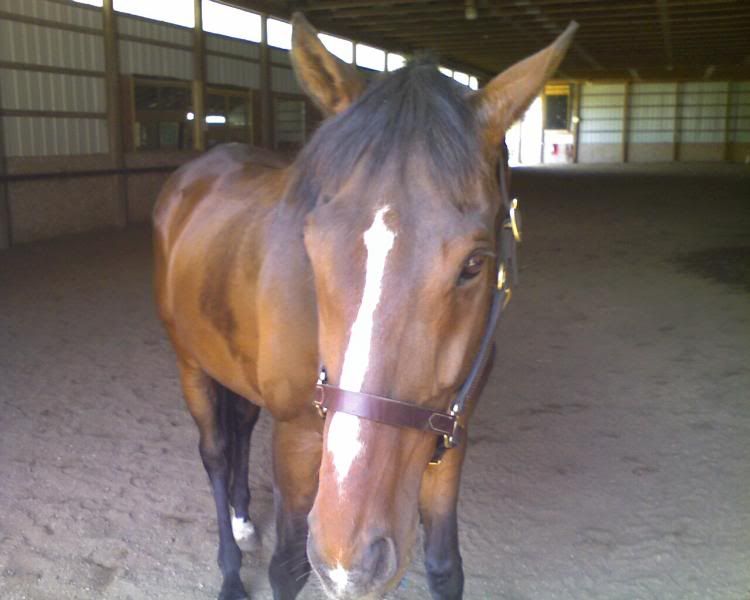 Was trying to get a confo shot, but he kept following me.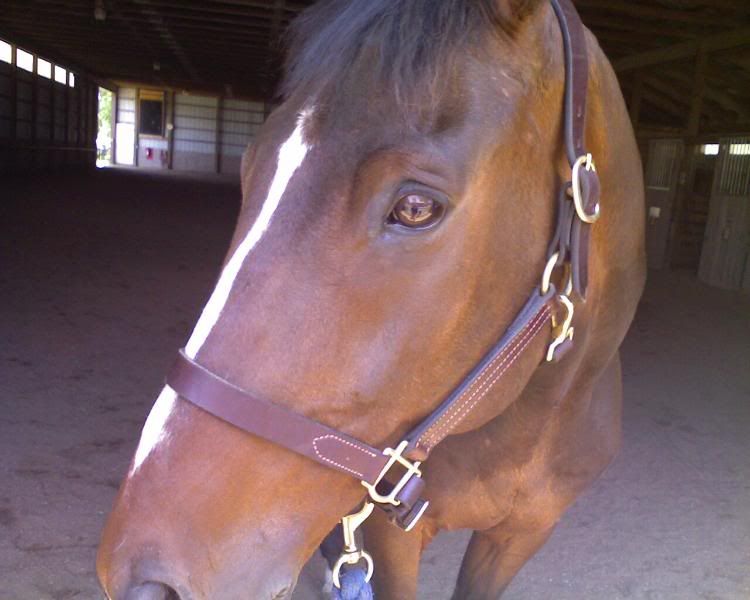 I love this one
oom nom nom (stupid finger getting in the way)
He's beautiful! His color's so pretty! I love TBs (even if I get hurt by everyone I've met
) I wanna get an OTTB when we can afford 2 horses. Where did you get him from?
I have two OTTB mares. They are half-sisters (same sire) and are both sweet and very nice to deal with, although Summer is more laid back than Stripes.
Palacios Summer............ Secret Stripes
Here is more about them--
Thoroughbred Mares
Both mares have been covered by our Appaloosa stallion Rowdy And Ready for 2010. He is a sire of ROM earners and res. World Champion Hunter In Hand Appaloosas from Thoroughbred mares. Here are some of his previous foals-- (the descriptions tell you which ones are from TB mares.)
Rowdy And Ready Offspring
If I had more time, space and $$, I would not hesitate to add more OTTB mares of the right type to my tiny (4) broodmare herd. I was hesitant because of the "talk" about high strung, hard to manage ex-race horses, but these gals are a pleasure to have around.
SpiritJordanRivers - I like his color too, I use to not be a big fan of bays, found them kinda plain, but he's shade has kinda grown on me, in some spots he's so dark he's almost black while on his rump he's a nice rich bay. I got him through a trade for my old QH gelding, I am (at least) his fourth (and final) owner.

Eastowest - all of your horses are stunning! I always thought it would be fun to breed appendix QHs for the hunter ring. I have always loved appys too, got to ride several in lessons, but never had the pleasure of owning one.
I love my OTTB too, he is still the high strung stereotype but I have only had him since January. He was so underweight, we are doing minimal work under saddle and a ton of groundwork now until he is up to par. I plan to use him for low level jumper maybe, but mostly just a happy pleasure horse. :)
>>>>> Eastowest - all of your horses are stunning!
Thanks!
I have tried to stay small and continually upgrade my little herd, and have been pleased with the results so far.
>>>>
I always thought it would be fun to breed appendix QHs for the hunter ring. I have always loved appys too, got to ride several in lessons, but never had the pleasure of owning one.
Off Topic a bit--
I know that the direct TB cross in AQHA has been popular for the Hunters for quite some time-- with ApHC it is a successful choice as well, but there are way fewer people using it. First off, ApHC registers WAY fewer horses a year-- For comparison--AQHA registered 135,924 horses in 2008, while ApHC registered 5,390. Of those 5,390 Appaloosas registered in 2008, only around 100 were Appaloosas with a TB parent (as compared to around 1000 having an AQHA parent and around 4000 being ApHC x ApHC). Many of Appaloosas produced from a TB parent are bred for racing, so there are a portion of those 100 that are not going to be Hunter type. Just having a TB parent is NOT of course a guarantee that you will get a good HIH or HUS prospect-- but good ones are in demand, as the Appaloosa Hunter market looks to be strong and growing. The potential for crossover from breed shows to "open" English events is a real consideration as well. (Who wouldn't want to see the next Pay N Go?
My OTTB Is Classy Run [Classy], she is 17 yrs old. Classy is still very hot. I use her for Barrels, Huntseat, and Western. She is a spoiled little brat :]
---
Put your ass on some class...ride a THOROUGHBRED
http://www.classyquarters.weebly.com
Wish I had some photos of my last lease to share...ah well. Beautiful horses, all
Eastowest - you see a lot of people complaining in the AQHA world (where I have the most experience) how QHs are starting to look more and more like TBs, but they do really well in the english classes. Most "real" stock horses aren't built to move like an english horse, they were built for western and ranch work. Personally I think the TB is a great way to improve upon a lot of different breeds and (-puts flame suit on-) Appys are one of the breeds where there are a lot of very course and fugly horses and I think introducing TB blood can only help. Of course that is not to say your appy stallion is fugly, in fact I think he is smashing.


rosie9r - what a lovely boy! He's got the same poofy forelock that mine does! I think it's so cute!

jxclass19 - I would never guess your mare is 17 years old. It's amazing what good care can do for a horse. Your girl looks amazing.
Thanks Dragon! I keep trying to get it under control, but have since given up hehe He is just going to stay poofy!