I do all kinds of things with my OTTB (as show below), he's currently 14. and has bad hocks from his racing days so I've had to recently retire him from jumping =/. He still has his "hot headed" moments but as you can see he's calm as a butterfly when I want someone to ride him, like me doubt with a 3 yr/old and 2 little twin girls (they were 2 at the time) riding double on him. Thankfully he's pretty much spook free. I got lucky with my boy, he's level headed 95% of the time. (just dont get him near cows!)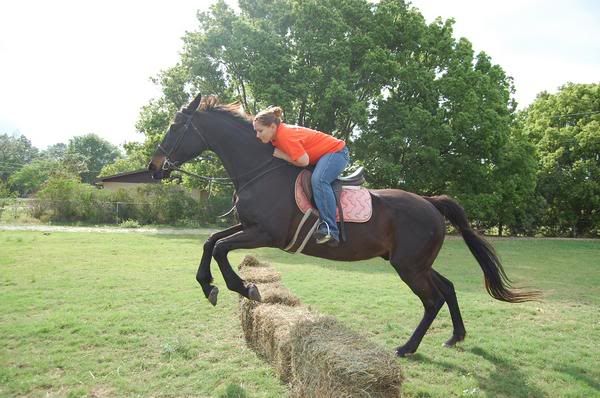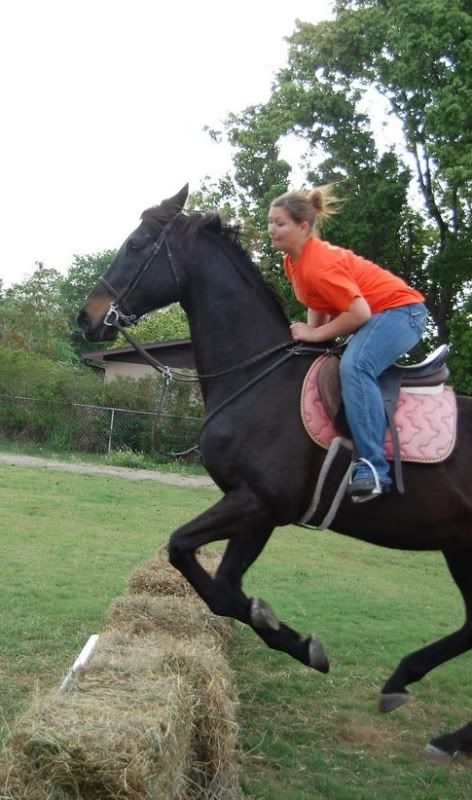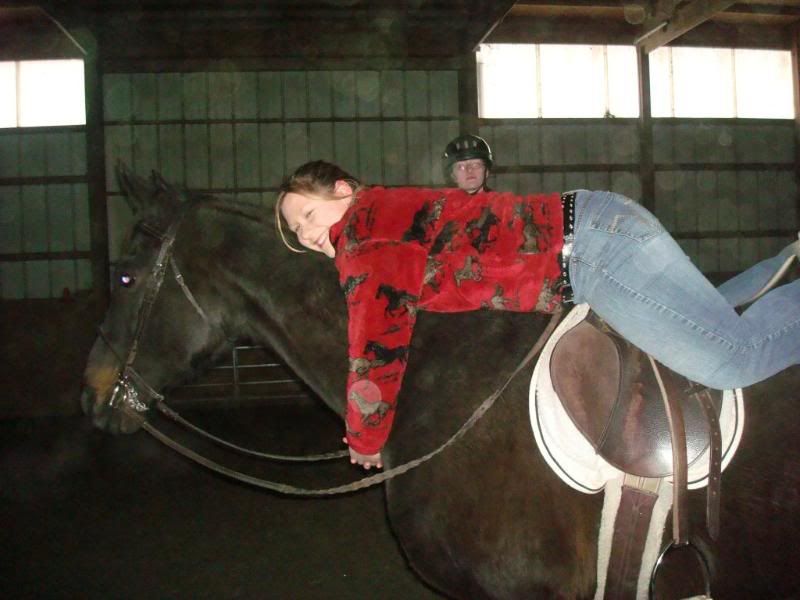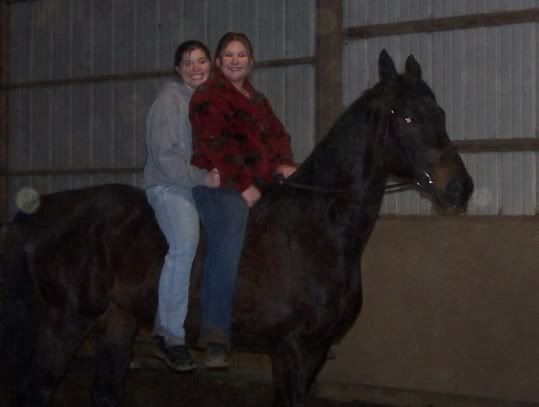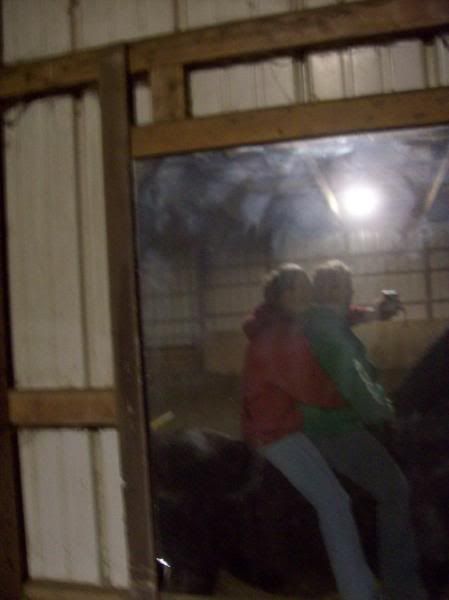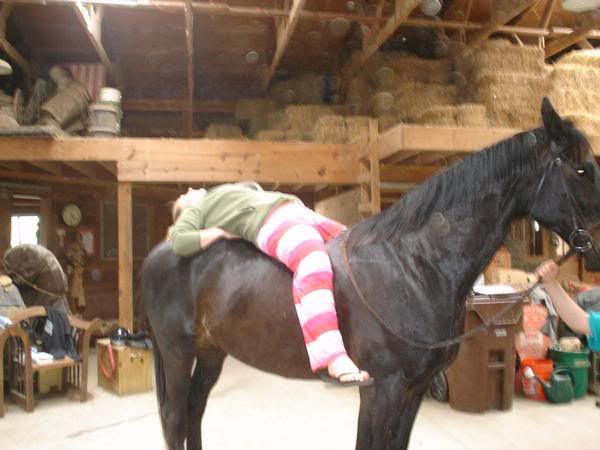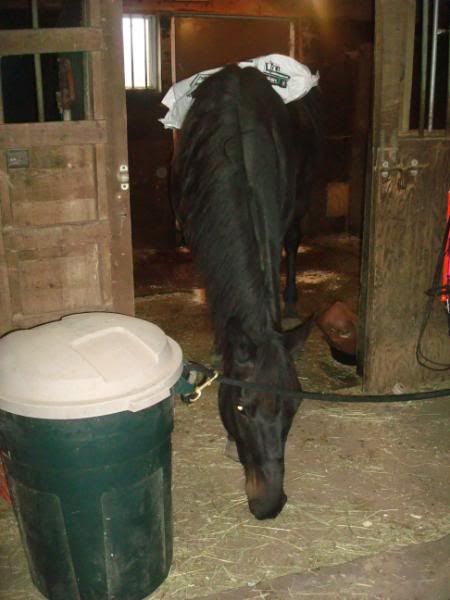 sorry for all the photos. I had to share!
---
16 year old TWH Mare named Ginger
3 year old APHA Paint Gelding named Fox.
RIP Evie (Clydesdale) 7.29.09 & Magic (OTTB) 2.23.10
She is actually a little fat :]
Ok so there is one more pic I needed to add.
I love this one of her.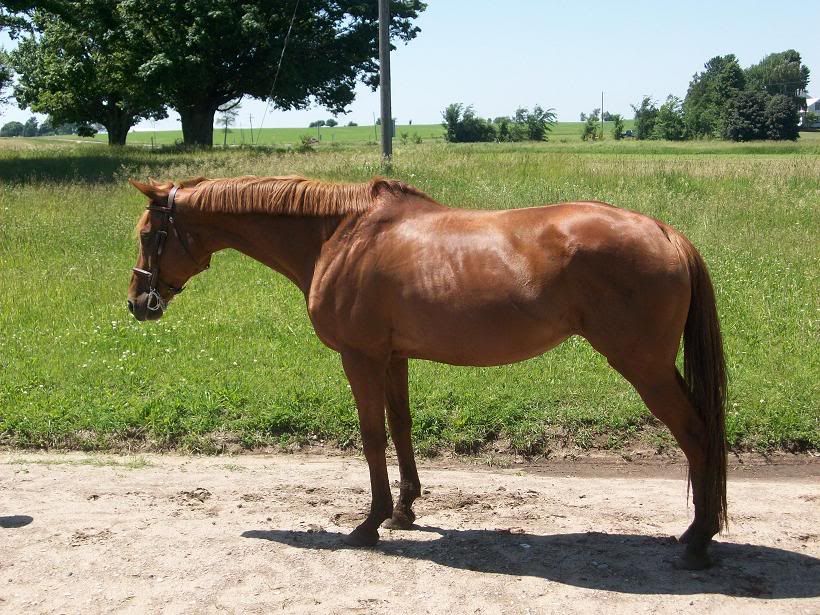 ---
Put your ass on some class...ride a THOROUGHBRED
http://www.classyquarters.weebly.com
jxclass19 - in that pictures she does have a bit of a bubble butt!!

Question, does anybody else notice that their horse seems to have a strange cracking noise from their hips going to the right? I'm not sure if it's Rocket's hip or hock, but he isn't the only TB I have ridden that has this. He appears sound on all his legs, never taken an off step (and I can't really afford to get a vet out for just a check right now).
Dragon, I had a morgan whose hips would crack, but my vet said its just like when our joints crack and not to worry about it. If he's not lame on it, I dont think I would worry about it. :P
I've noticed that my horse's hip will crack every now and then, his hocks aren't the greatest anymore but i dont think that has much to do with it. I've ridden many horses who's bones crack, usually when we are warming up, their joints gotta warm up too!

Like Rosie said, as long as he is sound I wouldn't worry about it.
---
16 year old TWH Mare named Ginger
3 year old APHA Paint Gelding named Fox.
RIP Evie (Clydesdale) 7.29.09 & Magic (OTTB) 2.23.10
well im on my hella slow work computer with only a few pictures of my ottb rescue mare, Brook.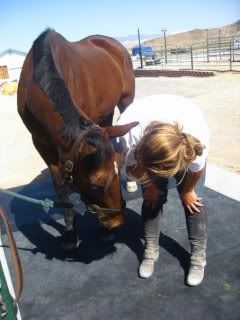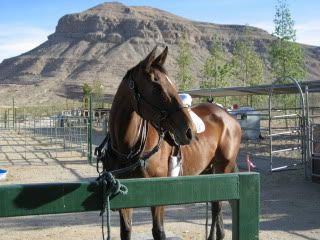 Ahh everyones ttbs are so prettyyy - gotta love them!!
I love thoroughbreds, as I was getting lessons growing up I always wanted an ottb - every instructor said they've worked with them and I should never own one
Suprise Suprise I got Hero, I wasn't looking to buy a horse but I thought while I had the funds I might as well get what I always wanted.
I think I have the laziest ottb ever. He raced for a few years and retired sound age 7 - sat for 6 years so that makes him 13 :) so he was never retrained and I thought I was going to have this hot crazy horse well I thought wrong
I want to learn dressage so I thought we would learn together although Hero is so short strided its hard to get them nice moves down...yet
I'm thinking he might be my jumper pony - he loves it!!
When I got him - super skinny minny
Now a days!
Smile!
Keep them coming :)
---
Last edited by madisonfriday; 06-30-2009 at

03:07 PM

.
Green Broke
Join Date: Mar 2009
Location: Kansas in the summer, Kentucky most of the time
Posts: 3,028
• Horses:
3
First- my 17 year old OTTB, Ginisee. This was in 2005 going Novice. LAZY HORSE believe it or not :)

Second- my unraced TB mare, Demi. Typical Tb mind.

Third- an OTTB mare I used to own named Murphy. She was also a typical TB, very sensitive. Still ride her sometimes but she was more suited to the dressage ring than eventing.
---
Look like a SUPERSTAR, Ride like a FOUR STAR, Win like a ROCKSTAR
Eventers: Making BAD Dressage look GOOD!
megamuffin - she's lovely! I posted some tips on your biting issue in your other thread based on my experiance finding a bit for Rocket, hope I was helpful.
madisonfriday - everybody told me the same thing! My trainer warned me not to get a TB because it would be super hot and overly sensitive and she said an OTTB wouldn't understand rein pressure and would just go faster if I pulled back. Well, I didn't listen to her (or the oodles of other people that told me not to get a TB) and I am really glad that I didn't. Rocket started out hot (and I heard a lot of "told you so") but now he is almost lazy, I have to work super hard to get the big walk he had when I first got him and same with the trot.
eventerdrew - All of your horses are purdy, if they come up missing I had nothing to do with it.
Just for fun, here a couple videos from a round pen session today. The quality isn't the greatest since it's off my trusty cellphone, but I thought it would be fun to share how well he moves.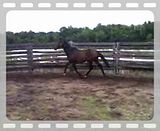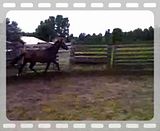 Hey All....
Well I am so computer illiterate...lol
I can not get a pic of my guy into the text box...lol
You can visit my profile to see him.
His name is Tiny and he is 8
My father was in the TBracing breeding industry for many years and this guy was so special to me that when he was in training I cried and pitched a fit.
He came back to the rach almost with some big probs from training but rest and restortion has brought him aroun. The bummer is that I then was injured and unable to have him in my state so e stayed with my folks at their ranch.
He just arrive a month ago to my area and in my care. We are treating some hoof issues and doing lots and lots and lots of ground work. He can be a hot head too...typical TB track horse...
I have taken many horses from the track and retraineed them for varioes things...hunter jumpers, dressage and 3 day....whoopie....
I can not even wait until his little footses are better....I want to ride him again.
He is the love of my life.
I will up load a new pic in my barn from just the other day while he was grazing and drying off....
He lost a shoe in pasture so I hope to get that on today and possibly give him a real bath with bubbles since he probably has not had one in years...lol
They are the best....OTTB...I am sure there are an abundance of them out there waiting on good homes....I have seen it all from one end of the spectrum to the other being that my dad breed them....so rescue a OTTB......
Half Pass