yes apparently :)
---
Leader of the "Geldings Gone Girls" Club
Member of the "Girls Gone Geldings" Club
well I hope are welara doesn't accidently turn out dinky..She is as tall as me when she puts her head up...I'm couting her ears and I'm 5'6" already.

2 more days!
Haha :)
Posted via Mobile Device
Gidget, I hope when you keep her in a stall there's a horse in beside her. You have to see this from her point of view. She is young and vulnerable to attack as she's still reliant on another horse/s to warn of danger. You know there's no danger but she doesn't. She may feel trapped in the stall and you could wind up with a filly that is very difficult to handle, especially when you try to walk her to the paddock. A horse that is fear driven will hurt it's handlers and itself as it's not thinking only reacting. I worked for a breeder of Welsh Arab ponies and found them to be very smart. Smart enough that one didn't want to make a mistake with their training.
---
Last edited by Saddlebag; 05-14-2011 at

01:32 PM

.
She is here! Finally!
Enjoy.She's going to be tall. She has a hay belly but we will work on that slowly.Right now we are working on tying,leading,stopping,yielding...simple things but done slowly.She knows how to do these things but needs to perfect them :) I adjusted the color some as it was pretty light.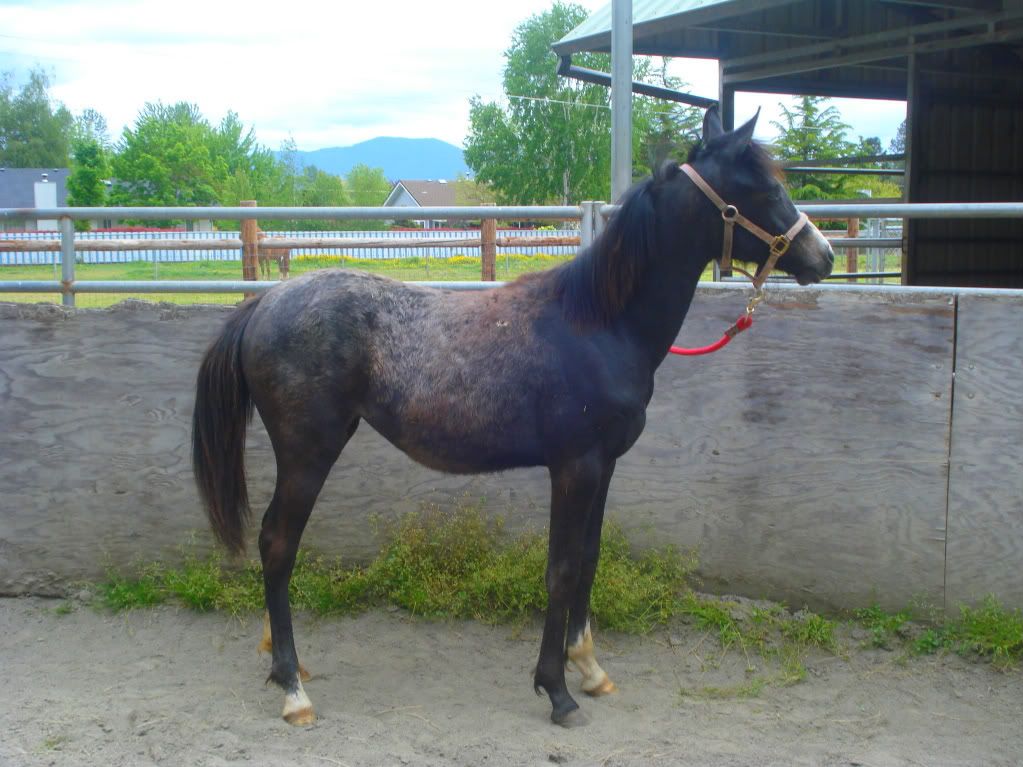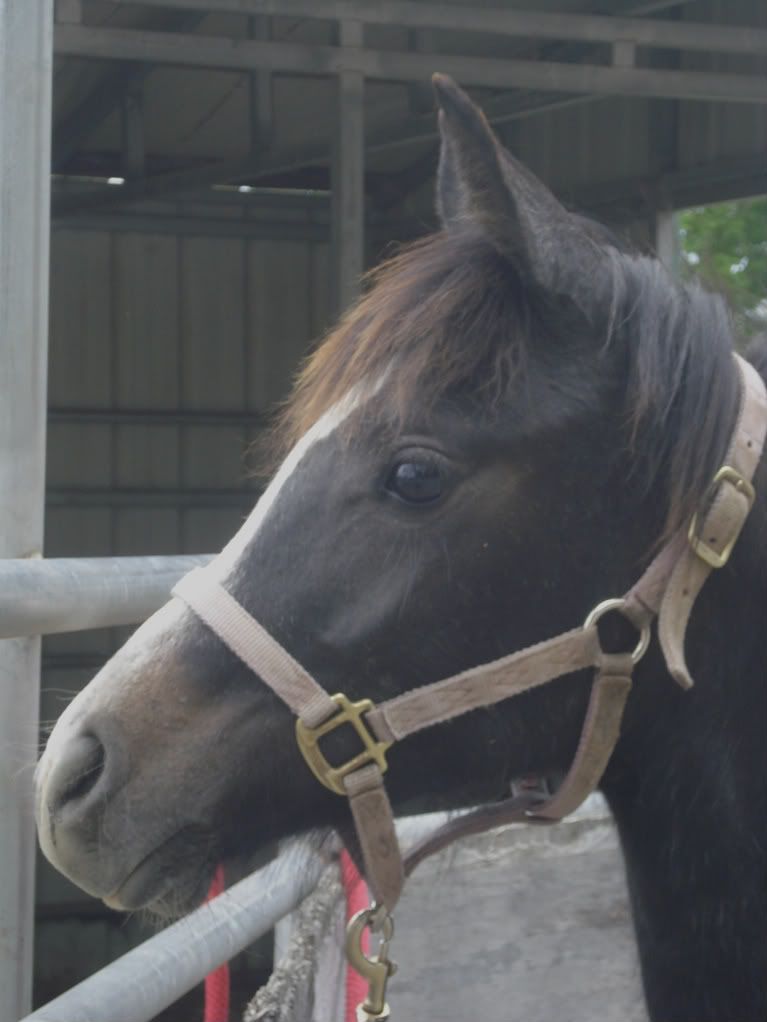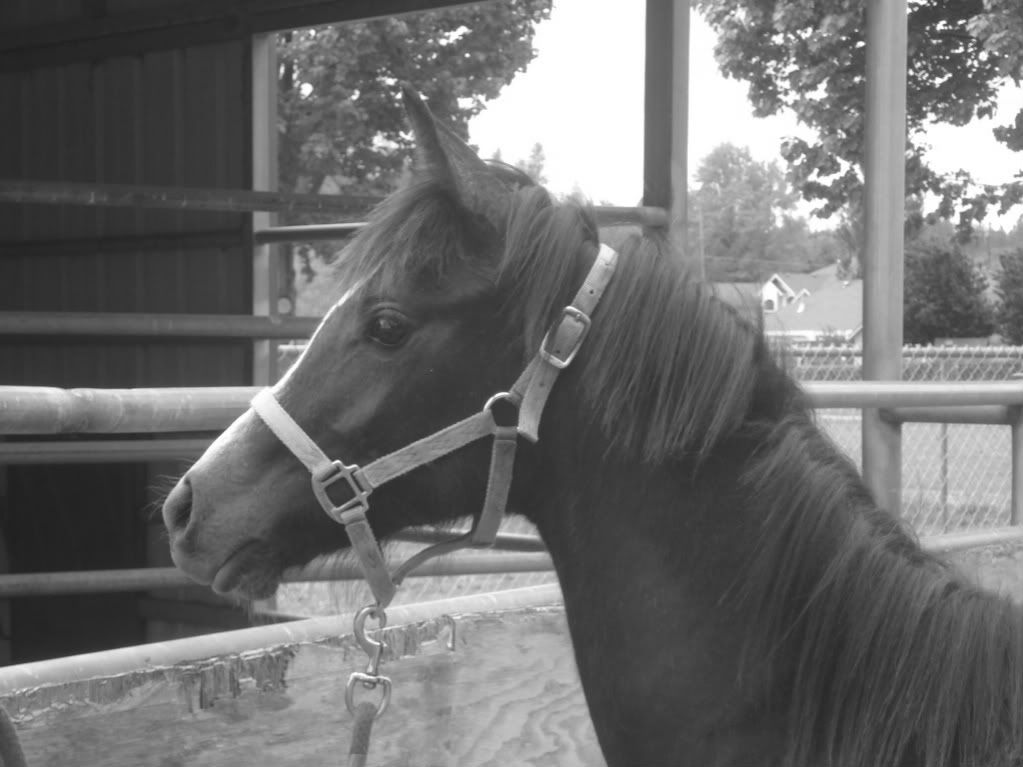 Green Broke
Join Date: Jun 2009
Location: Was in Ocala, Fl Now In West Union SC!
Posts: 3,175
• Horses:
1
After deworming and shedding out she'll be gorgeouse. I don't know if you know this or not but growing horses need a lot of protien. That pot belly is most likely coming from not having enough protien in her diet. good luck with her she's a cutie!
---
My name is now my horses on a dor not my horse sonador
Green Broke
Join Date: May 2009
Location: Winnipeg, Manitoba, Canada
Posts: 4,510
• Horses:
2
I would not lunge a yearling, and definitely not for anything as long as 15 minutes. If I had a very large round pen, I would round pen them, but their joints are developing and lunging can be hard on grown hoses joints, nevermind young horses. There are MANY conflicting opinions, but I am typically of the school that if there's even a doubt in my mind it could harm them, I just don't do it. At a year old, skittish and barely handled, there are TONS of things to do before lunging ever becomes necessary or even overly useful. I would advise some round pen work for a skittish youngster though, it works magic on bringing them around.

She's gorgeous! How tall were her parents? She looks like she'll come out around 14-15hh. My purebred Arab was around that size at a year and topped out at 14.3hh.

---
Quote:
I hope God tells her to smash her computer with a sledgehammer.
Yearling
Join Date: Jun 2010
Location: On my horse's back! Obviously!
Posts: 925
• Horses:
2
She's gorgeous! And a lanky little girl!

I agree with MacabreMikolaj about longing. I have an Arab that is turning two at the end of the month (May 29th, can't wait!) and I do lunge him but only 2-3 times a week for about 15 minutes. Plus, I am only doing walk/ trot. A yearling is too young because her joints will likely be damaged. I would wait until she is at least 1 1/2 to 1 3/4 to do any longing, and even then only for a max of 15 minutes 2-3 times a week.