Icelandic horses and western riding
---
Does anyone have pictures of their icelandic horse riding western style? Western is ultimately better for my knees, and I would like to see whether it suits the breed or not.
I found these off Google.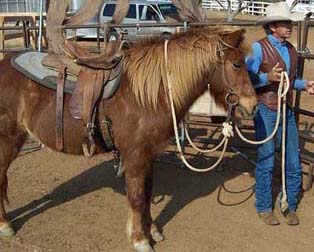 I can't really see on the 2nd one but one the other, I would never ever put the saddle so forward on an Icelandic ! I hate when I see stuff like this.. he obviously does not know that Icelandics need their shoulders to be free so they can gait comfortably. The girth also seems so restricting for his legs..
I was gonna stay out of this one because I don't know a thing about western.. but that horse can't possibly tölt comfortably with that saddle so misplaced
I noticed that too, but those were the only photos I could find of an Icelandic in a western saddle.
yeah.. I googled it too and could only find that !
but ofcourse it is posted on the self-proclaimed best thing that has happened to icelandic horses
maaaaan, she must have fallen a tad to often without a helmet if she whines about us but thinks that is okay
(not that I didn't know she was, well.. *fill in yourselves* before this) :roll:
i believe the person with the bad western pictures...not sure though...(??)
---
kickshaw
Justin (qh/tb)
Boo (asb)