Even with saddle and tack, you are coming up around 285# which would be in the 25-30% range on an average 15 H horse. Most any horse can carry that with no problem. I'd agree to look at smaller draft ponies like a Haflinger or Fjord. My 13.2 Fjord is the sturdiest horse on the property. He can out walk and out pull a full size horse. Because he's so big boned, it doesn't feel like you are on a pony. A bonus with a draft pony is maybe they've already been trained to drive. Still gives you something to do with your horse, weight is not an issue and you are being phsically active. A decent cart and harness is going to run about the same $$ as a good saddle and it's never the wrong size for the driver. If you invest in a saddle that fits you now, you will be shopping for a new one every 6 months as you loose weight.

Use your desire to ride as an incentive for your weight loss. Reward your goals with lessons, brushes, tack, gloves...
I never thought about the rider's weight until I went to a riding stable in Lake George, NY. They had a rule, no riders over 240lbs. I was 240 at the time (I'm 225 now) which I was glad I just made it. They never said anything and neither did I.
I've had my weight battle too, so I share your frustration. I love this saddle:
EquiRoyal Comfort Trail Package - Horse.com
It has a deeper seat than an ordinary English saddl. Also, if you put a set of those wide endurance stirrups on it, posting is much easier - even if you are carrying extra weight. It is significantly lighter than a western saddle. My theory is, if I can ride a posting trot to exercise, I'm not going to mind exercising!
A smaller, stout horse is definately the way to go for a horse that can handle the weight better. Arabians are very well suited to heavier riders because they have shorter backs than most other breeds. Paso Finos are also a good choice for a heavier rider - and you wouldn't have to post!
---
Last edited by Arab Mama; 08-10-2013 at

03:30 PM

. Reason: forgot the horse
I second the Fjord comment!
There's a Fjord/Belgian cross at the barn I work at and OH MY GOSH. He is the thickest, sturdiest horse I have ever seen in my life [and that includes "The World's Biggest Horse", numerous other draft/QH crosses, and some pure-blooded Fjords]! His legs are literally tree trunks - using both my hands, I can't even reach around his cannons [I have small hands, but still]! He's only probably around 15hh, or shorter, but he easily weight-tapes at 1600lbs.

I wouldn't hesitate to put someone over 300lbs on him, he's that kind of sturdy.

Anyway, that might be a breed cross to keep an eye out for.
Good luck! And good for you for getting back into riding!! :)
---
Fabio - 13 year old Arabian/Lipizzan gelding

~
Rest peacefully, Lacey.

get you a big bodied TN walker, plenty strong and no posting. No trotting either. ALso dump those diet cokes, those things are poison and make you gain weight.
I'll definitely be buying a gaited horse next time...wish I'r realized the difference before I horse-shopped. Never new anything other than QH or Arab/QH crosses and went looking for a stocky QH-type horse. :)

To make myself feel better, I had my riding of my horse cleared by two vets (one said no but she also said he was worthless for anything other than slaughter) and a few other knowledgable horse people in my life.

I got a mostly-synthetic saddle that weighs 17#. And I continue to try to lose weight. :)
I was 240 (currently 220!) and had zero problem riding a 15.1 paint and a 15 hand TWH. They didn't have a problem with me either. Of course I'm ALWAYS making sure I'm not hindering them in any way or adding extra stress. If the paint breaks her nice jog I post, while mounting I always use a mounting block and I'm very careful not to plop down. 240 pounds of dead weight is going to feel WAY different than 240 pounds of fluid movement!
That being said I'm sure you horse wouldn't mind if you dropped a few pounds. I'm sure mine is thankful!
Posted via Mobile Device
I posted this on another thread, but this is a comparison of the bottoms of my Circle Y, Abetta and Bates saddles:
The Abetta has the smallest tree of any western saddle I've ever seen. It it probably a little bigger than the Bates (English), but not much. The Circle Y, however, spreads weight over a much larger area. The figure I've seen before on the Internet is that a typical western saddle distributes the weight over 150-175% of the area of a typical English saddle.
Weight can affect the horse two ways: total weight (on the structure of the horse) and pounds per square inch (on the muscle tissue under the saddle). Since a western saddle is heavier than most English ones, it would slightly increase the total weight, but cut the PSI of a 250 lb rider down to 167.
A western saddle may be worth thinking about. If you prefer English, look for panels under the saddle that are not too close to the horse's backbone. Larger panels would be nice.
This was written for gaited horses, but I think it is the best single page thing I've seen for heavier riders:
Heavier Riders' Guide
Good luck, dietcokeismydrug! My oldest daughter used to joke that my blood type was "DC"...
Western saddle tree: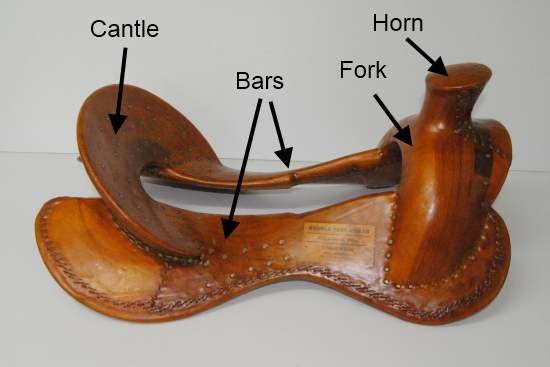 English:
---
"Make the right thing easy and the wrong thing...well, ignore it mostly."
Quote:
Welcome to the forum! Congratulations on working towards your goal
Look for a short backed, stock type horse. I use a Wintec synthetic western saddle, weighs less than 20lbs. Riding is excellent exercise!
Posted via Mobile Device
I agree completely!!!(Except the stock horse part.lol) I am 6'2" 240(currently) and ride a lot. Am actually back in training for 50 mile endurance. When I got my first horse of my own and could ride whenever I wanted I was 260+ after a few months of riding(a lot) I got down to 215/ 218 and was in the best shape I had been in years. I broke my tail bone and was unable to ride for over six months then my horse was injured and I was out of the saddle for about 10 months total and I regained most of the weight back. But now were both healed and losing weight. You can too.
Posted via Mobile Device
you could try a synthetic western saddle. im around 220ish (working on getting back around 185 ) and I ride a 14.3-15hh qh cross my saddle is about 20lbs. She doesn't seem to have a problem carrying me